Following violent outbursts and heated protests during Donald Trump events in Chicago, San Jose, Albuquerque and other stops along the trail during the primary season, the city of Cleveland has ramped up security protocols ahead of this week's Republican National Convention to ensure that demonstrators, delegates, attendees and officers remain safe. Here's a by-the-numbers look at the money and manpower pouring into the downtown area, the extra equipment dedicated to security personnel, the groups and protesters that will gather and the added restrictions for demonstrators during the four-day event.
Related: Cleveland Makes Final Preparations Ahead of GOP Convention
All numbers are approximate, sources in parenthesis.
50 million: Dollars of funds awarded by a federal security grant to the city of Cleveland for the convention, including $30 million for personnel and $20 million for equipment (Cleveland police).
50,000: People traveling to the city for the convention, including about 15,000 credentialed journalists, 2,470 delegates and 2,302 alternate delegates (RNC).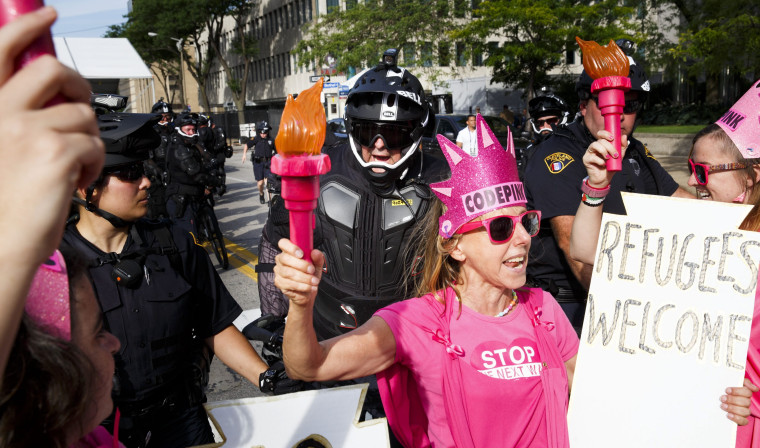 11,310: Estimated number of demonstrators registered by organizers with permits to hold events during the convention. However, several organizers did not provide a number. Others who were not granted permits anticipate thousands of demonstrators may show up anyway to join another pro- or anti-Trump protest. At least one of the largest demonstrations (America First, a pro-Trump group marching on Monday) will take place outside the event zone, where convention security rules do not apply.
10,000: Extra sets of plastic handcuffs purchased by the city ahead of the convention (Cleveland police).
5,500: Total law enforcement officers assigned to RNC security, including 3,000 federal officers, 2,000 non-federal officers from out of state sworn in to assist the Cleveland Police Department, and about 500 Cleveland police officers. (Cleveland Police, DHS).
2,000: Sets of personal protective equipment, or riot gear, purchased for officers working the convention (Cleveland police).
1,000: Beds cleared in local jails and in overflow locations around the city for the possibility of mass arrests during the convention (Cleveland police).
300: Bikes ordered for officers whose primary focus will be crowd control. Most of these officers are with the Cleveland police, some are from out of town (Cleveland police).
123: Permits granted by the city of Cleveland to parade/march/protest inside the 1.7-mile event zone during the convention (Cleveland police records).
58: Actual groups (from 1 to 5,000 people each) granted permits to parade/protest/march during the convention. Many of them were granted more than one permit for different days and/or locations. Larger groups are specifically pro- or anti-Trump, others are demonstrating for a variety of purposes (Cleveland police).
5: Miles in length of the parade route inside the event zone for demonstrators. There is only one parade route (Cleveland police).
4: Designated protest areas within the event zone: Public square or "Speaker's Platform," Willard Park, Perk Plaza and Mall "A" across the street from Huntington Convention Center (Cleveland police).
3.7: Miles of interlocking steel security fences, called global fencing, around parts of downtown (Mayor's office).
2: Rings of security: The Secret Service secure zone directly around the Quicken Loans Arena and the previously mentioned event zone. There's a long list of prohibited items for both zones, including whole fruit and umbrellas.
0: Guns allowed inside the Secret Service area. However, guns are allowed inside the event zone, per state law (Cleveland police).