Vice President Biden and President Obama, who will both deliver prime-time speeches at the Democratic National Convention Wednesday, are in the final stages of an unusual political marriage -- one that grew stronger, not weaker, during their eight years in the White House.
Former President Bill Clinton and his vice president, Al Gore, entered the White House as close allies, youthful Southern politicians trying to move their party to the political center. Their relations are now strained, with some in Gore's camp having blamed his 2000 defeat in part on the Monica Lewinsky scandal.
In 2000, then-Texas Gov. George W. Bush liked Dick Cheney so much that he tapped Cheney as his running mate, even though Cheney himself was running the vice-presidential search effort for Bush. By the end of their eight years together, Bush had sidelined Cheney on policy issues and was irritated that his vice president kept pressing him to pardon Scooter Libby, the Cheney adviser who had been convicted of perjury and obstruction of justice in a case involving the outing of the identity of a CIA operative.
In 2008, Obama and Biden seemed like a pairing that could not only end badly, but would perhaps never be very well-aligned in the first place. Back then, among his potential running mates, Obama was personally closest to Virginia's Tim Kaine, who is just three years his senior and had been one of the first governors to endorse Obama. But the youthful Obama felt that he needed to pick a running mate who was older and more experienced, so he opted for Biden, who is 19 years older than Obama.
It was not a natural fit. During his own 2008 presidential run, Biden had suggested that Obama was far too green to be president and referred to him as "articulate" and "clean." Obama is very careful with his words, Biden at times verbalizes his every thought. Biden deeply values the personal relationships he developed with senators from both parties in his decades in the chamber, while Obama had effectively left the Senate after two years and doesn't particularly cultivate close relationships with other politicians.
In the later stages of the 2008 campaign and in the first few months of the administration, the president and his top aides regularly complained about verbal gaffes from Biden, who in turn resented what he were felt were overly aggressive efforts to manage him by Obama aides.
Seven years later, Biden has become one of the defining figures of this administration. Biden directed the implementation of the 2009 economic stimulus. He at times led the administration's negotiations with congressional leaders on budget deals. In 2012, Biden declared his support for gay marriage--in effect forcing Obama to do the same-- and has been heavily involved in the administration's push to reduce sexual assaults on college campuses. He is a key administration liaison to outside groups, particularly with labor and Jewish leaders who at times have had tense relations with the president.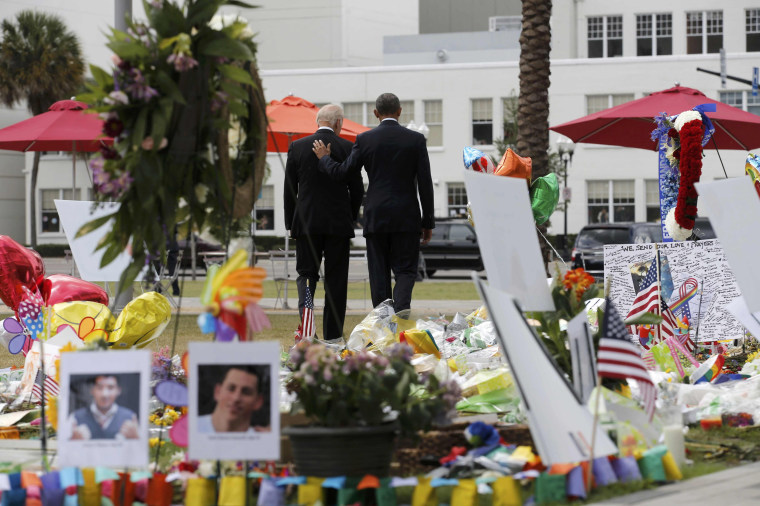 In a break from the Bush and Clinton administrations, Obama's team has had little public infighting among its senior aides, in part because Biden has not allowed whatever disagreements he may have with Obama to emerge publicly.
"It's never useful in my view for a president and a vice-president to disagree, not just in public, even among closest advisers. He's got to know he can come to me and whatever he says to me, will stay with me forever," Biden told NBC News in an April interview on Air Force Two.
In turn, the president has come to treat Biden with both respect and affection, even offering to help the vice president and his family financially when Biden's late son Beau was ill.
At Beau Biden's funeral last year, Obama said of the vice president and his wife Jill, "taking this ride with you is one of the great pleasures of our lives."
"Joe, you are my brother," he added. "And I'm grateful every day that you've got such a big heart, and a big soul, and those broad shoulders. I couldn't admire you more."
"They have grown to not only respect and trust each other, but to love each other like family too," Obama's senior adviser and longtime friend Valerie Jarrett told NBC.
Biden's alliance with Obama was successful in large part because of the two things that the vice president did not do. First, except for a few months in 2015, Biden did not spend much of his time in the administration preparing for a presidential run, as George H.W. Bush and Gore had.
Because he was not always positioning himself for 2016, Biden could defend nearly all of Obama's moves, even those unpopular with either the public or even in the Democratic Party. Biden has been a stalwart defender of the 2009 stimulus, which conservatives now say was too large and ineffective and many liberals say was too small.
Last year, the vice president joined Obama in pressing for the passage of the Trans-Pacific Partnership, the agreement between the U.S. and 11 nations in the Pacific Rim that many Democrats oppose. As a candidate, Biden may have felt pressure to oppose TPP publicly, as Hillary Clinton did once she started running for president
"He wasn't viewed warily by internal folks these past six years as a future candidate," one senior White House aide told NBC last year. "Was never really an active part of interacting with him or his team. He's been very loyal. ... There was never really a sense of him having his own politics all these years. His own relationships, for sure. His own politics, no."
Secondly, Cheney created a kind of rival power base in the West Wing, with his aides at times feuding with Bush's because the vice president wanted to push administration policy in a more conservative direction. Biden, in contrast, did not advocate a separate policy agenda from Obama, and Biden's aides largely worked to implement goals shared by both the president and the vice president.
"I worked for both of them [Biden and Obama]. It was a very blended staff and White House team," said Sarah Bianchi, who served as a policy adviser for Obama and director of domestic and economic policy for Biden from 2011-2014, in an interview with NBC last year. "What he was doing was being vice-president."
In accepting the vice-presidential role, Biden requested a weekly one-on-one lunch with Obama; to serve as a general adviser, as opposed to being limited to one or two areas of focus; and the ability to attend key meetings on both foreign and domestic policy. His requests have been honored.
"I spend 5-7 hours a day with him," Biden said. "Every day. I go to every meeting with him, at his request."
These two decisions, not planning a campaign or pressing to create policy himself, limited Biden in some ways. Last year, Biden was considering a presidential run, but the vice president was also spending time caring for his son. Beau Biden, in his final days, urged his father to run for president. But by last summer, the vice president was far behind in organizing a campaign compared to Hillary Clinton, who had essentially never stopped running after 2008.
And Obama had a strong relationship with Clinton as well. He did little to deter many of his former aides, advisers and donors who joined her campaign before Biden made his final decision.
And by keeping his counsel largely private, Biden does not have a clear legacy of decisions in the Obama years that he shaped. Cheney, for example, became known during and after the Bush years for a kind of muscular, no-holds-bar view of fighting terrorism that some conservatives still support. Biden, in contrast, has been largely known as implementer, not a creator, of policy.
Cheney's influence came with a cost: he was deeply unpopular by the time he left office and few Republican politicians running for office would want to appear publicly with him even now.
Biden, on the other hand, is scheduled to campaign with Hillary Clinton and congressional candidates this year and likely will be on the campaign trail even after he leaves office. According to HuffPost Pollster, which averages public opinion surveys, about 51 percent of Americans approve of the vice-president, while only 37 percent disapproval of him. About 51 percent of Americans approve of Obama, but 45 percent disapprove, suggesting GOP opposition to Obama is stronger than to the vice-president.
Biden ran for president twice and has hinted that he thinks he would have been a formidable candidate in 2016, since his unfavorable ratings are much lower than Clinton's. But he also seems to be pleased that he satisfied his only constituent the past eight years: Obama.
"Let me get this straight, honey, the first black man in the history of the United States of America [that] has a chance to be president says he needs you and you said no," Biden told NBC in April, recalling what his late mother Jean told him in 2008, when Biden was considering if he wanted to join Obama's ticket.
"And that was it, I said 'okay," Biden said.
"He's genuinely my friend," Biden added. "I'd do anything for him, and I think he would for me ....this is a family thing, we know each others' families really well, the way that he loved my son."