On the eve of the GOP convention, Hillary Clinton maintains a five-point national lead over Donald Trump even after a period of negative news for the presumptive Democratic nominee, according to a new NBC News/Wall Street Journal poll.
Clinton leads the presumptive GOP nominee 46 percent to 41 percent in a poll that finds both candidates facing sizable disadvantages and challenges ahead of the party conventions which kick off Monday for the GOP in Cleveland and a week later for Democrats in Philadelphia.
Those numbers are unchanged from one month ago with the poll conducted after FBI Director James Comey strongly rebuked Clinton over her email practices even though he determined that she had not committed a crime. The poll was also conducted before Trump selected Indiana Gov. Mike Pence as his vice-presidential running mate.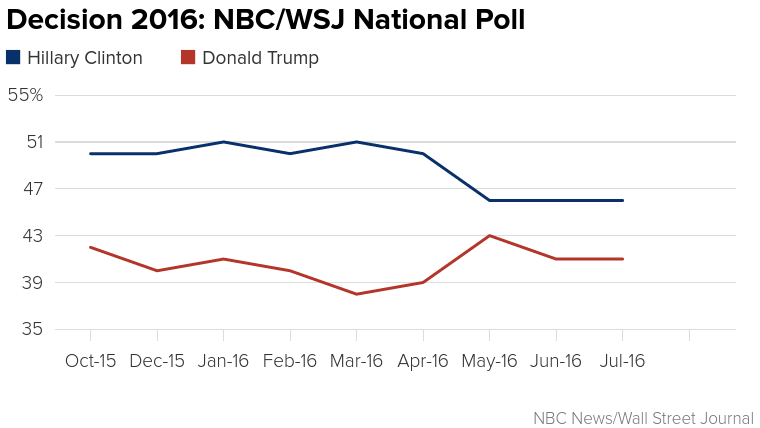 Clinton has the advantage among African Americans (84 to 7 percent), voters ages 18-29 (55 to 32 percent) and women (52 to 37 percent). The margin among Latinos will be released later on Sunday.
Trump, meanwhile, is ahead among whites (50 to 37 percent) and men (46 to 39 percent), and the two candidates are tied among independents (36 percent each).
In a four-way ballot test – including Libertarian nominee Gary Johnson and the Green Party's Jill Stein – Clinton gets 41 percent, Trump 35 percent, Johnson 11 percent, and Stein 6 percent.
"The more things change, the more they stay the same," says Democratic pollster Peter Hart, whose firm helped conduct this poll with Republican pollster Bill McInturff. "Things haven't changed an awful lot."
McInturff agrees. "Our overall ballot is very stable, and the contours of this election are becoming stable."
Trump's Disadvantages Heading into Cleveland
Trump heads into the Republican convention with a 27 percent positive/60 percent negative score (-33) – remaining the most unpopular presumptive presidential nominee in the history of the NBC/WSJ poll.
But he's followed closely by Clinton's 34 percent positive/56 percent negative score (-22).
"Let me summarize the poll into four little words: 'They hate them both,'" says Democratic pollster Fred Yang of Hart Research Associates.
Trump also leads a fractured Republican Party: Only 38 percent of GOP voters in the poll are satisfied with Trump as their nominee, versus 54 percent of Democrats who are satisfied with Clinton.
Related: Trump Reminds Voters He's No. 1 While Introducing His No. 2
What's more, a combined 85 percent of all voters – including 78 percent of Republicans – say the GOP is not that unified or only somewhat unified. That's compared with 48 percent of all voters (and 40 percent of Democrats) who say that about the Democratic Party.
Overall, the GOP has a 27 percent positive/51percent negative score (-24) in the poll, while the Democratic Party is at 39 percent positive/41 percent negative (-2). It's the first time in the history of the NBC/WSJ poll that both parties have been underwater going into the conventions.
Clinton's Disadvantages Heading Into Philadelphia
As for Clinton and her own convention in Philadelphia that begins a week from Monday, the poll shows that the email controversy has taken a toll on her candidacy.
Fifty-five percent of all voters say her use of a private email server is important to their vote – up from 42 percent who said this in late Oct. 2015 after her testimony before the House Benghazi Committee.
In addition, half of voters – 50 percent – say she doesn't have the right judgment to make a good president based upon what they know about the FBI investigation into her email practices, versus 33 percent who say she has the right judgment.
Related: View The NBC News Battleground Map
"The questions about Mrs. Clinton's character and honesty are important obstacles, and the decision by the FBI so far hasn't ended the issue for the public," adds Yang, the Democratic pollster.
Still, more voters say that Clinton has the right judgment to be president (37 percent) than Trump does (25 percent), although a third (33 percent) say neither has the right judgment.
Also, a plurality of voters (43 percent) believe the FBI investigation was unfair and too partisan, versus 37 percent who say it was fair and impartial.
Another weakness Clinton has heading into her convention is the country's desire for change.
In the poll, 56 percent of voters prefer a presidential candidate who will bring major changes to the government, even if they're unpredictable. By contrast, 41 percent want a steady approach, even if it means fewer changes.
Clinton's Big Asset Over Trump: Obama
Yet Clinton has one major advantage Trump doesn't – a popular president who's willing and eager to campaign for her.
President Obama's job-approval rating in the poll is at 51 percent – the third-straight NBC/WSJ poll in which his approval has been above 50 percent.
Additionally, 49 percent believe the economy has improved during Obama's presidency and they give him credit for it, while another 15 percent acknowledge that it's improved but don't give the president credit.
Just 36 percent of votes say the economy hasn't improved during Obama's presidency.
"President Obama remains the most important person over the next 115 days," says Hart, the Democratic pollster.
The NBC/WSJ poll was conducted July 9-13 of 1,000 registered voters, including 450 cell phone-only respondents and another 44 who were reached on a cell phone but also have a landline. The overall margin of error is plus-minus 3.1 percentage points.