WASHINGTON — All eyes were on Cleveland for the final night of the Republican Convention, a grand spectacle. But here, a smaller, somber affair took place just blocks from the halls of power at Dubliner's, an Irish pub and Capitol Hill mainstay.
Past politicos, many dressed in black, gathered for an "Irish wake." They were there to mourn the death of the Republican Party.
A memorial wreath with "RIP GOP" written on it and a guestbook welcomed attendees.
Related: Trump Takes America on a Journey to the Dark Side
A black-draped coffin at the back of the bar serves at the display for photographs of past presidents: Lincoln, Teddy Roosevelt, Eisenhower, and Reagan. The Guinness on tap flows for those drowning their sorrows.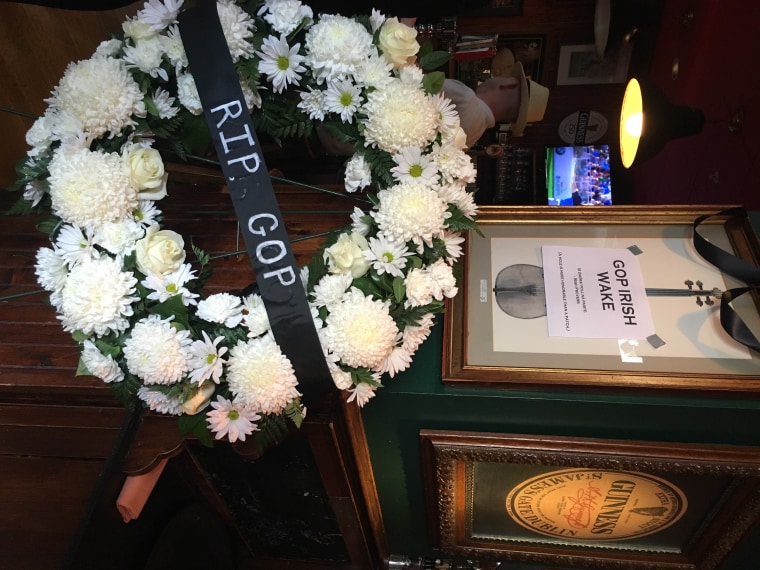 Andrew Weinstein, wake co-host and former spokesman for ex-House Speaker Newt Gingrich and the 1996 Dole/Kemp presidential campaign, said the idea grew out of conversations with friends commiserating over the direction the GOP is taking with Donald Trump at the helm.
"There's a consensus that this election cycle has brought an end for the Republican Party that we knew and worked for," Weinstein said. "A lot of people who signed up for the party in the era of Reagan and Gingrich believe they can no longer move ahead."
And so they have gathered tonight to mourn the "unnatural and premature passing of the Grand Old Party," as described in the Facebook invite. Cause of death: the nomination of Donald J. Trump.
While the theatrics of the wake were tongue-in-cheek, the sentiments of the attendees are real and representative of the GOP establishment's reluctance — and in some cases, refusal — to accept Trump as the party standard-bearer.
"A lot of people who signed up for the party in the era of Reagan and Gingrich believe they can no longer move ahead"
After a primary process rife with party infighting, the Republican National Convention, traditionally a moment for party unity, has been marked more by discord — from Monday's last-ditch effort of the Never Trump movement to Wednesday night's non-endorsement by former rival Sen. Ted Cruz, R-Texas, on the prime-time stage.
Trump, who takes the stage tonight to formally accept the now-official nomination, called the public snub "no big deal."
Related: Ted Cruz Reopens Party Wounds on Dramatic RNC Convention Night
But in other cases, it's silence that speaks volumes.
Many of the bigwigs of the GOP establishment are noticeably absent. Both former presidents Bush, along with former 2016 hopeful Jeb Bush, are skipping the convention this year. And among former Republican presidential nominees, only former Sen. Bob Dole is attendance. Sen. John McCain, R-Arizona, and former Republican presidential nominee Mitt Romney, the party's two most recent presidential candidates, also opted to stay home.
In a NBC/WSJ poll conducted earlier this month, 85 percent of voters polled said that the Republican Party is not that unified or only somewhat unified, compared to 48 percent who said the same of the Democratic Party.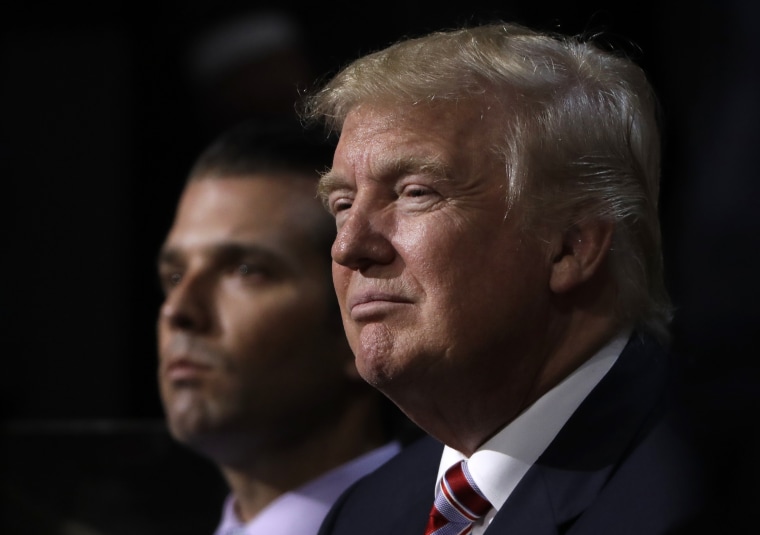 Heading into the convention, Trump's favorability numbers — 27 percent positive and 60 percent negative — made him the most unpopular presumptive presidential nominee in the history of the NBC News/Wall Street Journal poll.
Only 38 percent of GOP voters polled said that they were satisfied with Trump as their nominee, according to the same NBC/WSJ poll. Roughly 60 percent said they would have preferred someone else as the Republican candidate.
While there have been highly polarized party conventions before — the 1976 Republican National Convention and 1980 Democratic National Convention among them — this one is definitely much worse than usual, according to Larry Sabato, director of the Center for Politics at the University of Virginia.
Related: Mike Pence Strikes Unity Notes in Acceptance Speech
The discord, he said, is deep-seated and unlikely to be settled any time soon.
"The split is both stylistic and ideological, and not possible to resolve during the Trump candidacy ... If Trump wins, the GOP will never be the same. Trump will have years to reshape the party," said Sabato, who was in Cleveland for the convention.
"If Trump loses, Republicans are going to have a titanic battle for control."
And while some may be looking hopefully to 2020 already, the GOP's problem may be larger than Trump.
"America is changing rapidly, and the GOP doesn't represent the changes — demographic or philosophical," Sabato said. "As the slogan goes, change or die."
Of Trump's big speech, many said they would watch. "I'm watching because you watch a trainwreck," said attendee Alex Bopp, an attorney.
Bopp says he will be voting for Hillary Clinton come November 8 — an admission several wake attendees also shared. He and others agreed that there would be nothing Trump could say in his address to the RNC to change their minds.
Cameron Kilberg, who served as an adviser to Chris Christie's presidential campaign, said that even had Christie been selected as Trump's running mate, she wouldn't vote for him. "He could have picked my own mother and it wouldn't change my mind."
But beyond the lament and nostalgia, there is hope and talk of rebuilding the party. All raised a glass to Weinstein's toast, "To a brighter future in these troubled times."