CLEVELAND — The Republican National Convention opened Monday with dueling marches on the streets of this city, where officials had been preparing for months for the possibility of violence and mass arrests.
For all the preparations, the day ended peacefully and predictions of violence appeared unfounded by arrival of the evening.
"They had me convinced it was going to turn into riots here," veteran activist John Penley told NBC News. "A lot of people did not come here because they got scared."
He added that he and other protest organizers worked hard to send out the message that they could have peaceful demonstrations. "We have been saying we can do this without violence. None of us want to see violence," Penley said.
Early on in the day, a group in support of Donald Trump has a permit to take over the official parade route under the banner "America First." Organizers said on their permit application that they expected up to 5,000 people to join them but it was unknown how many had committed to attend. It appeared some 200 people were at the rally Monday morning, some toting guns.
Dozens of members of the group Bikers for Trump showed up on their motorcycles to provide security at the America First rally.
Jack Dunn, 60, an oil worker and trucker from North Dakota, said he spent two days biking to Cleveland. While he is a Trump supporter, he said his motivation was to make sure the convention isn't disrupted.
"My primary reason was to come here and stand up and protect the democratic process," he said. "[Protesters] say they want to shut it down? Why? If they don't want Donald Trump to be president, they should just go vote for someone else. All I can do is put myself between innocent people and harms way."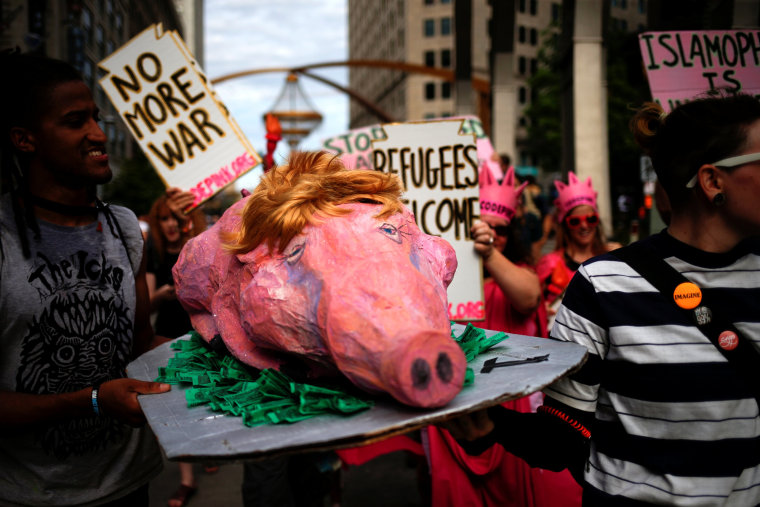 Chris Cox, the Bikers for Trump organizer, claimed the group had thousands of bikers in town this week, ready to intervene if "agitators" try to close things down.
Trump supporter Sam Kurek, 25, of York County, Pennsylvania, said he is not a die-hard Trump backer but feels he's the best choice in the election. "I'm not 100 percent for everything Trump says, but at least the establishment doesn't like him," he said.
Asked about the head of the Cleveland police union's call for the suspension of open-carry gun laws during the RNC, Kurek replied: "Suspending constitutional rights out of fear is a very dangerous conversation to have."
At about the same time, an anti-Trump coalition was staging an anti-poverty rally without a permit on the other side of the city. The group Prophets of Rage, which includes Public Enemy rapper Chuck D, performed Monday afternoon for a fired-up crowd of nearly 500. They ended the song "No Sleep Till Brooklyn" by declaring "No Sleep Till Cleveland!"
Flanked at the front and back by patrol cars, the crowd then marched toward the Quicken Loans Arena, picking up about 100 officers on bike along the way. The group then stopped at Chester and East 12th Street, where officers blocked their progress. The crowd at that point diminished to about 300.
A separate anti-Trump march organized by the "Coalition to Stop Trump and March on the RNC" began Monday afternoon, with protesters proceeding through Cleveland Public Square, heading toward the Quicken Loans Arena. Organizers said more than 40 trade unions, immigrant rights, student, and anti-war organizations are part of that demonstration.
About 50 demonstrators gathered by noon, and two dozen were assigned to security and peacekeeping. One woman was detained, and officers used bikes to move the crowd back.
Huelmely DeJesus traveled from Milwaukee to attend the march, but said safety was a concern. "It's important for people to know that we risk our lives to do this," DeJesus told NBC News.
Related: Police Union Calls for Weapons Ban During RNC
Mick Kelly, the organizer of the rally told NBC News that while his permit estimates 1,000 people would join the effort, he couldn't provide a more accurate estimate since he only received final approval last week.
Two protesters had been arrested by Monday afternoon. One man was reportedly arrested for trying to steal a trooper's equipment on Sunday, while a woman the next day was arrested for taking the stage at Public Square without a permit.
"We're going to allow them to exercise their First Amendment rights in a peaceful way," Cleveland Police Chief Calvin Williams said on Sunday about protesters. "For the past eight days, we've done that. And we haven't had any issues."
A Sunday afternoon rally and march put on by an anti-Trump group without a permit provided a preview of police crowd-control tactics.
The 200-plus demonstrators were legally supposed to remain on the sidewalk but took to the roadway as soon as they set off, and police let them march in the street. Officers behaved similarly on Monday, when many of the marches also strayed off the sidewalks.
Officers on bikes, some wearing body armor, had the most visible presence. They stayed to the side and in front of the marchers and massed at certain intersections to block protesters from crossing.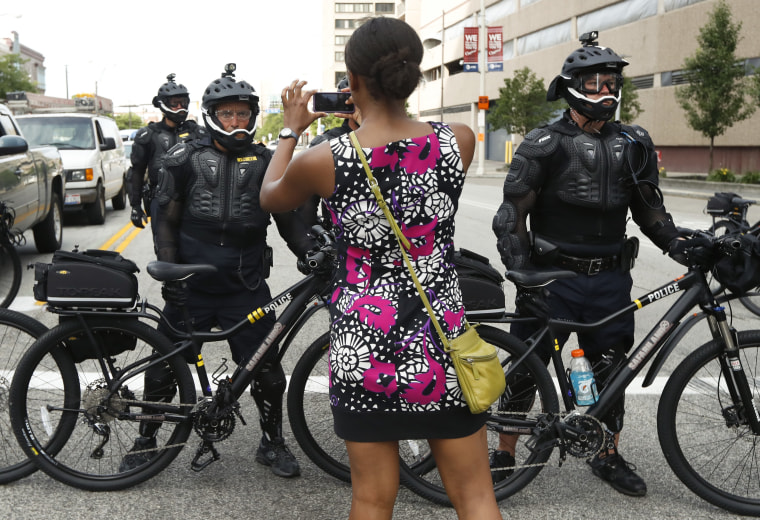 The protesters, representing a wide spectrum of causes but largely focused on police brutality, did not confront officers. The officers, meanwhile, gave the marchers a wide berth.
At the end of the march as the crowd dispersed, one protester wearing a Guy Fawkes mask walked over to a police officer and shook his hand.
Still, authorities have been bracing for trouble, clearing out 1,000 spots in local jails and overflow centers and opening the courts for 20 hours a day to process arrestees.
With the help of a $50 million security grant, they purchased 10,000 extra sets of plastic handcuffs, 2,500 interlocking steel security fences, and 2,000 sets of riot gear.
The head of Cleveland's police union, Steve Loomis, called Sunday for the governor to suspend open-carry gun provisions during the RNC. Gov. John Kasich's office said he did not have the power to suspend gun rights.
A gun-rights rally held Sunday in Cleveland's public square attracted just two participants.