Donald Trump's daughter Tiffany stepped out of the shadow cast by her more high-profile siblings and took center stage at the Republican National Convention on Tuesday night.
The 22-year-old recent college grad has been much less visible on the campaign trail than her older half-siblings, Ivanka, Eric and Donald Jr., all of whom have acted as effective surrogates for their father over the past 13 months -- Ivanka in particular. But Tuesday's address marks an important opportunity for Trump's youngest daughter to make herself known to voters, and to potentially earn some public plaudits of her own.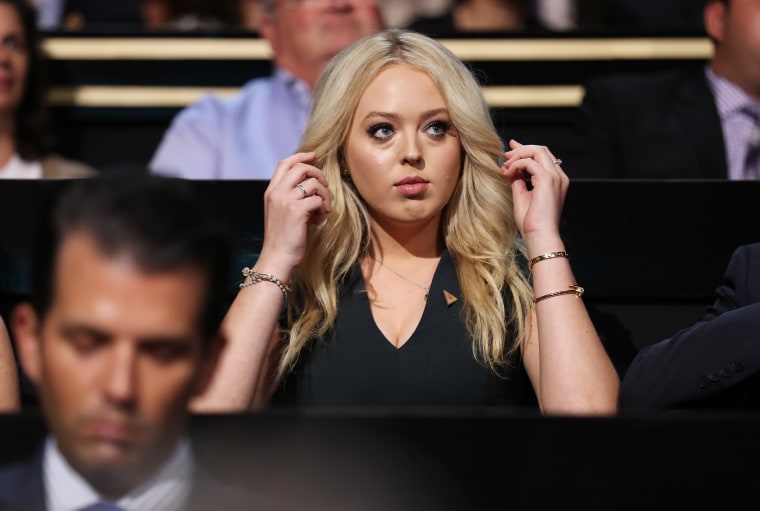 The stakes are high. Following Melania Trump's address at the RNC Monday night, which appeared to lift entire passages from Michelle Obama's 2008 convention speech, the campaign is facing heightened scrutiny -- especially Trump's family members, who will be speaking later this week.
Related: Trump Campaign Struggles to Manage Melania Trump Speech Fallout
Ahead of her speech in Cleveland, here are five things to know about Tiffany Trump:
1. She is the only child from Trump's tumultuous relationship with Marla Maples
Tiffany Trump was born in New York on Oct. 13, 1993, just two months before her parents married in a star-studded ceremony at the Plaza Hotel. Her mother, Marla Maples -- an aspiring actress and former Miss Resaca Beach poster girl -- was once famously quoted on the front page of The New York Post crediting Donald Trump for "the best sex I've ever had."
Their relationship was the stuff of tabloid dreams. Trump was still married to his first wife, Ivana, when Maples came on the scene, and the two women once reportedly got into an ugly fight on the slopes in Aspen.
When Tiffany was just a toddler, Trump gushed over his daughter's good looks, saying in an interview she had "Marla's legs."
"We don't know whether she's got this part yet," he added, gesturing toward his chest, "but time will tell…"
Trump and Maples separated in 1997 and divorced two years later. Maples, now 52 years old, most recently made headlines for her turn as a contestant on ABC's "Dancing with Stars."
2. She was raised in California
After her parents separated, Tiffany Trump moved with her mother to California, where she lived until graduating high school. In a 2011 segment on Oprah Winfrey's "Where Are They Now?", Trump said she was "very close" with her mother, often cooking and playing tennis together. She also remarked on how growing up in California separated her from her siblings.
"Since I have grown up on the West Coast, it definitely is different than all of them growing up on the East Coast," said Trump. "It's a different lifestyle, obviously, California vs. New York. New York -- my dad is like the center of the city."
3. She's dabbled in music
At 17, Tiffany Trump release a single called "Like a Bird." It's still available on Amazon for $0.99.
4. She graduated from the University of Pennsylvania
Tiffany Trump soon left her pop star ambitions behind, however, for the University of Pennsylvania, where she double majored in sociology and urban studies. As a college student, Trump interned at Vogue. And in 2014, her father -- who graduated from Wharton in 1968 -- told PEOPLE Magazine that she "got all A's at Penn, so we're proud of her."
5. Her date to the RNC is a registered Democrat
Tiffany Trump's Instagram feed is covered with pictures of fellow Penn student, Ross Mechanic, who was also photographed sitting next to her Monday night at the RNC. According to public records, Ross has been a registered Democrat since 2012.