CLEVELAND — Donald Trump accepted the GOP's nomination Thursday in the same way he launched his campaign: slamming immigrants and linking them to crime.
Trump didn't budge from his combative stance on immigration as he wrapped up the Republican National Convention in Cleveland.
He officially accepted the party's nomination for president by telling a pumped-up crowd that the nation's security is under threat from immigrants and illegal immigration.
"Nearly 180,000 people with criminal records ordered deported from our country are tonight roaming free to threaten peaceful citizens," he said.
"We are going to build a great border wall," Trump said to cheers, saying this will stop drugs, crime and violence.
Trump's remarks were met with chants of "Build a Wall," which has become one of the slogans of his campaign.
Trump reminded the crowd that on Monday night they heard from three people whose loved ones were murdered by immigrants not legally in the country.
"We heard from three parents whose children were killed by illegal immigrants ... They are just three brave representatives of many thousands," Trump said.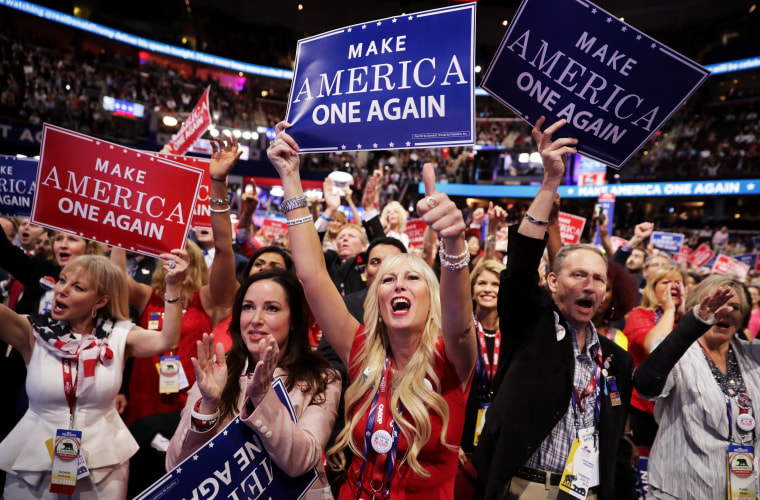 Trump's speech topped a week of convention speakers linking immigrants in the country illegally to crime.
Among the speakers who preceded him onstage was Sheriff Joe Arpaio, who brands himself as "America's toughest sheriff" and has erected outside Phoenix a tent city outside where immigrants are detained in sweltering heat that can reach 120 degrees in the summer.
Arpaio was found to be in contempt of court for disobeying orders in a racial profiling case in which he has repeatedly instituted policies that target the Latino community. The court says that Arpaio has "demonstrated a persistent disregard for the orders of this court, as well as an intention to violate and manipulate the laws and policies regulating their conduct."
The heavy emphasis on immigrants who have committed crimes drew heavy criticism and backlash early in the convention week, including accusations of racism from a leader of the League of United Latin American Citizens.
Related: Latino Coalition: GOP Speeches Were 'Racist,' Offensive
Trump said nothing has affected him more than the time he spent with mothers and fathers "who have lost their children to violence spilling over the border."
Beyond such examples, Trump also pointed to immigration as the ill that has perpetuated economic malaise in this country.
"Decades of record immigration have produced lower wages and higher unemployment for our citizens, especially for African-Americans and Latino workers," Trump said.
Democrats are set to gather for their convention in Philadelphia on Monday. Immigration also will figure prominently but speakers are certain to provide a vastly different perspective than those shared at the RNC.
Trump essentially noted this on Thursday by drawing a stark contrast between him and presumptive Democratic nominee Hillary Clinton.
"My plan is the exact opposite of the radical and dangerous immigration policy of Hillary Clinton," Trump said.
Trump said Clinton wants so-called sanctuary cities, while asserting nothing has been done to provide sanctuary for the families of victims highlighted at the convention or any other families of victims of criminal immigrants.
"Where was the sanctuary for Kate Steinle [and] all of the other Americans who have been so brutally murdered and who have suffered so horribly," he said. "These families were alone, but they're not alone any longer," he said to cheers.
On social media, immigrant advocacy organizations were tweeting statistics debunking the Republican candidate's assertions linking crime and immigration and an out-of-control border.
While Trump repeatedly vowed to take on the issue of immigration, he was short on details. Early in his campaign he asserted he would deport the estimated 11 million people in the country illegally. But in the convention finale, there was no mention of a mass deportation or any other strategy for dealing with the population.
While his rhetoric on immigration has been a strong point of criticism by many Latinos including Latino Republicans, some GOP Hispanics at the convention who are backing Trump say they don't have a problem with his emphasis on enforcement.
"I don't take any issue with his comments regarding enforcing the laws as they are," said Morgan Graham, a Texan Latina delegate who is the GOP Chair of the Cameron County Republicans. She said that illegal immigration leads to a black market that leads to human trafficking and exploitation. "I'm not convinced, however, unlike many, that the 'Wall' is a panacea for illegal immigration."