Praising and defending the police is emerging as a major theme for Republican candidates and officeholders, allowing conservatives to both contrast with the liberal-dominated Black Lives Matter movement and cast themselves as upholding the law and keeping down crime.
"An attack on law enforcement is an attack on all Americans," Donald Trump said in his speech accepting the Republican presidential nomination on Thursday. "I have a message to every last person threatening the peace on our streets and the safety of our police: When I take the oath of office next year, I will restore law and order to our country."
Trump's referred to "continued threats and violence against our law enforcement officials," noting shootings of officers in Georgia, Missouri, Wisconsin, Kansas, Michigan and Tennessee. However, the phrase "law and order" seemed to Black Lives Matter activists a "dog whistle" reference to the 60s-era rhetoric used by those opposed to sweeping social change.
"Trump's vision of 'law and order' is blowing a dog whistle about crime rates — never mind that violent crime and property crime have continuously plummeted over the last fifteen years — and threatening our constitutional right to protest police brutality," said Rashad Robinson, executive director of Color of Change, one of the groups involved in the Black Lives Matter protests.
Related: Black Lives Matter Responds to Trump's 'Dog Whistle' Speech
"Blue Lives Matter" had already been a rallying cry for some conservatives. But the recent shooting of officers, particularly the incident in Dallas in which a gunman shot 12 officers, killing five, has galvanized conservatives to insist there is in effect a war on police officers.
The pro-police push, with its implication that some Americans are overly hostile to law enforcement, is the latest illustration of the tense debate over race, policing and criminal justice issues amid the rise of Trump, the end of Barack Obama's presidency and the increasing number of officer-involved killings captured on videotape.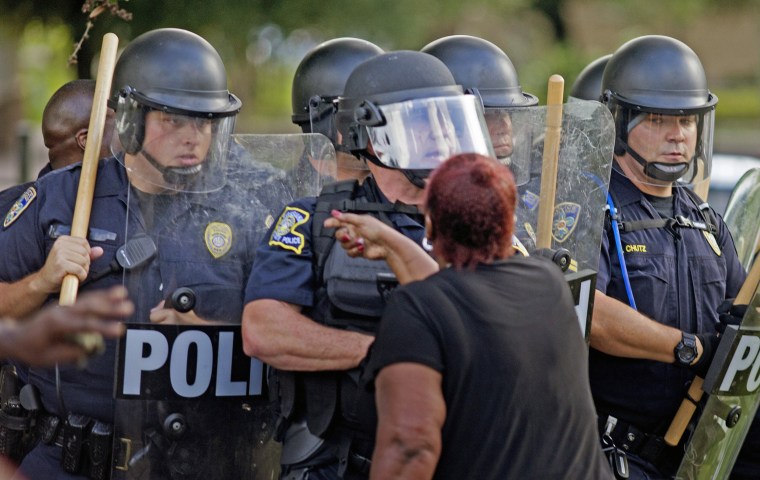 "Police have symbolic value, like people in military service," said David Dagan, a political scientist at John Hopkins University whose research is on the politics of criminal justice issues. "Trump is going to a very classic conservative playbook, that he is going to impose order on a lawless society."
Trump is "exploiting the backlash to Black Lives Matter," Dagan said.
Related: 'Blue Lives Matter': Louisiana Hate Crimes Bill to Protect First Responders
Trump is not alone in signaling his strong support for law enforcement.
On Monday, at the RNC in Cleveland, Milwaukee County Sheriff David Clarke, who is black, drew loud applause when he declared "Blue Lives Matter in America."
In Kentucky, Republican Gov. Matt Bevin had the state capitol's building and governor's mansion lit in blue on Wednesday and Thursday to honor law enforcement officials. That move was reminiscent of how Obama administration officials lit the White House in rainbow colors after the Supreme Court legalized same-sex marriage last year.
U.S. Senator Pat Toomey, a Republican running for reelection in Pennsylvania, has attacked the Obama administration for adopting a policy last year that severely curtailed the federal government's ability to give surplus military equipment to local police departments. Obama's team took this step in the wake of the protests in Ferguson, Missouri, where activists argued the police were too quick to use military-style tactics and weaponry like tanks.
Related: Obama: U.S. Cracking Down on 'Militarization' of Local Police
A group of GOP House members say they will push a so-called Blue Lives Matter bill in September that would make it the intentional killing of a police officer a hate crime. Some liberal groups argue such a provision is unnecessary, since many states impose additional penalties for those that kill police and that officers are different from religious and ethic minorities, the kind of people usually protected by hate crime laws.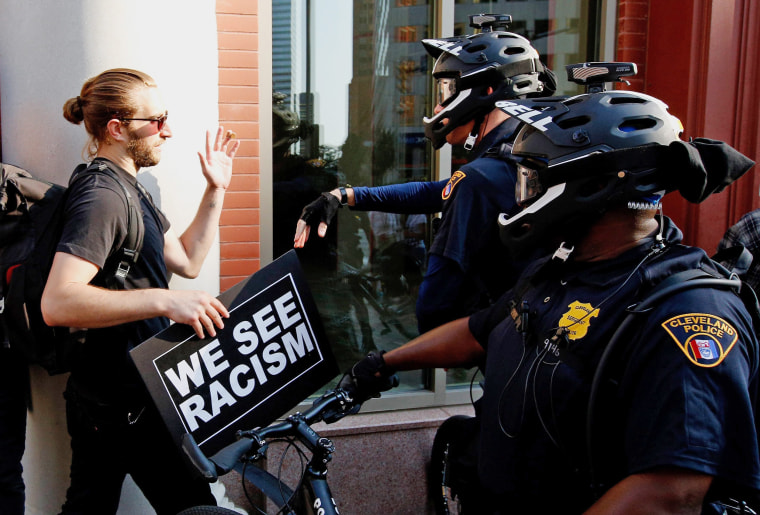 Defending law enforcement is a natural move for a Republican Party that has long cast itself as strong on national defense issues and pro-military. Trump, while constantly praising veterans, has argued that the U.S. is at times too eager to deploy troops abroad.
But here at home, the real estate mogul at times inflates the number of crimes in the U.S. as he argues America's streets need aggressive policing.
In an interview with the New York Times this week, Trump said he would not look to promote democracy abroad, as former president George W. Bush did, arguing, "how are we going to lecture when people are shooting our policemen in cold blood?"
"Trump is now bringing crime into his issue mix with immigration and trade," said Brendan Nyhan, a political science professor at Dartmouth College.
Obama has found himself on the defensive, with some police leaders and conservative politicians arguing he is too supportive of Black Lives Matter, even as the president constantly praises law enforcement.
"We proclaim loudly our appreciation for the acts of service you perform as your daily routine," the president wrote in an open letter he released to officers this week.
"We have your backs," the letter concluded.
Watch: Obama: GOP's Claim of Chaos and Violence 'doesn't Jibe With the Facts'
On policy issues, there is not a clear partisan divide on policing.
Bevin for example supports measures to make it easier for offenders who have served their time to get jobs and reintegrate into society, one of the goals of the criminal justice reform bill that Obama is trying to get through Congress. Conservatives are not objecting to new policies, set by the federal Department of Justice and cities like Louisville, Kentucky, to expand implicit bias training.
Related: How The Racial Divide is Reinforced by Partisanship
And liberals are embracing some pro-police language and legislation. In May, Louisiana Gov. John Bel Edwards, a Democrat, signed into law a provision that makes it a hate crime to target police officers.
But there is a partisan undertone to the rhetoric about policing, and it is shaped by demographics and politics.
A 2013 Gallup survey found that 68 percent of Republicans viewed police officers as having "high" or "very high" standards of ethics, compared to just 44 percent of Democrats. According to Department of Justice data, about 73 percent of America's police officers are white (compared to about 62 percent of the overall population) and about 88 percent are men.
Police officers, like Trump supporters, are disproportionately white and male, while the Black Lives Matter movement is led by young people of color who are very liberal.
"All politicians support the police. Nobody is favor of these sorts of attacks. But there is a way of declaring that you stand with the police that is sort of binary, you are with them or against them," Dagan said. "And that is what Trump and Toomey are doing."