Jay Z and Beyoncé were only the latest big names Hillary Clinton has called in to help drive up enthusiasm for her campaign among black voters — the most loyally Democratic voting bloc in the country.
But it's a group that some Democrats worry may not turn out at the same levels they did for when America's first black president was on the ticket.
Related: Analysis: Obamas Would Deserve Credit if Clinton Wins
"Eight years ago, I was so inspired to know that my nephew, a young black child, could grow up knowing his dreams could be realized by witnessing a black president in office," Beyoncé said during a get-out-the-vote concert for Clinton with her rapper husband in Cleveland on Friday night. "And now we have the opportunity to create more change. I want my daughter to grow up seeing a woman lead our country, and know that her possibilities are limitless."
There's no doubt about which party is favored among black voters, who made up about 13 percent of the electorate in 2012. They have consistently voted close to 90 percent or higher for Democratic presidential candidates, and Donald Trump's rhetoric may only increase that margin.
But margins don't matter, votes do. And the question is whether the same number of African-American votes will be cast as there were for Barack Obama, who re-engineered the way Democrats win the White House by juicing turnout among friendly demographics.
After some discouraging initial early-vote numbers, Democrats are somewhat relieved by newer data out of Florida and North Carolina, two states where the black vote is critical. But they are pulling out all the stops to get black voters to the polls. And while Clinton may not be Obama, it has helped to have him in her corner.
The Democratic National Committee is spending seven figures on TV and radio programming that draws minority audiences, like one launched Friday, which features audio of Obama saying he needs black people to vote in order to "give me a good send off."
"After we have achieved historic turnout in 2008 and 2012, especially in the African-American community, I will consider it a personal insult if this community fails to activate itself in this election," Obama says, as images flicker of him being inaugurated and marching in Selma, Alabama.
It's similar to the message Obama has been delivering on the stump in areas with large black populations in Florida, North Carolina and Ohio over the past week.
"I'm not on this ballot. But everything we've done these last eight years is on the ballot," he said in Jacksonville, Florida.
It was at a historically black college in Fayetteville, North Carolina, where Obama urged his supporters in the crowd to respect a pro-Trump protester. And the campaign selected a heavily African-American part of North Carolina for where Clinton and Michelle Obama would make their joint debut on the campaign trail last week, timed to coincide with the expansion of the number of early voting sites.
Meanwhile, Clinton herself has visited several historically black colleges and universities in the past week, including bringing along singer Pharrell Williams to North Carolina Central University during a campaign swing last week.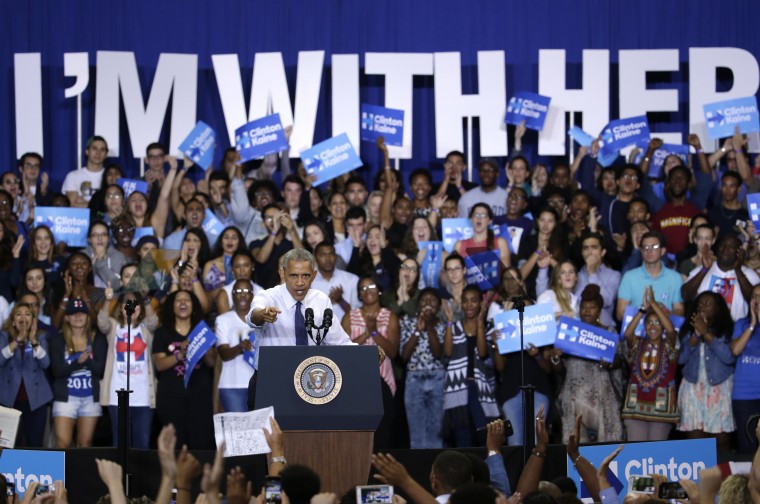 And earlier in the week, Clinton visited a soul food restaurant with Rep. Marcia Fudge in Cleveland — a city she'll return to with NBA star LeBron James for a rally.
The Obamas will join Clinton and former President Bill Clinton on Monday for a big election-eve rally in Philadelphia, where Democrats are counting on racking up a large number of black voters to compensate for the whiter, more conservative bulk of Pennsylvania.
Stevie Wonder gave a free show for Clinton in Philadelphia on Friday night, while Obama will join the singer in central Florida on Sunday night. Ne-Yo and Pusha T have also been performing for Clinton.
The concerts are not just about getting attention or building enthusiasm. The campaign distributes the free tickets at strategic locations near early voting sites, and they've found many voters take the opportunity to cast their ballot.
Meanwhile, Clinton has enlisted Rep. John Lewis, the civil rights-era icon, to help lead black churchgoers to the voting booths in "Souls to the Polls" events, while rapper 2 Chainz joined him for a similar event in Georgia.
In the South, black voters are the backbone of the Democratic Party. And in Ohio, they are what is keeping the race competitive for Clinton, since its otherwise white and working class demography tilts toward Trump.
But the all-out effort belies Democrats' anxiety about generating enthusiasm and overcoming any lagging energy as Obama leaves office. At the concert with Jay Z last night, Clinton quoted one of his lyrics to make it clear whom she was trying to reach.
"Like Jay said, Rosa Parks sat so Martin Luther could walk. Martin Luther walked so Barack Obama could run. Barack Obama ran so all the children could fly," Clinton said. "And we still have some unfinished business."