Democratic presidential nominee Hillary Clinton, fresh from a stunning electoral loss, will have to carve out a new role for herself in American life.
Her acceptance speech hinted at a renewed dedication to advancing progressive causes, which she may able to pursue through the Clinton Foundation, or by aligning herself more with women's rights activist groups, but there is no definitive blueprint for how a losing presidential candidate is supposed to behave.
Ever since President Franklin D. Roosevelt re-defined the American presidency, the defeated presidential candidates have also forged a new path:
THOMAS DEWEY 1948 — Republican New York Gov. Thomas Dewey was deemed the favorite by pollsters and pundits in his 1948 run against incumbent Harry Truman. The press was so confident in his victory, there was even a legendary "Dewey Defeats Truman" headline that went to print prior to the results coming in. His surprising defeat is now oft-cited by candidates who trail in the polls on Election Day.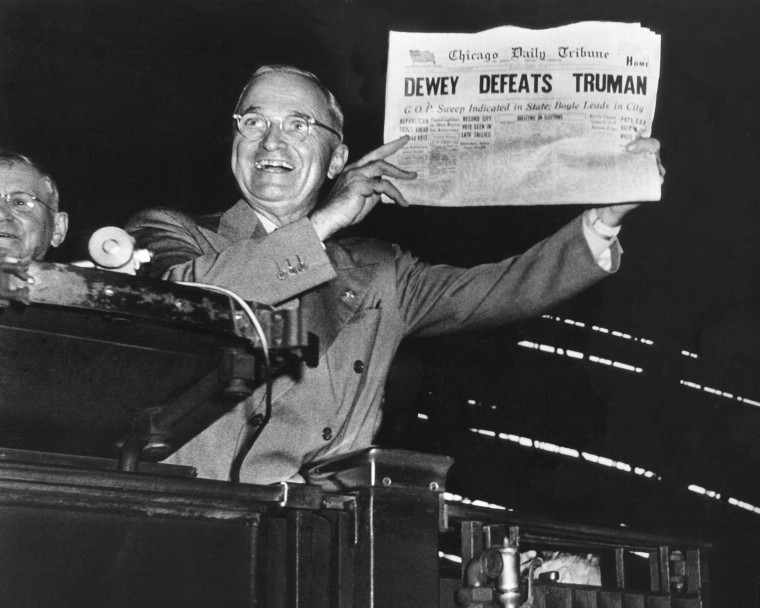 After finishing out his term as governor in 1954, he retired from politics, but continued to endorse and campaign for Republican nominees. A relative moderate, he was also reportedly considered by President Lyndon Johnson as a potential Supreme Court pick.
ADLAI STEVENSON, 1952/1956 — The bookish Illinois Democrat became a consensus nominee for a fractured party in both 1952 and 1956, and he was soundly defeated both times by Republican Dwight Eisenhower.
Stevenson did not formally seek the White House again in 1960, but made it clear he would allow himself to be drafted, sparking tensions with upstart Massachusetts senator and eventual nominee John F. Kennedy. When Kennedy became president he nevertheless appointed Stevenson to serve as the U.S. Ambassador the United Nations, during which he played a pivotal role in resolving the Cuban Missile Crisis.
RICHARD NIXON, 1960 — Then Vice President Richard Nixon didn't concede one of the closest elections in American history until the wee hours of the morning following Election Day, and that came amid allegations of trickery in states like Illinois and Texas.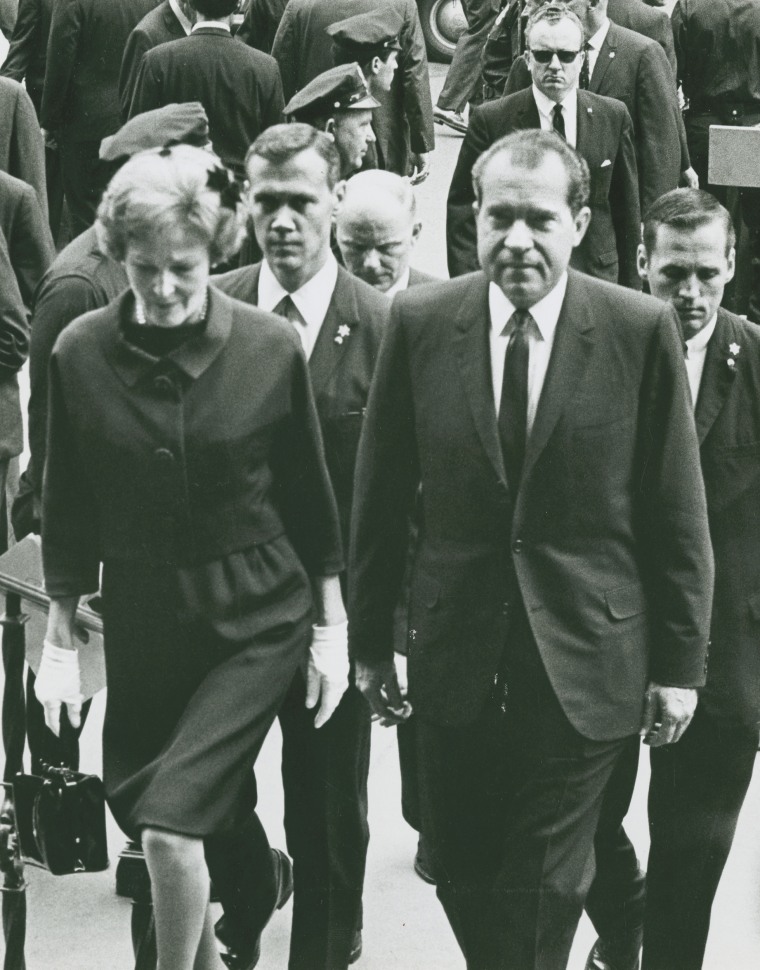 Despite entreaties from his aides to challenge the results, Nixon formally said he would not three days after Election Day. He would seek the governorship of California two years later, but again came up short. After a particularly hostile concession speech after that race (in which he declared "you won't have Nixon to kick around anymore"), he was believed to be finished with politics.
He later joined a big New York City law firm and campaigned tirelessly for Republican candidates across the country, biding his time before making a huge comeback as the party's standard bearer in 1968 and 1972. In 1974 he became the first U.S. president to resign due to his involvement in the Watergate scandal.
BARRY GOLDWATER, 1964 — The Arizona conservative icon's massive defeat in 1964 was either a rebuke of his brand of Republicanism or the beginning of a revolution that would culminate with Ronald Reagan's ascent a little more than a decade later, depending on your point of view.
Goldwater would remain an influential senator and champion of the far right for decades, getting reelected in 1968, 1974, and 1980. He retired from politics in 1987, and became an increasingly outspoken critic of the "radical right" elements that he supposedly inspired.
HUBERT HUMPRHEY, 1968 — Although it doesn't get as much attention as 1960 and 2000, 1968 wound up being one of the closest elections in American history, with some experts suggesting that Democratic Vice President Hubert Humphrey was closing strong and could have upset Nixon had the election gone on a bit longer.
Following his loss, Humphrey returned to his roots in the U.S. Senate in the 1970 midterms. In 1972, he mounted another serious bid for his party's presidential nomination, where he ran neck-and-neck with the more liberal George McGovern, but fell short at the Democratic convention.
GEORGE MCGOVERN, 1972 — An iconic figure for modern progressives, the Democratic South Dakota senator's image has been somewhat redeemed by the Watergate fallout that followed his landslide defeat at the hands of Nixon. The January following his defeat, McGovern, who'd returned to the U.S. Senate, delivered a blistering speech assailing what he saw as the Nixon administration's abuses of power at Oxford University, which drew criticism from the left and right.
"I probably shouldn't have done it," he said in 2005. "It was just that the thought of sitting there listening to Nixon articulate his vision -- and not being able to respond -- was so unpleasant."
McGovern overcame allegations of being a "part-time senator" to win re-election in 1974, but he was defeated in the Reagan wave of 1980. In 1984, he launched another longshot bid for the White House, but dropped out after a disappointing finish in the Massachusetts primary.
GERALD FORD, 1976 — The 39th president was another casualty of an achingly close final election tally. Although he trailed for much of his campaign against outsider Democrat Jimmy Carter, Ford finished strong and was so emotional (and hoarse) following his defeat, that he famously had his wife, first lady Betty Ford, deliver his concession speech for him.
In 1980, there was an attempt to draft him to seek the Republican nomination again but he declined. He was later approached by then-nominee Ronald Reagan to be his running mate, but Ford reportedly wanted to be in effect the "co-president," and so that odd couple pairing never came to pass.
And while golfing tournaments and corporate consulting came to define much of his post-presidency, he did turns heads with a posthumously released interview in 2004, in which he strongly rebuked President George W. Bush's foreign policy.
JIMMY CARTER, 1980 — The Democratic former Georgia governor famously turned the indignity of losing his re-election bid badly into one of the most productive post-presidencies in history. After watching the release of U.S. hostages in Iran just minutes after his term was up, Carter dedicated the rest of his life to serving the needy and promoting human rights around the world.
He has been lauded for his work with Habitat for Humanity, which builds affordable housing, the Carter Center, a nonprofit which fights deadly diseases and helps monitor elections around the globe and his various other diplomatic efforts, which culminated with his receiving the Nobel Peace Prize in 2002.
Carter has also earned a reputation as one of the most outspoken and politically engaged former presidents -- writing several best-selling, and sometimes controversial books, centered on his positions on foreign policy, humanitarian work and more.
Last August, the now 92-year-old former president was diagnosed with liver and brain cancer, but he miraculously recovered by that December and in March of this year he was cancer free.
WALTER MONDALE 1984 — The Minnesota Democrat (and former vice president) is unfortunately the posterboy for a landslide presidential defeat. Although many facets of his progressive platform have now become Democratic orthodoxy, he was deemed too lefty for populace that had grown more enamored with Ronald Reagan's (some would argue unfounded) sunny optimism.
After suffering the worst shellacking since 1936, Mondale returned to his prior career as a lawyer. He later was appointed as a U.S. Ambassador to Japan by President Bill Clinton in 1993.
In 2002, after liberal Minnesota Sen. Paul Wellstone was tragically killed in a plane crash in the final days of a re-election race, Mondale was recruited to replace him. Mondale narrowly lost to Republican Norm Coleman that November. The now 88-year-old Mondale has kept a relatively low profile since.
MICHAEL DUKAKIS, 1988 — Following a particularly bruising campaign — where he was mercilessly mocked for an ill-fated photo op in a tank and targeted with racially-tinged ads criticizing his policies on crime, Dukakis finished out his term as governor of Massachusetts and then returned to private life in 1990.
He became a professor of political science and has continued to be active in Massachusetts Democratic Party politics. When Sen. Ted Kennedy died in 2009, Dukakis' name was briefly floated as a potential interim replacement but then-Gov. Deval Patrick chose Paul G. Kirk instead.
GEORGE H.W. BUSH, 1992 - A deep recession and a perception that Bush was out of touch with average Americans helped power Arkansas Democrat Bill Clinton to the White House, but in the years since his defeat, the one term Republican's presidency and reputation have only grown in stature.
After leaving the White House, Bush retired from politics but didn't slow down — keeping up with his favorite outdoor activities — including an annual skydiving trip, into his advanced age.
BOB DOLE, 1996 — The then-73-year-old veteran Kansas senator took a gamble by resigning his seat in Congress to be big on his chances of winning the presidency, so his loss to President Bill Clinton effectively ended his 45 years in politics. The typically dour Dole later launched a surprisingly successful pitchman for products like Pepsi, Visa, and, yes, Viagra.
Dole made an appearance at the 2016 Republican National Convention, and he remains the only living former presidential nominee to consistently endorse Donald Trump's candidacy.
AL GORE, 2000 — A razor-thin margin in Florida led to a drawn out recount fight, which was cut short by a controversial 5-4 Supreme Court decision, depriving the vice president of a victory many Americans felt he deserved. Although Gore had the bragging rights that he had won the popular vote outright, the electoral college defeat undeniably took a toll, as evidenced, in some peoples minds, by prodigious beard he grew in its aftermath.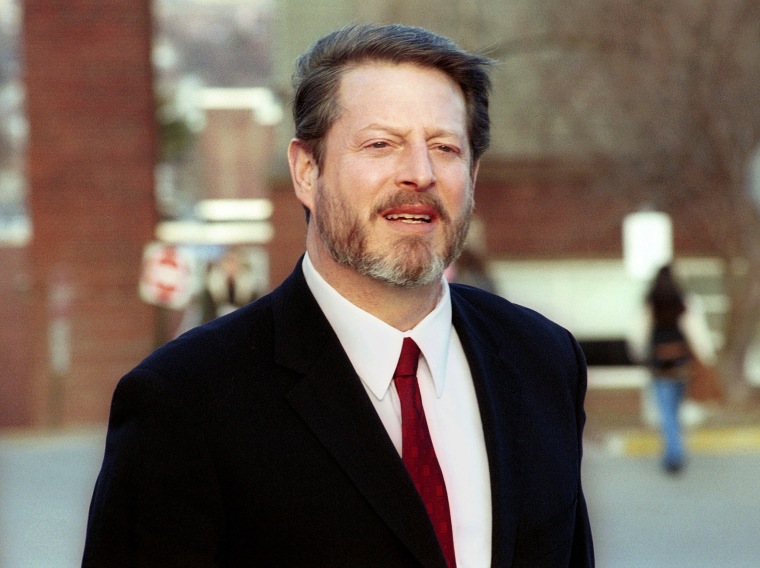 But eventually Gore enjoyed a huge resurgence thanks in large part to the acclaimed documentary film "An Inconvenient Truth," which positively highlighted the Democrat's decades-long crusade to raise awareness about climate change.
Gore became the rare presidential contender who rose in the esteem of many voters after his loss, winning the Nobel Peace Prize in 2007 along with the intergovernmental Panel on Climate Change, and he became a popular choice to seek the White House again in 2004 ("Re-elect Gore in 2004!" became an ironic bumper sticker) 2008, and 2016, but chose not to run again, instead utilizing his newfound celebrity and influence to promote environmental causes and to launch his ill-fated Current TV network.
JOHN KERRY, 2004 — The then-Massachusetts senator and President George W. Bush were in a too-close-to-call race for much of the fall, and exit polls on Election Day suggested the Democrat might unseat the polarizing incumbent. The result hinged on Ohio — and its unsettled status on election night had voters fearing yet another protracted recount fight akin to 2000.
Although there was some controversy about whether the vote in that state was suppressed — Kerry did concede the election the following day. Bush won the narrowest re-election victory in history.
Kerry would return to the U.S. Senate and once he declared he would not seek the Democratic nomination again he was seen as a likely cabinet appointee. In 2013, Kerry would replace Hillary Clinton as Secretary of State, and he played a crucial role in negotiating the historic Iran deal on nuclear weapons.
JOHN MCCAIN, 2008 — After graciously accepting defeat at the hands of then Sen. Barack Obama, McCain returned to his role as a Senator from Arizona, where he continued to garner respect as one of the great statesman of his party and remained a staunch opponent of much of Obama's agenda.
He managed to fend off spirited challenges from the right in 2010 and again in 2016 to win re-election.
MITT ROMNEY, 2012 — The Massachusetts Republican mostly trailed Obama for much of the 2012 contest and was perhaps fatally wounded by his own words — caught on tape castigating 47 percent of the country.
He was the subject of a sympathetic documentary film. entitled "Mitt," which documented his campaign but he otherwise laid low after his defeat, opting to join a private capital firm owned by his own son — although he did box former heavyweight champion Evander Holyfield for charity.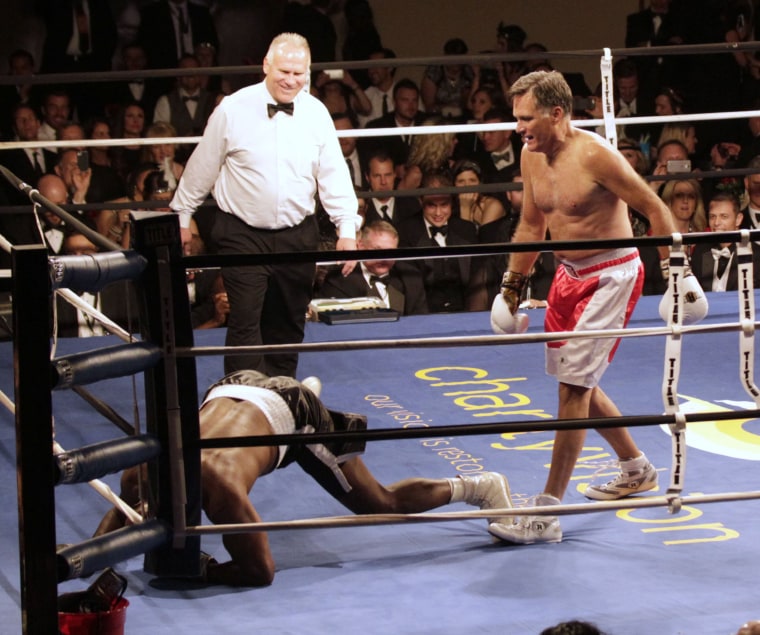 After Obama's approval numbers began to dip during the middle of his second term, Romney quickly emerged as favorite to win the GOP nomination in 2016 (especially after polls showed he'd defeat the president in a rematch). After a long bout of indecision he ultimately decided not to re-enter politics. Although late into the campaign his name was frequently floated as a would be savior to stop Trump, whom he fiercely opposed, but whom he was forced to congratulate this week.