What are the early exit polls saying about why Americans voted the way they voted?
Broad Dissatisfaction Leaves Winners With Little Direction
The exit polling data are throwing up a real puzzle for elected officials and political analysts alike — voters are pretty clear they're unhappy with government, but they don't know how they want to change it.
More than half of voters, 53 percent, approve of how Barack Obama is handling his job as president. But at the same time, 62 percent say the country is on the wrong track — indicating a deep dissatisfaction with government institutions in general. Those voters went for Donald Trump by more than 2-to-1.
And asked whether Obama's policies should continue in the next administration, voters split almost evenly: 45 percent say they should continue or become more liberal; 47 percent say they should swing right.
Trump Winning Among Several Groups of Women
While Clinton is winning among women overall by more than 10 percentage points, a number of female voting groups broke for Trump — even though 73 percent of all female voters surveyed in the exit polling said they're bothered "some" or "a lot" by Trump's reported treatment of women.
Trump is winning among white women by about 10 percentage points — and by nearly 20 points among middle-age white women. And women who describe themselves as conservative broke overwhelmingly for Trump, by 78 percent to 18 percent.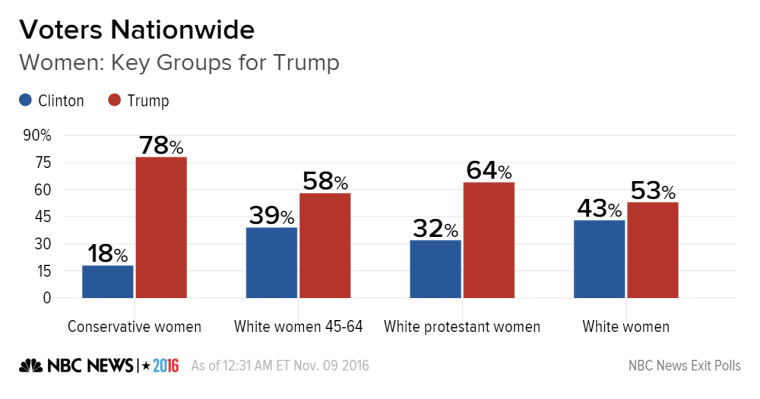 More than two-thirds of men, 68 percent, also say they're bothered at least some by Trump's behavior toward women. But a crucial difference appears among independents: While 56 percent of independent women say they're bothered "a lot" by Trump's treatment of women, just 38 percent of independent men say the same.
More Money, More Schooling = Clinton Votes
Republicans generally do better among the "5 Percent" — families earning $200,000 or more a year — but the exit polls indicate Hillary Clinton was doing slightly better than Trump, pulling support from 48 percent of voters to Trump's 45 percent. (Obama's edge in 2008 is considered an anomaly because it was just after the 2007-08 financial crisis.)
And she was upholding Democrats' historical advantage among Americans with post-graduate schooling, winning almost 60 percent of those voters. That's a demographic the party hasn't lost since 1988.
Looking at the other side of the same coin, white voters without college degrees were breaking almost 2-to-1 for Trump. White voters with college degrees were evenly split.
Ohio Says It's the Economy
Clinton leads Trump in national exit polling among voters who say the economy is their No. 1 issue — but that's not the case in Ohio, where the Republican businessman appears to have convinced many voters that he's the stronger candidate in that respect.
When asked who would better handle the economy, 49 percent of Ohio voters said Trump, while 45 percent said Clinton. Even union voters — who traditionally vote heavily Democratic — are going for Trump in Ohio, by 50 percent to 44 percent. They split 60 percent to 37 percent for President Barack Obama in 2012.
Optimists Go for Clinton, Pessimists for Trump
By more than 2-to-1 (46 percent to 21 percent), Clinton voters think the next generation will have it better — but Trump voters say the next generation will have it worse (44 percent to 30 percent).
Overall, 37 percent of voters yes, life will be better, and 33 percent say no, it it'll be worse, while 24 percent say it'll be about the same.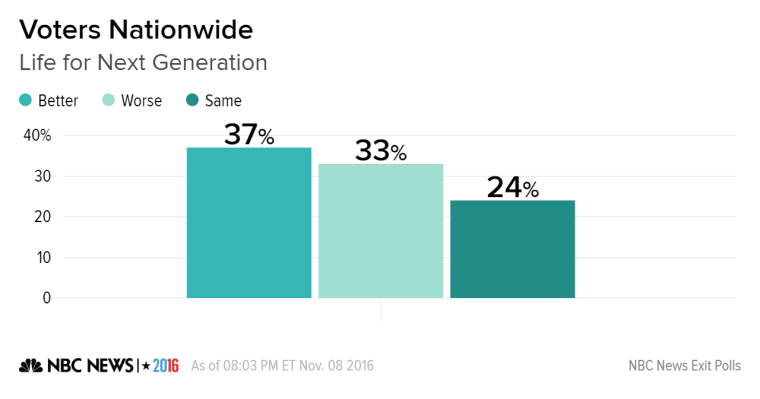 Voters Unhappy With Battle Against ISIS
The exit poll data indicate that voters aren't impressed with the job the United States is doing in the fight against ISIS: 42 percent say it's going very or somewhat well, but 52 percent say it's going somewhat or very badly.
The split was similar among military veterans: 41 percent of vets are OK with the military campaign — but 56 percent aren't.
White Evangelicals Stick With Trump
Donald Trump has held on to the Republican Party's decades-long grip on white evangelical voters, despite the opposition of some influential evangelical Christian institutions and leaders.
Early exit polling data indicate that Trump got about 80 percent of the votes of white evangelicals — defined by pollsters as white non-Catholics who call themselves evangelicals or say they've been "born again." That's about the same percentage Mitt Romney got in 2012.
Trump maintained white evangelical backing even though conservative Christian social issues like gay and lesbian rights and access to legal abortion played minor roles in the campaign — and in the face of opposition from the head of the Southern Baptist Theological Seminary and the influential Christian magazines World and Christianity Today.
Catholics were much more divided. White Catholics went for Trump by 60 percent to 37 percent, while Latino Catholics broke for Clinton by 67 percent to 26 percent.
A Pox on Both Their Houses
The message in the exit polls is voters on both sides are holding their noses as they make their choices. By wide margins, voters agree that Clinton isn't honest or trustworthy (59 percent to 38 percent) and that Trump doesn't have the temperament to serve as commander-in-chief (64 percent to 34 percent).
NBC News' exit polling desk said even about a quarter of Trump's own voters have doubts about their man's temperament.
Overall, 61 percent of all voters surveyed said they have an unfavorable view of Trump — to go with 54 percent who said the same about Clinton.
What Rigged Election?
More than three-quarters of Trump's voters — 78 percent — say they're somewhat or very confident in the integrity of the vote count, notwithstanding their candidate's drumbeat of warnings about fraud. Ninety-one percent of Clinton voters say the same thing.
Overall, voters' confidence is almost identical to what was found in 2008. The difference is in the details. That 78 percent of Trump voters? It breaks this way: 50 percent said they're "somewhat confident"; only 28 percent said they're "very confident." By contrast, 68 percent of Clinton backers said they're "very confident," compared to 23 percent who said "somewhat confident."

Anti-Obamacare = Pro-Trump
Voters are roughly split on Obamacare, but those who think it went too far definitely aren't — they're breaking heavily for Trump, with 8 in 10 voters who dislike the health care program backing him.
SCOTUS Pocus
A majority of voters on both sides say the makeup of the Supreme Court played a big role in how they voted — in fact, about 1 in 5 said it was their No. 1 factor.
Refresh this page for the latest.