With some battleground state polls tightening, both presidential candidates have frenetically campaigned around the country in the effort to lock down enough states to add up to the 270 electoral votes needed to win the presidency.
Overall, Hillary Clinton still appears to have a broader path to victory. NBC's battleground state map estimates that 182 electoral votes are a lock for Clinton, with an additional 92 leaning blue, for a projected total of 274.
NBC News estimates that 71 electoral votes are solidly in Trump's column, with an additional 109 leaning his way, for a total of 180.
With states shifting as different political scenarios evolve, there are plenty of possibilities to mull. (For example, Trump could conceivably lose Utah to third-party candidate Evan McMullin. Reams of Virginia polling showing Clinton with an advantage there could be proven wrong. And so on.)
For the sake of this exercise, though, let's look at some of the most plausible ways each candidate could seal the deal.
Paths for Clinton to win
1. If Clinton wins in most key battlegrounds, the Democratic nominee could largely match Barack Obama's 2012 performance against Mitt Romney. But she's likely swap a win in Iowa — where Trump has a polling advantage — for one in fast-changing North Carolina, where demographic changes favor Democrats.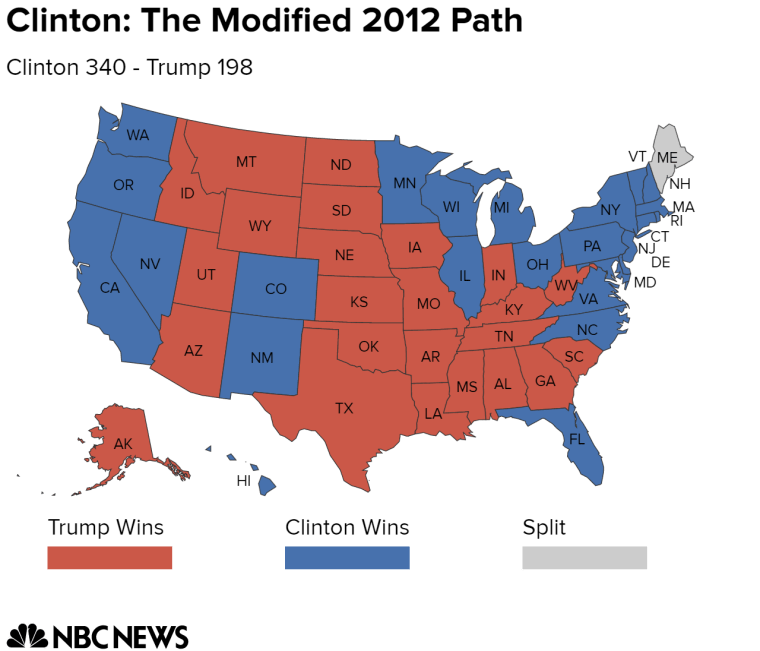 2. Donald Trump's campaign has heavily pushed the idea that the polls in Rust Belt states are tightening, with working-class white voters flocking to Trump's anti-trade, anti-Washington message. The problem for Trump's team is that Clinton could lose in Ohio, Iowa, Pennsylvania, Michigan AND Wisconsin but still make up ground in the South and West to win.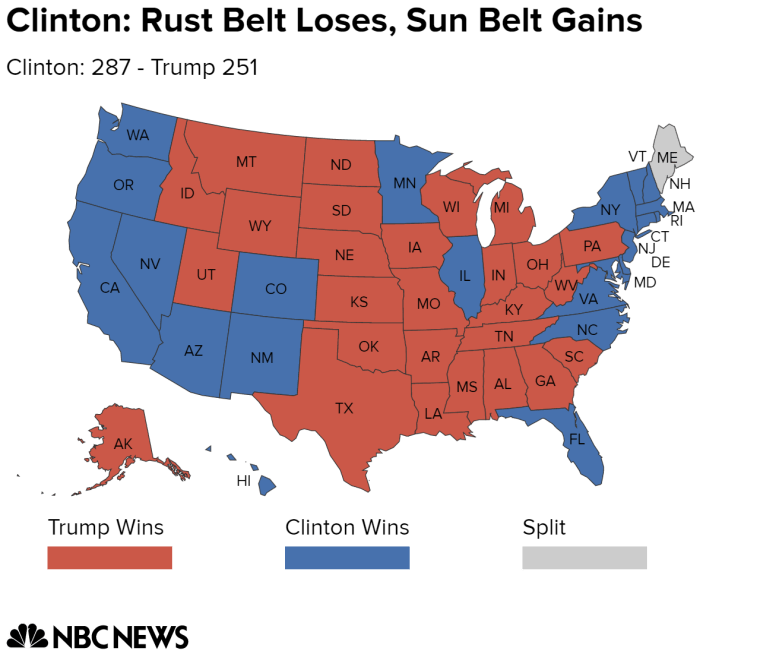 3. With Trump's team sounding bullish about tightening polls in Florida and Ohio, Clinton could face the prospect of battling to a win without either state. It's not easy — it hasn't been done since 1960 — but she could pull it off, even without North Carolina, if she holds on to key states in the Midwest and West.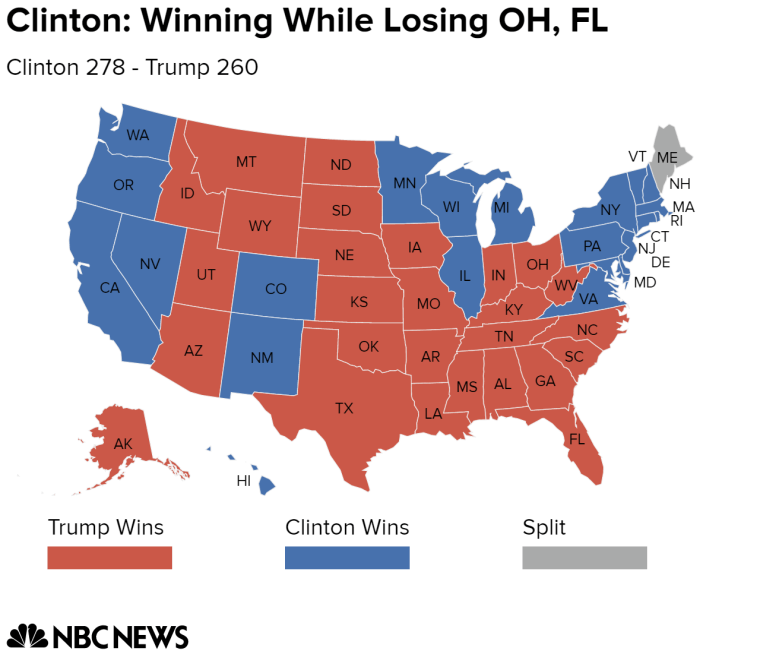 Paths for Trump to Win
1. Trump's campaign believes that their candidate could be gaining in Rust Belt states, traditionally blue areas with high populations of blue-collar workers who they say are receptive to Trump's anti-Washington message. If he wins in states like Pennsylvania and Wisconsin, he could build toward a national victory, but he'd still have to pick up a state elsewhere like Florida. Here's one such scenario: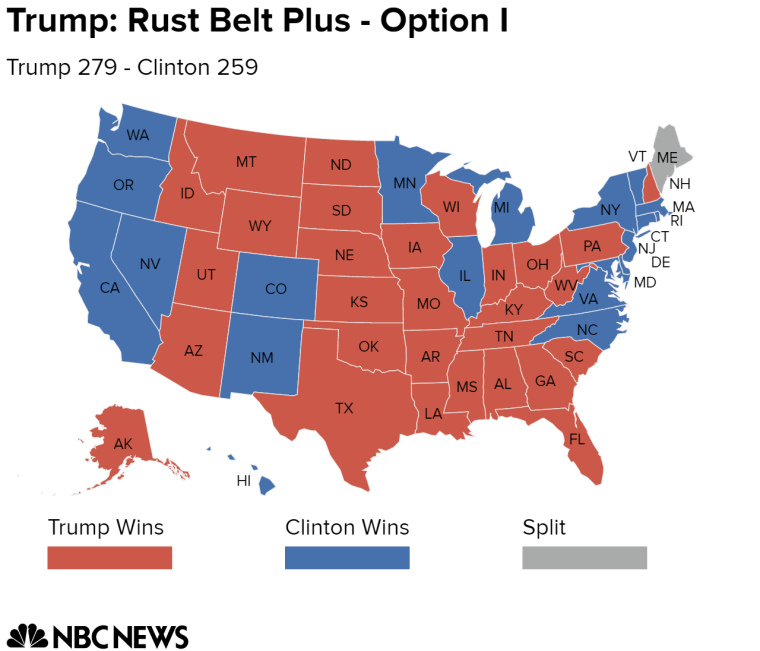 2. If Clinton holds fast in Pennsylvania, North Carolina and New Hampshire, Trump will likely have to make up ground in another Midwestern state (like Michigan, pictured below), or a state like Colorado.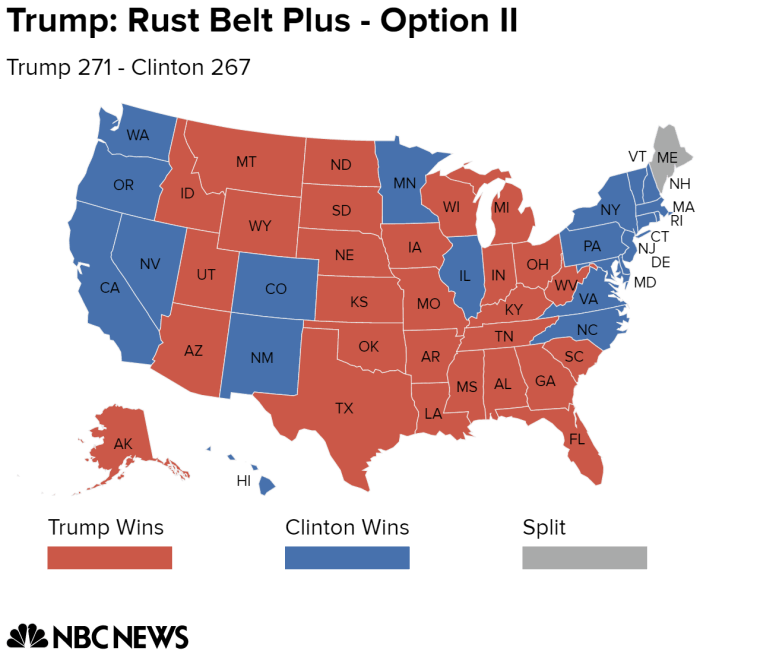 3. If Trump can't win in Wisconsin, Michigan or Pennsylvania, he'll have to nab a state like Colorado and prevent Clinton from winning in North Carolina and New Hampshire, too.