Democrat Hillary Clinton holds a four-point lead over Republican Donald Trump in the final national NBC News/Wall Street Journal poll of the 2016 presidential race.
Clinton gets support from 44 percent of likely voters, while Trump gets 40 percent, the poll shows. Libertarian nominee Gary Johnson is at 6 percent, and the Green Party's Jill Stein is at 2 percent.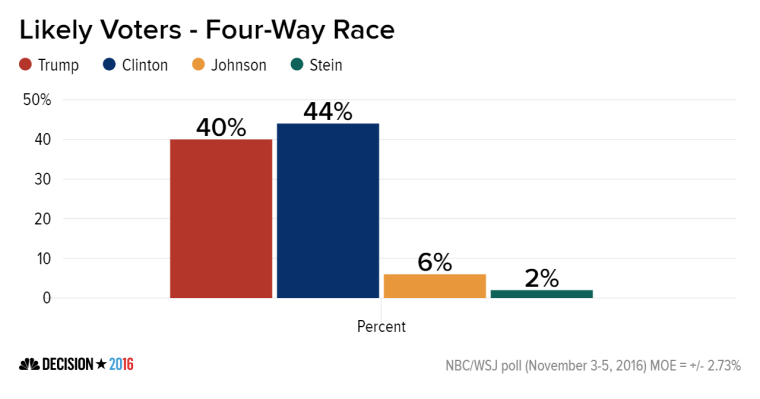 In a two-way contest without Johnson and Stein, Clinton's advantage over Trump expands to five points, 48 percent to 43 percent.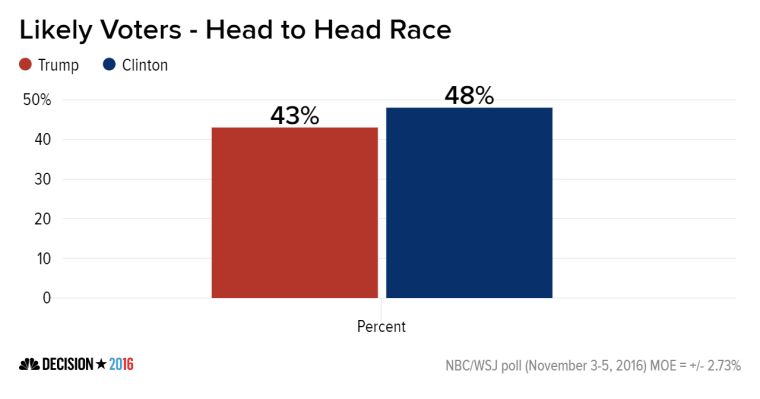 Clinton's current lead over Trump is down from the 11-point edge she enjoyed in the four-way horserace in the previous NBC/WSJ poll in mid-October, 48 percent to 37 percent.
That poll was conducted after 2005 video of Trump surfaced with him saying that "you can do anything" to women when you are a star like he is. "Grab them by the p****. You can do anything."
In the two-way contest last month, Clinton's lead was 10 points, 51 percent to 41 percent.
This newest poll – conducted Nov. 3-5 of more than 1,200 likely voters – comes after the letter FBI Director James Comey sent to Congress on Oct. 28 saying that the FBI had "learned of the existence of emails that appear to be pertinent" to the investigation of Clinton.
Clinton maintains double-digit lead with women
Looking inside the numbers of the two-way horserace, Clinton is ahead of Trump among women (53 percent to 38 percent), African Americans (86 percent to 7 percent), Latinos (65 percent to 20 percent) and those ages 18-34 (55 percent to 32 percent).
Trump, meanwhile, leads among men (47 percent to 42 percent), seniors (49 percent to 42 percent) and whites (53 percent to 38 percent).
But there's a significant difference among whites: Those without college degrees are breaking for Trump by a 2-to-1 margin, 60 percent to 30 percent.
Yet among whites with college degrees, Clinton is ahead by 10 points, 51 percent to 41 percent.
Clinton leads among those who are early voters, 53 percent to 39 percent, while Trump is up among those who will wait to vote on Election Day, 48 percent to 41 percent.
Majority feels comfortable with Clinton as president
The NBC/WSJ poll also finds 52 percent of likely voters saying they would be comfortable and prepared to support Clinton as president if she wins on Tuesday night, versus 46 percent who say they wouldn't be comfortable.

That's compared with just 43 percent of likely voters who say they would be comfortable with Trump as president. Fifty-four percent say they'd be uncomfortable.
The NBC/WSJ poll was conducted Nov. 3-5 of 1,282 likely voters (including more than 600 reached by cell phone), and it has a margin of error of plus-minus 2.7 percentage points. The rest of the poll will be released at 5:00 pm ET.