Hillary Clinton and Donald Trump spent the twilight of their campaigns offering closing arguments as well as a road map for their first days in the Oval Office.
Polls have shown the race tightening. On Tuesday, the Democratic nominee fought to shift the narrative to the country's choice on Nov. 8, telling supporters at a rally in Florida that she cannot fulfill her promise to create American jobs, make college affordable and invest in infrastructure, if they do not come out and vote.
"I want to make sure every voter in Florida spends these next seven days thinking about what's at stake," she said. "I am ready to serve if you give me the great honor of being your president."
Donald Trump, meanwhile, has continued to push his "contract with the American voter" at rallies while gloating over Clinton's email server woes. In speeches focused on what he would do his first days in office, he has threatened to sue the women who have accused him of unwanted sexual contact and vowed to convene a "special session" of Congress to repeal and replace Obamacare. (What Trump means by "special session" is unclear, since by the time the next president is sworn in, Congress will already be in session.)
"Obamacare has to be replaced, and we will do it. And we will do it very, very quickly. It is a catastrophe," Trump said.
But transforming promises made on the campaign trail into policies can be a tall order. What would each candidate do?
A Historic Hundred Days as the First Female President
Throughout her campaign, Clinton has proposed dozens of policies on everything from reforming Wall Street to improving public education. For her first days in office, Clinton has offered a direct and concise plan: jobs and immigration.
The Democratic nominee calls her 100-Days Jobs Plan "the boldest investment in good-paying jobs since World War II." According to her campaign, the plan will:
Invest in infrastructure and manufacturing, research and technology, clean energy and small businesses
Strengthen trade enforcement by rejecting the Trans Pacific Partnership
Make the U.S. "the clean energy superpower" of the world
Clinton has also pledged to make immigration reform one of the top priorities of her administration. At a MSNBC town hall during the primaries, Clinton told the audience that comprehensive immigration reform is one of the first priorities of her 100 days.
"I'm am going to introduce my priority legislation and this is at the top of that list," Clinton said. "And then I'm going to work as hard as I can to make sure that we get it moved through the congressional process."
A Businessman-in-Chief's First Day in Elected Office
Seizing on reports that Obamacare insurance premiums will rise by double digits in 2017, Trump told a crowd of supporters at a rally Wednesday that he would make repealing Obama's signature policy his first priority in office.
"Just think about what we could accomplish in the first 100 days," Trump told supporters at a rally in Ohio.
Repealing healthcare reform joins a long list of issues Trump has vowed to tackle in his first 24 hours as president. In a speech in Gettysburg, Pennsylvania, Trump promised to introduce more than a dozen measures on his first day.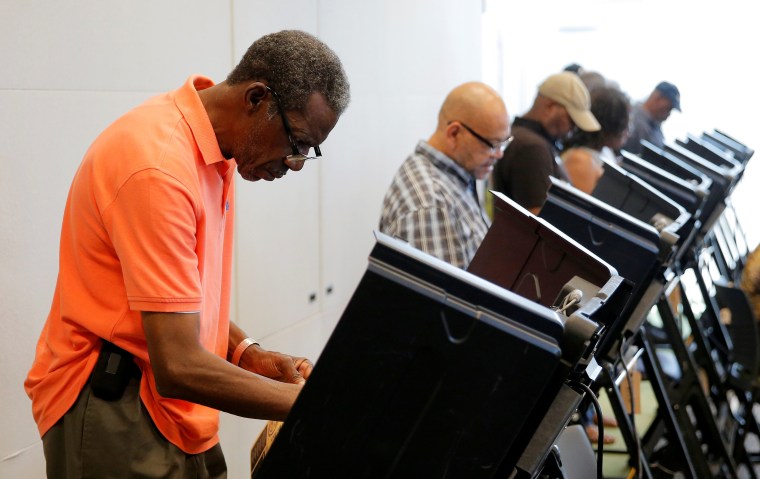 At the same rally, Trump said on his first day he will:
Announce the U.S. to renegotiate NAFTA, or withdraw from the trade deal
Announce the U.S. intention to withdraw from the Trans-Pacific Partnership
Nominate a replacement for Justice Scalia on the Supreme Court
Cancel funding to "sanctuary cities"
Remove illegal immigrants and cancel visas to countries that refuse to take them back
Suspend immigration from "terror-prone" regions of the world
Propose a Constitutional Amendment to impose term limits on members of Congress
Propose a hiring freeze on all federal employees to reduce the federal workforce (except military, public safety and public health)
Propose a new requirement that for every federal regulation imposed, two existing regulations will be eliminated
Propose a 5-year ban on White House and congressional officials becoming lobbyists
Propose a lifetime ban on White House officials lobbying foreign governments
Propose a ban on foreign lobbyists raising money in American elections
The Republican nominee also said he would spend the first 100 days of his administration fighting for laws that will simplify the tax code, invest in American energy infrastructure, end illegal immigration and make inner-city communities safer.