For the first time in history, Illinois will simultaneously have Asian-American elected officials at federal, state, and county levels of government in an example of growing Asian-American political power, according to a civil rights group.
In the U.S. Congress, Illinois will be represented by Sen.-elect Tammy Duckworth as well as Raja Krisnamoorthi, who will represent the state's 8th Congressional District, a seat currently held by Duckworth.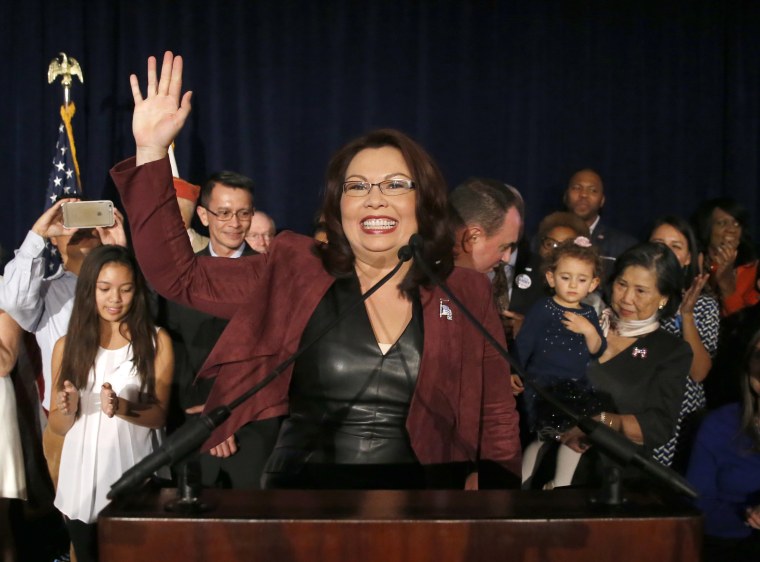 At the state level, Theresa Mah will represent a portion of Chicago as the state's first-ever Asian American elected to Illinois' General Assembly, according to Asian Americans Advancing Justice|Chicago (Advancing Justice-Chicago).
At the county level, Josina Morita was elected to the Metropolitan Water Reclamation District's board of commissioners, according to returns from the Chicago Tribune. She is the first non-judicial officeholder on the county level, according to Advancing Justice-Chicago.
RELATED: The Next Senate Will Have the Most Asian-American Women Ever
"The data will show in the coming days that this year is historic for Asian American turnout, but we can see today that it's historic for Asian American elected officials here in Illinois," Tuyet Le, executive director of Advancing Justice-Chicago, said in a statement. "We congratulate and look forward to re-engaging these newly elected community members in supporting policies at all levels of government that benefit the Asian American and immigrant communities."
"I'm here because of the miracles that occurred 12 years ago this Saturday above and in a dusty field in Iraq," Duckworth, a veteran of the Iraq War, said during a speech to her supporters. "Some I can explain, like the bravery of my crew, and some I can't, like the shrapnel from the explosion passing through my spinning rotor blades. ... I wake up every morning now trying to be worthy of my crew, trying to be worthy of their struggle, to be worthy of this miraculous second chance."
Follow NBC Asian America on Facebook, Twitter, Instagram, and Tumblr.