Hillary Clinton fired back at a heckler Tuesday night in an intense condemnation of the "dangerous" vision promoted by Donald Trump.
The protester interrupted her speech by waving a sign that read "Bill Clinton is a rapist."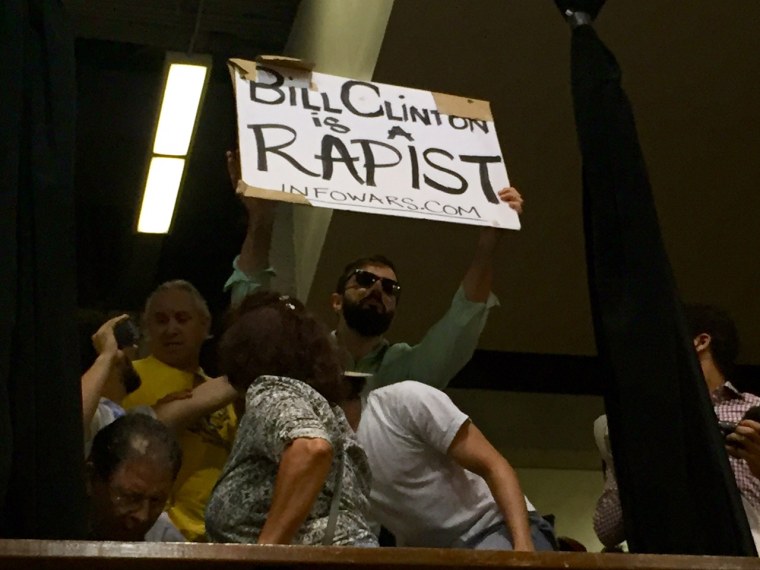 Clinton unloaded on the heckler, throwing red meat at her crowd of supporters in Florida as she sharpened a broad attack against the Republican presidential nominee.
"I'm sick and tired of the negative, dark, divisive, dangerous vision and behavior of people who support Donald Trump," Clinton said with anger in her voice.
The protester was swiftly led out of the venue, his sign ripped to shreds.
But inscribed at the bottom of the poster was a familiar insignia at protests within Clinton rallies — InfoWars.com, the website founded by conspiracy theorist and right-wing radio host Alex Jones.
Related: Bill Clinton 'Rape' Hecklers Interrupt Obama, Hillary
Outbursts at rallies increased after Jones last month pledged cash rewards to supporters who carry out stunts targeting the Democratic nominee's husband.
A prize of $1,000 was offered to anyone who wore a "Bill Clinton rape" T-shirt and appeared on television for at least five seconds. The top reward of $5,000 went to anyone who chanted "Bill Clinton is a rapist" while wearing the matching shirt.
In a single week hecklers interrupted multiple events that featured top campaign surrogates, including President Barack Obama and Bill Clinton himself.
Donald Trump has galvanized renewed interest into decades-old allegations from three women who accuse Bill Clinton of sexual misconduct. The former president had denied all of the allegations.