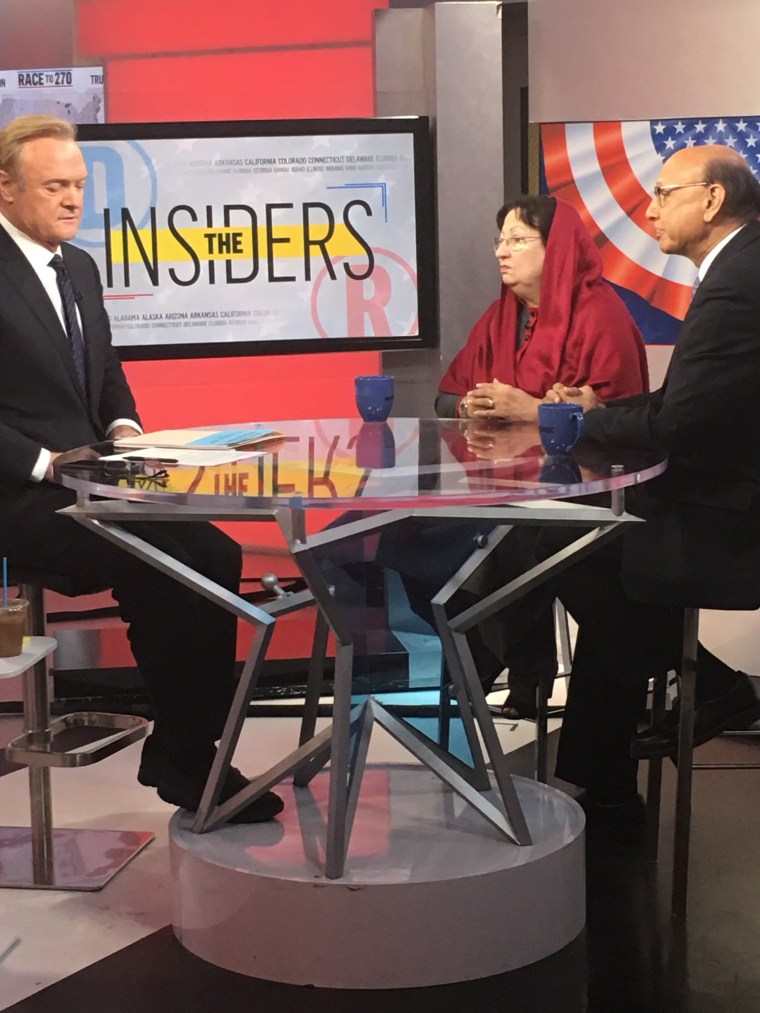 As polls begin to close across the United States, Khizr Khan, the Muslim-American Gold Star father whose son was killed in combat in Iraq 12 years ago, is optimistic that Americans will heal after what many have seen as a campaign season filled with divisive and hate-filled rhetoric.
"We have been continuing on this journey that partly ends tonight, but that partly continues the journey of reconciliation and the journey of removing the division and hatred of this great nation that lies ahead of us," Khan told NBC News after appearing with his wife, Ghazala, during NBC News' election coverage.
Khan, a Pakistani-American supporter of Democratic candidate Hillary Clinton, made headlines in July after speaking at the Democratic National Convention in Philadelphia. He accused Donald Trump of having "sacrificed nothing and no one," a claim that drew criticism from the Republican nominee.
The Khans' son, U.S. Army Capt. Humayun Khan, was guarding the gates to a military base in Iraq in 2004 when a suspicious vehicle approached and a bomb exploded.
RELATED: Father of Fallen Soldier to Trump: 'You Have Sacrificed Nothing'
Trump, who has called for a ban on Muslims entering the country, later criticized Ghazala Khan for not speaking on stage, suggesting she couldn't because she is a Muslim woman.
Asked by MSNBC's Lawrence O'Donnell what she would have said that night, Ghazala Khan told O'Donnell her hope is to bring people together.
"I would have requested to pay attention about the people you love, go to them, hug each other, love them, and tell them how grateful you are, because God has given you [the] opportunity in this country that you can survive," she said.
After O'Donnell's interview, Khan said he remains optimistic about the country's march toward reconciliation, saying he has about 40 additional engagements beginning Thursday to move in that direction.
Khan added that this election season, and his involvement in it, has had an effect on him.
"First it has reaffirmed all of our beliefs about the goodness of this country," he said.
And it has also impacted Muslim Americans throughout the country, Khan said, spurring them to participate more in the political process.
As a result of rhetorical attacks on the Muslim community, more than 300,000 Muslims may have registered to vote since 2012, the Council on American Islamic Relations, a nonprofit, said in a statement in June.
RELATED: Muslim-American Voters See 'Unprecedented' Organizing on Election Day
"The Muslim community has realized that sitting in the corner will not be a service to this country," he said. "This country honors us with the rights of citizenship. In return, it is our obligation — moral, ethical, legal — and religious obligation to stand up for the better of this country, the strength, and safety and security of this country.
Follow NBC Asian America on Facebook, Twitter, Instagram, and Tumblr.