The mayor of a Mississippi town where a black church was torched and vandalized with the words "Vote Trump" said Wednesday that the incident is being "investigated as a hate crime."
Calling the burning of Hopewell Missionary Baptist Church in Greenville a "hateful and cowardly act," Mayor Errick Simmons said this was "an attack on the black community."
"It appears to be a race crime," Simmons said. "It happened in the '50s. It happened in the '60s. It shouldn't happen in 2016."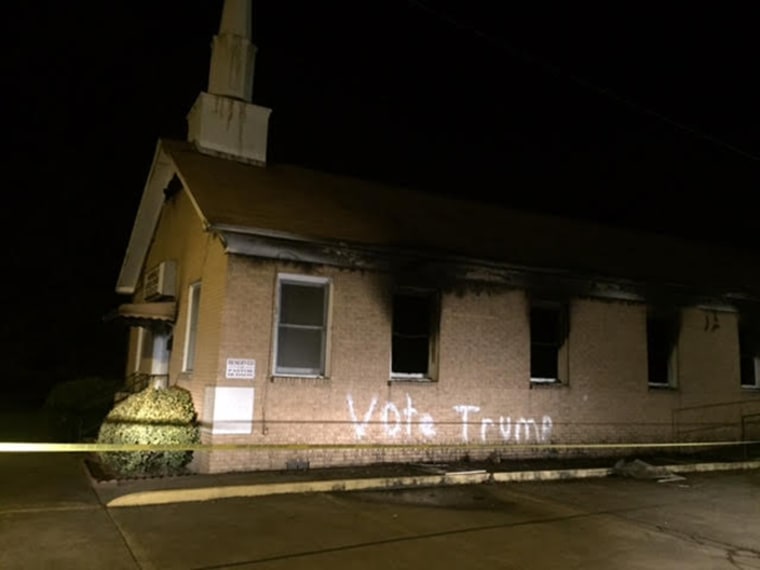 Greenville Police Chief Delando Wilson said investigators were "possibly talking to a person of interest" but had no suspects in custody or surveillance video of the fire, which appeared to have been deliberately set.
"It is a local person who lives in the area," Wilson told NBC News. He declined to identify the man or his race.
Donald Trump's presidential campaign said Wednesday night that it was "deeply saddened for the members of the Hopewell M.B. Church community and condemn[s] in the strongest terms this terrible act that has no place in our society."
"We are grateful that no one was hurt and we urge witnesses with any information to come forward and help bring justice to those who are responsible," the campaign said.
Trump's Democratic opponent, Hillary Clinton, said in what appeared to be a personally signed tweet that "this kind of hate has no place in America."
Pastor Carolyn Hudson said the 200-member church hadn't received any recent threats.
"Our church was a historic church that has been there for over 111 years," Hudson said. "This has left our hearts broken, but we are strong together. ... Y'all continue to pray for us."
A spokeswoman for Simmons, the mayor, told NBC News that the church hadn't been targeted before — "not in recent years that I know of," she said.
The FBI, meanwhile, confirmed that it was "aware of the situation in Greenville."
"We are working with our local, state and federal law enforcement partners to determine if any civil rights crimes were committed," Brett Carr, an FBI spokesman, said in a statement.
The fire was reported at 9:16 p.m. (10:16 p.m. ET) Tuesday, and when firefighters arrived they found the main sanctuary of the brick building engulfed in flames, Greenville Fire Chief Ruben Brown said. The Trump graffiti was found in big letters on an outside wall, he said.
Investigators from the federal Bureau of Alcohol, Tobacco, Firearms and Explosives and the state fire marshal's were on the scene.
Greenville is a mostly black city of 34,000 in the Mississippi Delta where Simmons said "the racial climate is fairly good." He said the most recent racist incident happened on Sept. 11, the 15th anniversary of the terrorist attacks, when somebody spray-painted the N-word on the city's boat ramp.
But Mississippi also has a sad history of African-American churches being targeted by vandals.
"The black church has always been a symbol of the black community," Simmons said.
A GoFundMe page has been set up to collect money to repair the church.