Before Simran Jeet Singh headed off to work Wednesday morning, his wife reminded him to be extra vigilant, to be extra careful.
Just hours after Donald Trump stunned the world by becoming president-elect, she told Singh, a Sikh American and senior religion fellow at The Sikh Coalition, to pay particular attention to anyone who might be following him or looking at him funny.
"More than ever, we must treat each other with respect and dignity, as we begin this new chapter in American history."
"Being perceived as the enemy for the last 15 years, at least we've already come to be hyper-vigilant," Singh, who is also an assistant professor of religion at Trinity University in San Antonio, Texas, told NBC News. "Sikhs, Muslims, South Asians, Arab Americans — we already have this radar on us constantly, where we're looking around, making sure that people aren't trying to harm us because of our appearance."
For many South Asians, the threat of harassment and violence is a stark reality they confront every day, community activists say. Anti-Muslim hate crimes are roughly five times more frequent than they were before 2001, according to the FBI. Attacks on mosques have also been on the rise, as rhetoric from some candidates, including Trump, have left some South Asians saying they feel anxious about what's to come.
RELATED: Anti-Muslim Hate Crimes Reach 'Levels Not Surpassed' Since 9/11: Analysis
It's a collective fear reflected as well on social media, where talk has flourished on how to stay safe in the days, weeks, and months after the election.
"One of Trump's biggest promises was tighter restrictions in allowing Muslims entry into this country," Nabela Noor, a lifestyle vlogger who asked Republican primary candidates during a January debate about tolerance, posted online early Wednesday morning. "My mother, who has only known American soil for most of her life, and Muslims all throughout the country, may now have to live in fear instead of freedom."
Others posted online urging both caution and hope in the immediate aftermath of the election results:
Sapreet Kaur, executive director of The Sikh Coalition, urged all Sikh Americans to "exercise extra vigilance and caution during this period of heightened vulnerability."
"More than ever, we must treat each other with respect and dignity, as we begin this new chapter in American history," Kaur told NBC News in an email statement.
Suman Raghunathan, executive director of South Asian Americans Leading Together (SAALT), told NBC News her organization has been hearing concerns from community members, as well as from members of the National Coalition of South Asian Organizations.
RELATED: Projected Trump Victory Brings Mixed Reactions From Asian-American Voters
Those concerns, she said, have been focused "not only [on] hate violence but also [on] the prospect of a continued raft of troubling and divisive civil rights, civil liberties, and immigration reform policies that seek to paint our communities as other."
In an email to NBC News, Sikh American Legal Defense and Education Fund (SALDEF) board member Kavneet Singh said his group is also worried about a possible uptick in hate crimes and bias incidents.
"We are hopeful that the vitriol and rhetoric of the campaign will begin to subside," he added. "But from our experience, we have learned that times like these call for heightened vigilance with respect to bias-motivated attacks."
RELATED: Khizr Khan: After the Election, the 'Journey of Reconciliation' Will Continue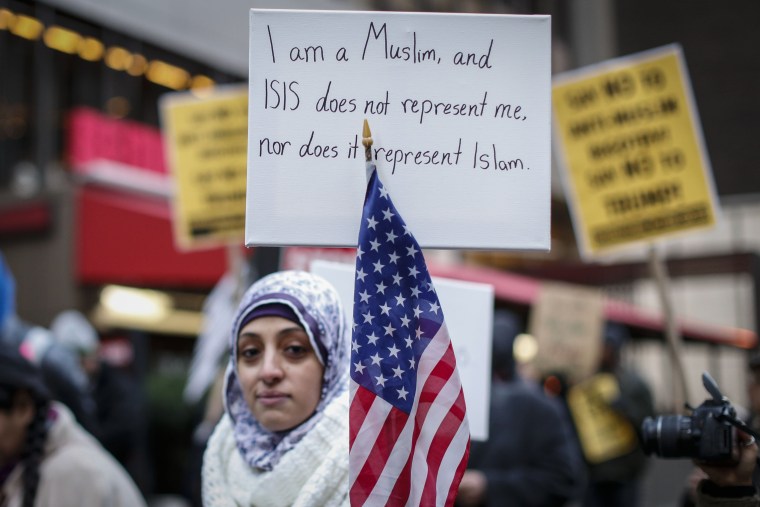 Robert McCaw, director of the government affairs department at the Council on American-Islamic Relations (CAIR), a nonprofit, said that as of Wednesday morning, his organization had not received reports of any immediate violence against Muslims following the election results.
"Regardless of the outcome [of the election], CAIR will work with our partners in the federal government and hopefully the future administration towards creating a safe and more secure society," McCaw told NBC News.
A Trump presidency indeed spells fear for some in the Asian community. NBC News exit polling found that a combined 67 percent of Asians were either concerned or scared about a Trump win. A CAIR survey of registered Muslim voters last month reported that 85 percent of respondents believed Islamophobia and anti-Muslim sentiment had increased in the last year.
Trump made headlines in December when he proposed a temporary ban on Muslims entering the United States. He later dialed back on his plan, calling instead for "extreme vetting" of Muslims.
Singh said he remains deeply concerned for the future.
"If people are continuing to get the message about our next president of the United States, that it's okay to target people based on their religious identity or how they appear, then who knows to what degree and in what sorts of ways this xenophobia will manifest itself," he said.
Singh said he's heard a lot of South Asians express concerns, in the short term, over the safety of their families. He said it's a conversation that he and his family has had for the last year, and that emerged with more urgency last night as the elections results came in.
While there's been disappointment among some South Asians over the outcome, Singh said there was something of a silver lining.
"There's also been an incredibly affirming positive response from activists who say we're not going to let this get us down, we're not going to give up," he said. "We're going to continue pushing for racial justice in this country."
Follow NBC Asian America on Facebook, Twitter, Instagram, and Tumblr.