Whoever wins Tuesday's presidential election will confront a nation that has grown increasingly pessimistic, divided and bitter about the state of American politics, according to the final national NBC News/Wall Street Journal poll of the 2016 presidential race.
Sixty-four percent of likely voters say the election of the next president has made the nation more divided, versus 23 percent who think it's made it more united.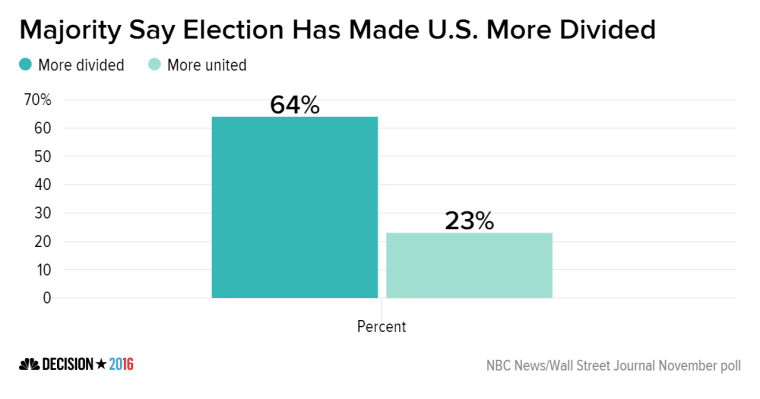 In addition, 62 percent say the country is headed in the wrong direction.
And strikingly, 6 in 10 voters say the election has made them less proud of the country — compared with just 12 percent who said that before the 2008 presidential election.
"This election was never about hope, but it was an election about fear," says Democratic pollster Peter Hart, who conducted the NBC/WSJ survey with Republican pollster Bill McInturff and his firm.
"Donald Trump's message was the fear of what was happening to America, and Hillary Clinton's was about the fear of Donald Trump."
Majorities have negative opinion of Trump, Clinton
Both Clinton and Trump remain the most unpopular presidential nominees in the history of the NBC/WSJ poll.
Fifty-nine percent of likely voters have a negative view of Trump, while 53 percent have a negative opinion of Clinton.
So regardless who wins the election, the next president will be someone "this country will be very uncomfortable with," says McInturff, the Republican pollster.
When voters were asked about Clinton's and Trump's controversies and vulnerabilities during the presidential campaign, 76 percent said that whether Trump has the right temperament to serve as commander-in-chief is an important factor in deciding their vote.
Sixty-five percent said the same of Trump's comments and language about women, immigrants and Muslims.
For Clinton, 58 percent said her use of a private email server is an important factor in deciding their vote, and 50 percent said the same of the FBI's recent account of an investigation into thousands of emails that might be related to Clinton's use of private server.
Obama's job-approval rating remains at 53 percent
Despite that negativity, however, the popularity of the current Oval Office occupant remains high.
President Barack Obama's overall job-approval rating stands at 53 percent among likely voters, which is unchanged from last month.
Moreover, 51 percent have a position view of the president, versus 40 percent who have a negative view.
And 49 percent said they would consider voting for Obama if the U.S. Constitution allowed him to seek a third term, compared with 50 percent who said they wouldn't consider it.
The NBC/WSJ poll was conducted Nov. 3-5 of 1,282 likely voters (including more than 600 reached by cellphone), and it has a margin of error of plus-minus 2.7 percentage points.