First Read is a morning briefing from Meet the Press and the NBC Political Unit on the day's most important political stories and why they matter.
NBC's final battleground map: Clinton 274, Trump 170
In our final battleground map of the 2016 presidential race, Hillary Clinton holds a substantial lead over Donald Trump with one day before Election Day. Clinton has 274 electoral votes in her column -- which is unchanged from last week, and which also is more than the 270 needed to win the presidency. Trump, meanwhile, is at 170 electoral votes, down from 180 last week. And we have 94 electoral votes in the Tossup column.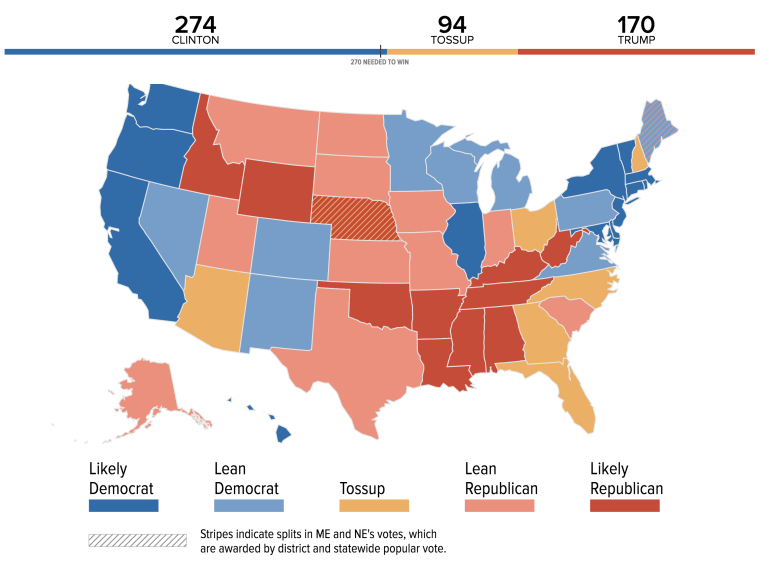 We made only two changes to the map: We moved Utah from Tossup to Lean GOP, and we moved Georgia from Lean GOP to Tossup. That's it.
The more things change, the more they stay the same
The final national NBC/WSJ poll we released yesterday morning told two stories. The first: It showed a tighter horserace. Clinton's lead over Trump is four points in the two-way contest, 44%-40%, and five points in the head-to-head matchup, 48%-43% -- which is down from 11 points and 10 points, respectively, in last month's NBC/WSJ poll released after the "Access Hollywood" video. But here's the second story: The numbers inside the poll are incredibly stable and consistent with what we've seen all year: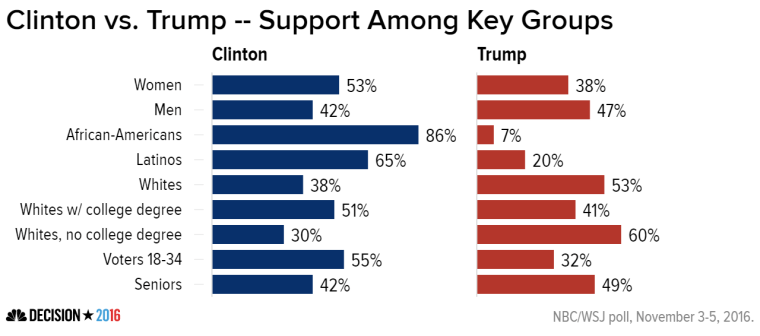 The two demographics to watch tomorrow night: Latinos and college-educated whites. And if you want to see even more stability, here are the final numbers from our weekly online NBC|SurveyMonkey tracking poll: Clinton 47%, Trump 41%, Johnson 6%, Stein 3% -- which is unchanged from last week.
Another Comey bombshell: FBI clears Clinton
But while the race -- structurally -- has been incredibly stable, the storylines have been anything but. And yesterday we received yet another bombshell from FBI Director James Comey. NBC News: "FBI Director James Comey said Sunday that the bureau won't change the conclusion it made in July after it examined newly revealed emails related to the Hillary Clinton probe. 'Based on our review, we have not changed our conclusions that we expressed in July with respect to Secretary Clinton,' Comey wrote in a letter to 16 members of Congress." More: "A senior law enforcement official confirmed to NBC News that nearly all of the thousands of newly examined emails on [Anthony] Weiner's laptop were duplicates of emails already seen by the team investigating Clinton's server. Although some emails did forward documents previously identified as containing classified information, the review didn't change the total number of classified documents investigators found on the server."
Trump on FBI outcome: "It's a totally rigged system"
It's difficult to quantify the impact that Comey's initial letter, on Oct. 28, had on the Clinton-vs-Trump race, but it 1) certainly dominated the news environment for close to a week, 2) allowed Trump and Republicans to go on offense, and 3) forced Clinton and Democrats to play defense. But now Trump is saying that the FBI's determination was part of a "rigged" result. "Right now, [Clinton] is being protected by a rigged system. It's a totally rigged system," Trump said on the campaign trail yesterday. "I've been saying it for a long time. You can't review 650,000 new emails in eight days, you can't do it, folks." Two quick points here: One, there weren't 650,000 Clinton-related emails; that was the number of total Weiner/Abedin emails on the computer. Two, computers certainly help to sort/verify information very quickly.
Clinton to release new two-minute TV ad speaking to camera
NBC's Andrea Mitchell report that the Clinton campaign will release a two-minute TV ad of Clinton speaking to the camera, per a campaign official. The theme will be bringing the country together and reaching out to all voters including Trump supporters.
NBC/WSJ poll on the downballot situation
Dems hold a three-point lead on the congressional generic ballot: Yesterday's national NBC/WSJ poll also found that Democrats were holding a three-point lead on which party likely voters preferred to Congress, 47%-44%, which is unchanged from mid-October. The poll also showed that voters, by a 51%-40%, prefer a Republican candidate who would serve to check and balance a President Clinton instead of a Democratic candidate to support her agenda.
First Read's downballot race of the day: FL-7
Republican John Mica has been in Congress for 24 years, but recent redistricting is putting his long-held Orlando-area seat in peril. Stephanie Murphy, Vietnamese-American 38-year-old suburban mom and former Defense Department analyst, decided late in the cycle to challenge Mica after the Pulse nightclub shooting.
On the trail
Hillary Clinton campaigns in Pittsburgh, PA at noon ET, Allendale, MI at 4:00 pm ET, Philadelphia PA (with the president and first lady) at 7:30 pm ET, and finally Raleigh, NC at 11:45 pm ET… Donald Trump hits Sarasota, FL at 11:00 am ET, Raleigh at 3:00 pm ET, Scranton, PA at 5:30 pm ET, Manchester, NH at 8:00 pm ET, and Grand Rapids, MI at 11:00 pm ET… Mike Pence stumps in Minnesota, Michigan, and Pennsylvania… Tim Kaine is in North Carolina and Virginia… President Obama campaigns in Ann Arbor, MI at 11:00 am ET and in Durham, NH at 3:00 pm ET… And Vice President Joe Biden is in Florida.
Countdown to Election Day: 1 day