As California voters head to the polls they'll face a slate of 17 initiatives ranging from the death penalty to legalizing recreational pot.
It's a huge slate of choices for voters who, during this campaign cycle, have been inundated with nearly $100 million in advertising about the initiatives. California's ballot initiatives — the most since 2000 — also reflect the choices before voters in a state that tends to be a bellwether for broader cultural issues that ultimately become law, political experts say.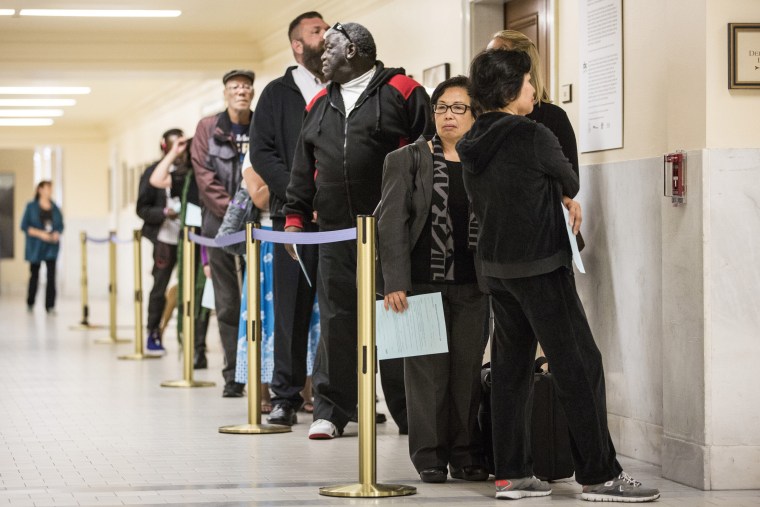 "Ballot initiatives often are leading indicators of trends, especially on social issues," said Larry Sabato, director of the University of Virginia's Center of Politics. "The ultimate trend-setter is California, partly because it is a mega-state that has so many ballot issues every year. Of course, the Golden State is much more liberal than the conservative states of the South or farm belt, so there are limits to what you can read into California's preferences."
On the eve of Election Day, ballot initiatives ranging from marijuana regulation, gun rights voter identification laws, adult film industry regulation and the death penalty offer a glimpse of the nation's mood on policy issues.
Nationally, only 24 states allow citizen-initiated statues or amendments to be up for election. And in these state, the proposed measures are often ones the federal government has left open to state discretion — with few national restrictions in place to inhibit the decision-making.
"We like to talk about ballot initiatives like the second story," said Kellie Dupree, programs and communications director for The Ballot Initiative Strategy Center, a progressive organization in support of ballot measures. "People have taken it to the ballot to get the things they want."
For example, as the national debate over what is a "living wage" rages on, residents in Arizona, Maine and Colorado will all be asked to vote on whether the state should raise its minimum wage progressively until it hits $12 by the year 2020. Washington state will vote on incrementally raising its minimum wage of $9.47 to $13.50 by 2020.
Related: The New Battles Between Blue and Red America
"The federal minimum wage hasn't been changed in a couple of years and states are looking if they want to make a change on their own," said Wendy Underhill, a program director for the National Conference of State Legislatures.
People in South Dakota will also be voting on minimum wage, but for minors. The act is looking to lower the state minimum wage of $8.55 per hour to $7.50 for non-tipped employees under 18.
Another issue up for debate is marijuana legalization.
Nine states have marijuana measures on the ballot this November with a high chance of passing. Pot advocates hope this will be added incentive for the federal government to lift its nationwide ban.
Related: 9 States to Vote on Legalizing Recreational, Medical Marijuana
States, such as Maine, are looking to make the drug legal for regulation, taxation and licensing. Should this become law, the legal age of consumption would be 21 years of age or older.
"Marijuana is the big one this year with nine measures," Underhill said. "It's part of a year or more trend toward states allowing marijuana for recreation. Other states are adopting medical marijuana."
Similarly, four states will vote on legalizing medical marijuana. Under the suggested amendment in Florida, those with "debilitating medical conditions" will be approved for the drug after being cleared with a licensed physician and issued an identification card.
"It has been a law that has not been decriminalized nationally," Dupree said. "It is definitely a thing that needs to be figured out."
In a particularly contentious election season, the ballot initiatives might just be one way of digging beneath the politics of personality to glean how voters feel about policy, said Julian Zelizer, a political historian at Princeton University.
"Often on specific issues the electorate is at odds with what a majority feels about the national candidates in a race," Zelizer said. "Looking at these is a way to get deeper into the actual policy feelings of the electorate rather than their responses to the character of the main candidates."