Anxious about how their fellow swing state citizens may vote, the Rust Belt's most economically gutted city is already seeing a very high election turnout.
From 1999 to 2014, as factories shuttered and blue-collar work decayed, median incomes in Springfield, Ohio fell 27 percent, the biggest drop in the nation, according to the Pew Research Center.
Today, that devastated, and predominantly white, middle class is rushing to the polls to decide its future and shape the nation's.
The number of absentee votes cast in the county by Monday was greater than the entire total from 2012, with more to come by mail over the next week, Clark County Board of Elections Deputy Director Amber Lopez told NBC News.
No Republican has won the presidency without carrying Ohio since Abraham Lincoln. Only two Democrats have, Franklin D. Roosevelt in 1944 and John F. Kennedy in 1960.
At 5:30 in the morning Tuesday, poll workers got things started at St. Joseph's Catholic Church.
Voting location manager Andrew Shuirr, 64, a retired pharmacist, helped oversee the set up in the church's multipurpose room.
The tables that normally serve lunches during lectures or funerals were replaced by standing privacy booths for voters to fill out their paper ballots, the M100 ballot counting machine, and folding tables and chairs.
There are quite a few things that are different about this election, said Shuirr, a registered Republican, who got drawn into volunteering at the polls by his wife and her friend.
For one thing, they're they're doing a potluck for poll workers for the first time.
A Long Day's Journey Into Night
"We're allowed an hour lunch and two 15-minute breaks. We don't close polls until 7:30 pm. It's a long stretch," said Shuirr. The coffee machine probably won't even be on because they will be the only event at the church that day. Last election, one of the workers eventually sent her husband to collect orders and pick up a few cups from the local Tim Horton's.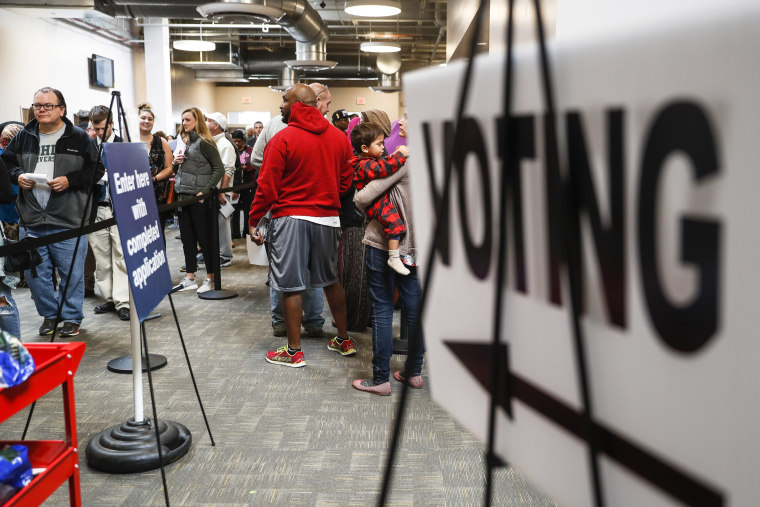 But today's shift may feel even longer as the increased absentee voting points towards a higher voter turnout than when the state went to Obama in 2012.
Hillary Clinton took the state in the Democratic primary with 58 percent of the vote, and governor John Kasich took his home state in the Republican primary with 44 percent.
"People say, 'I'm afraid that people are going to vote this way,'" said Shuirr. He's overhead locals at the grocery story or in his social circles say, 'I'm not gonna vote for either one, I'm just gonna find someone else to vote for.'"
Fading Fortunes
During the 35 years Shuirr worked behind a pharmacy counter, he saw the prices of people's medications soar while his city's fortunes fell.
"Watching prices go up, and up, and up, and watch what it was doing to my patients was really frustrating," said Shuirr.
"As a pharmacist I took almost a possession of my customer. They're my customers. They're my people. I want to take care of them," he said. And tomorrow, "these are my people who are coming to vote."
So he's ready with a smile and an answer for every question. Do I circle this? Or fill in the dot? Is this acceptable government ID? Am I putting my ballot in the counting machine right? Am I at the right polling location?
That question will be a lot easier to answer today. Last November, the county purchased ePoll tablets costing $310,000 that replaced the heavy bound books of voter registrations.
If the voter isn't at the right polling location, at a nearby assistance table they can print out a map of where they need to go, or have it to them by email or text.
The whole process can have a voter casting his or her ballot within a minute of entering the line.
Reports of Russian hackers or others seeking to interfere with the election don't faze Shuirr. The M100 ballot counter, about the size of a standard office printer, isn't connected to the internet. Voters feed in their ballot to the machine themselves. And, because the votes are made on paper, heavy legal-sized stock, there's a paper trail backup in case of a recount.
Rising to the Challenge
After the polls close tonight, Shuirr and a representative from the other party will oversee the removal of the machine's memory card. One observes while the other physically takes it out and places it into a sealed security envelope.
There's no "rock, paper, scissors" about who gets to do it, it's just a matter of who is more comfortable with touching the memory card, he said.
Then as he's done in the past four elections, Shuirr and a "lady" from the Democratic side will drive together and drop the card and the ballots off at the county board of elections office. Then he'll drive her back to her car. "We get along very well," said Shuirr.
Today promises to be a long, tense day, with the fighting back and forth between Clinton and Trump helping drive increased numbers of stressed out voters. Shuirr is certain he and his fellow poll workers are up for the challenge.
"Whether they're voting for somebody or against, they're going to come out," said Shuirr. "And we'll welcome them with open arms and say, 'glad to see you today.'"