In its final live episode before Election Day, "Saturday Night Live" took the opportunity to get in a few extra jabs at each candidate's expense before taking a surprising turn to break the fourth wall — and stopping just short of making a political endorsement.
Saturday's show kicked off with a cold open similar to what we've seen all season with Alec Baldwin as Donald Trump and Kate McKinnon as Hillary Clinton facing off in split-screen, this time poking fun at the investigation over Clinton's emails.
"I never use emails," Trump boasts. "I use a very private, very secure site where one can write whatever they want to and no one can read it It's called Twitter."
"Everyone can see your tweets," a reporter tells him. "Really? And I'm still in this thing?" Trump asks dumbfounded. "America you must really hate this lady."
Then something unexpected happened.
"When I'm elected, I will assign a special prosecutor," Trump begins to rant, but trails off.
"I'm sorry, Kate. I just hate yelling all this stuff at you like this," Baldwin says, breaking character and addressing McKinnon directly.
"I just feel gross all the time about this. Don't you all feel gross?" Baldwin asks the studio audience.
McKinnon also breaks character to agree, and the two clasp hands to run off stage and out of the building.
Baldwin and McKinnon take a dizzying run through Times Square, embracing strangers, sharing food and handing out balloons in a surreal moment of levity.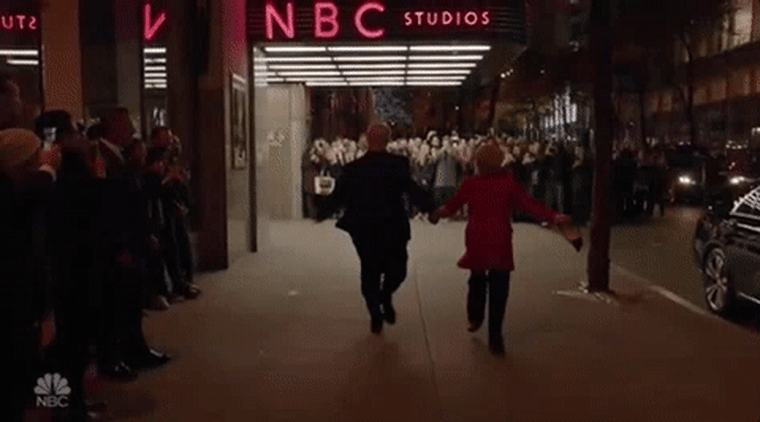 When they return to the stage, they share a more serious message.
"None of this would have mattered if you don't vote," Baldwin says, still out of character.
"We can't tell you who to vote for, but on Tuesday we all get a chance to choose what kind of country we want to live in," McKinnon says. The actors embrace to call out their final "Live from New York, it's Saturday night!" together as presidential candidates before a winner is declared.
The character-breaking montage was a departure from how the iconic sketch show has traditionally behaved in the final performance before an election, although 2016 has been no traditional campaign season.
Here's a look at what the show did just before Election Day in past seasons:
Oct. 30, 1976: In what was the last episode on which breakout star Chevy Chase would appear as a full-time cast member, the reigning Weekend Update anchor played footage of President Gerald Ford's controversial pardon of Richard Nixon and framed it as a faux ad for Jimmy Carter. Chase has since admitted that he was an unabashed Carter supporter, and that his jabs at Ford were deliberate.
Related: How 'Saturday Night Live' Has Shaped American Politics
Nov. 5, 1988: "SNL" had a lot of fun at the "low-energy" Democratic nominee Michael Dukakis' expense, and in a sketch based on Hugh Hefner's "Playboy After Dark" series, Jon Lovitz depicted a candidate hosting a party full of downtrodden Democrats and at relative peace with his inevitable defeat. "I'm gonna be beaten. Badly beaten. And I see no reason to sit here tonight and pretend otherwise," Lovitz deadpanned as Dukakis.
Nov. 2, 1996: In a sketch set the following morning, Norm McDonald — doing a devastating Bob Dole parody — is given advice on how to lose with dignity from former President George H. W. Bush (played by former cast member Dana Carvey). "Bob Dole wants to be president, but not gonna do it," Carvey said. "Read my lips no chance in hell." He went on to contrast Dole's dour image and reputation with Clinton's "laid-back uncle" aesthetic. "Bill's gonna spank you just like he was your daddy," Carvey quipped.
Nov. 4, 2000: The show accurately understood that the results that year were a total toss-up, so they hedged their bets with two sketches: One portrayed a "glimpse of a possible future" under George W. Bush (in which the president accidentally sets the Great Lakes on fire) and one led by Al Gore (in which he would routinely force the country to take pop quizzes on topics like the economy).
Nov. 1, 2008: In a rare move, Republican presidential nominee John McCain appeared as himself alongside Tina Fey playing an exaggerated version of his running mate, Sarah Palin. In a surreal sketch, which seemed to suggest McCain knew where the electoral winds were blowing, the Arizona senator hawks items from his campaign on QVC, while Fey as Palin "goes rogue" to pitch "Palin in 2012" gear.
"SNL" will squeeze in one last laugh on election eve when it airs an hour-long clip show highlighting its best sketches lampooning the 2016 race on Monday night at 10 p.m. ET.