EAU CLAIRE, Wisconsin — Despite traps Democrats laid for him Tuesday, Donald Trump remained above the fray.
Trump campaigned Tuesday evening in Wisconsin, on message attacking Hillary Clinton and telling Wisconsin voters who might have "buyer's remorse" that there's still time for a turnaround.
Putting out a "public service announcement," Trump had a message for voters who voted Clinton but want to take it back in light of the news that the FBI is reinvestigating some of her emails as part of a separate investigation of Anthony Weiner.
"Wisconsin is one of several states where you can change your early ballot if you think you've made a mistake," Trump informed a cheering crowd. "A lot of stuff has come out since you voted."
The same rule applies to voters in Minnesota, Pennsylvania and Michigan — the latter two being states where Trump has spent time as the days to Election Day tick down.
"Those four places, you can change your vote to Donald Trump. We'll make America great again, OK?" he said.
Trump trained his sights on Clinton, who campaigned with former Miss Universe Alicia Machado on Tuesday. The guest appearance didn't elicit a response from Trump — a departure from the last time Clinton took Machado and her history with Trump out on the trail.
During the first presidential debate, an aside from Clinton regarding Trump's having called Machado "Miss Piggy" spurred a late-night tweet storm from Trump, which ended with a suggestion to check out Machado's "sex tape." In reality, there was no sex tape, just a steamy scene from a reality TV show.
But Trump was focused — undeterred by his opponent's tweet about his reported ties to Russia, attack lines regarding legal skirting of federal taxes and bruising comments about his past treatment of women.
And he had the full-throated support of some of Wisconsin's top Republican officials, too. Republican National Committee Chairman Reince Priebus, Gov. Scott Walker, Sen. Ron Johnson and Rep. Sean Duffy all showed their support for Trump and urged voters to help Republicans win the White House and maintain their congressional majority.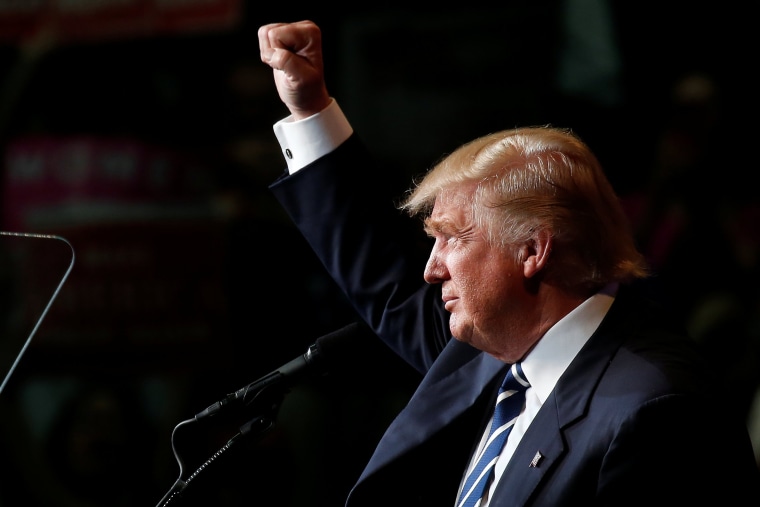 Johnson is one of few senators running for re-election to appear with Trump on the campaign trail this season.
Trump thanked Walker for his support and called him out for what he said was the great job he's done in Wisconsin. But Trump hasn't always been full of compliments for Walker, who ran against him in the Republican primaries.
During the primaries, Trump described Wisconsin as in "turmoil" under Walker, who he said at the time "hasn't done a great job." That was in April, and Trump was campaigning in Eau Claire.
In the past, Trump has mocked politicians for fighting tough political battles and then turning around and endorsing their opponents. Tuesday night showed Trump is capable of such endeavors in the name of winning.