Donald Trump opened his White House bid by stoking fears of Mexicans flooding the border. But in the end, it may be a Latino voter surge that walls him out.
In states crucial to Trump's win, Hispanics have had an outsized presence at the polls, waiting out long lines in Florida, Nevada, Arizona, North Carolina and other states.
In the crucial battleground state of Florida, 565,000 Latinos had voted early, in person, a 100 percent increase over 2012, the Miami Herald reported. The total rises to 911,000 with absentee ballots.
More important, more than one third of those early votes in the Sunshine State were cast by Latinos who had not voted in 2012. The turnout appears to favor Clinton, with high turnout rates in Democratic counties.
The best visual evidence of a potential Latino surge came last week when early voting hours had to be extended in Nevada because so many people, largely Latinos, were in line at Cardenas grocery store in Las Vegas.
This led Nevada political analyst Jon Ralston, an expert in the state's politics, to warn the GOP in a tweet that it was time to panic and to give his own twist to Trump's opening salvo on Mexicans.
Not to be overlooked is the fact that so many Latinos are voting early at all.
"Latinos are overwhelmingly 'day of' voters. They are a voting bloc that decides late and decisively and it's on Election Day when you see (these) voters start to show up," said Mike Madrid, a GOP strategist and principal at California based Grassroots Lab.
But not this year.
A Telemundo/NALEO tracking poll finds that half of Latino registered voters are expected to have cast their ballots before Election Day. That almost matches the total share of early and Election Day voting in 2008 as well as in 2012.
The 'Trump Factor?'
Exactly how the perennially underperforming Latino electorate was mobilized in 2016 and who did it best will be dissected for days after the election. But for now, everyone agrees on a key mobilizing factor: "This has everything to do with Donald Trump," said Madrid.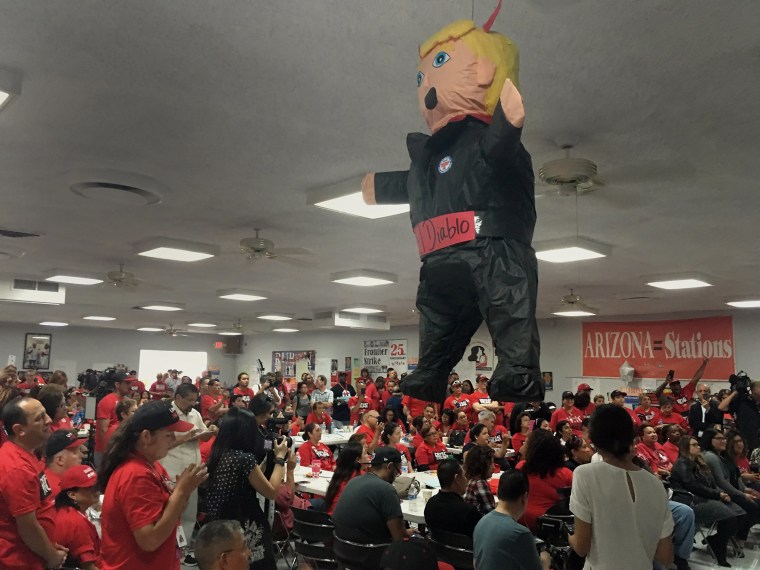 The GOP strategist noted that even California has seen increased Latino early voting, something which had continuously eluded the state. "We've been making it easier to vote for 20 years and turnout had been going down."
It's not just the number of Latinos going to the polls which has increased, but a greater share of the Hispanic electorate, according to Gary Segura, a Clinton pollster. This means that the increased voting is not just a result of the growing Latino population but of increased participation.
Trump launched his campaign with a clear message on who was in his sights.
"When Mexico sends its people, they're not sending the best. They're not sending you, they're sending people that have lots of problems and they're bringing those problems," Trump said in his speech at Trump Tower in New York last June.
"They're bringing drugs, they're bringing crime. They're rapists and some, I assume, are good people, but I speak to border guards and they're telling us what we're getting."
Trump pledged to build a wall up and down the U.S.-Mexico border and make Mexico pay for it. Before his supporters started yelling "Lock Her Up" about Hillary Clinton, their chant of choice was "Build The Wall."
Trump touted throughout his campaign that Hispanics "love me" and that his argument was against illegal immigration.
RELATED: Donald Trump: 'I Will Win the Latino Vote'
But beyond Mexicans, most Latinos did not see it as criticism about immigration policy but criticism about them. "It's the perception that he is anti-us," Edwin Meléndez, a Puerto Rican scholar, told NBC News. "I think any other [Republican] candidate would have split the vote a different way."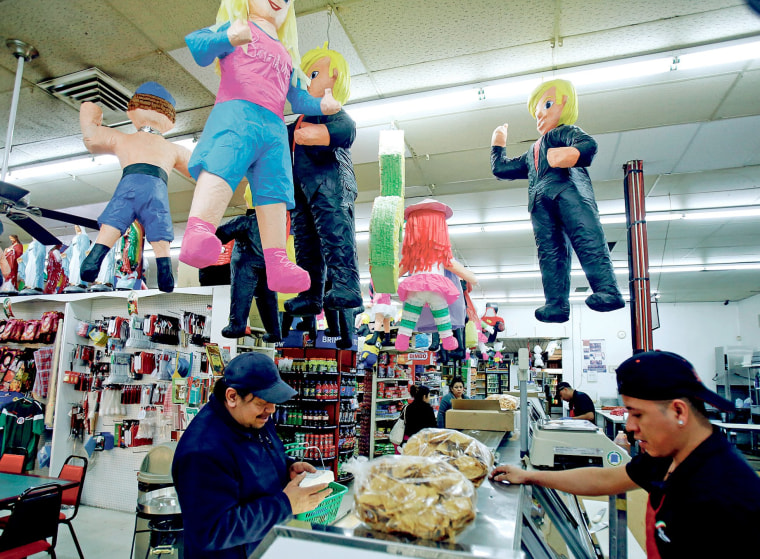 Latino groups and the Clinton campaign harnessed the visceral reaction to Trump's incendiary rhetoric and ran with it.
Clinton's campaign worked Latino cultural touchstones to connect with voters, including women's tamale parties with Trump piñatas, Spanglish campaign ads aimed at "bilennials" and campaign events with Dreamers, the young immigrants without permanent legal status in the U.S.
In Miami, Clinton supporters handed out pastelitos, or Cuban pastries, to early voters and coaxed Cuban Americans, who historically have voted Republican, to go Democrat this year.
RELATED: Parties Make Final Push for Central Florida's Puerto Rican Votes
Latino entertainers like JLo and Marc Anthony, the Mexican group Maná and traditional crooners like Vicente Fernandez exhorted the community to vote against someone who "offended" the community, as Fernandez sang in a traditional "corrido."
And remarks by Trump and his surrogates — taco trucks on every corner, #badhombres, #ThatMexicanThing, Again — provided additional fuel against the Republican nominee.
RELATED: Latinos for Trump Founder: 'Defend Your Country' from Hispanics
"A cornerstone of Latino culture is to show respect and act with dignity, and so the incendiary and downright un-American things Donald Trump said of many U.S. citizens - not just Latinos - is one aspect of what's fueled the increase of the Latino electorate, whether they be seasoned, young, or new voters," said Lorena Chambers, a Democratic strategist who has been working with Priorities USA, a Clinton supporting PAC, on political ads to reach Latino voters.
This year marked a shift in spending on Latino mobilization: Money moved from non-profit, non-partisan groups to organizations that could name candidates and where they stand on issues.
The Center for Community Change Action were part of a $15 million effort to turn out registered Latino voters as well as immigrant voters in Colorado, Florida and Nevada.
Kica Matos, the center's director of immigrant rights and social justice, said that Trump's rhetoric and policies spurred the group to launch a partisan campaign to endorse progressive candidates.
In talking with prospective Latino voters, canvassers asked what issues were important to them and then told them which candidates stood with them.
"My gut tells me in many ways Trump crystallized the issues," Matos said.