This wacky, roller-coaster of a presidential election season is almost over.
But before all the votes are tallied and a winner is declared, two airports close to the white-hot center of action — Washington's Reagan National (DCA) and Dulles International (IAD) — are having a little fun.
Both DCA and IAD have interactive, pre-security photos booths to give travelers a chance to snap a photo of themselves with cardboard likenesses of either — or both — of the Presidential candidates (or with a variety of patriotic props) and have the images printed out immediately and/or shared via social media.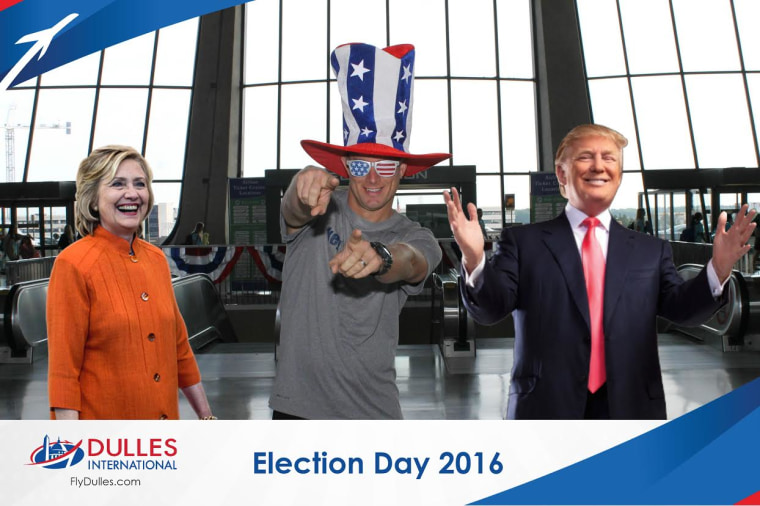 Photographers with props are wandering the concourses in both airports for on-the-go Election Day photos as well.
Multiple retail outlets in both airports are also at the ready with a fresh supply of political season souvenirs, gifts and gadgets ranging from Donald Trump and Hillary Clinton bobble head dolls ($19.99 each) and chocolate bars ($2.95) to Donald Trump plush toys ($19.95) and Hillary Clinton "We Can Do It!" coffee mugs ($9.99) for brisk Election Day business.
"The most popular items this season have definitely been the bobble-head dolls and both airports have sold out of those on more than occasion," said Cyrina Yarborough of Market Place Development, the company that manages the concession program at Reagan and Dulles airports.
"People don't seem to be buying one bobble-head candidate over the other. They're buying them both because they're so collectible," she told NBC News.
Other big sellers at both airports have been the Hillary Clinton nutcracker, t-shirts (both funny and classic) for both candidates and a variety of political party-themed items such as decals ("My Cat is a Republican" and "My Dog is a Democrat") and tins of breath mints that say "Liberate Your Breath (Democrat) and "The Right Way to Fresh Breath" (Republican).
And, whether you're traveling through the DC-area airports intentionally or on your way out of the country on Tuesday, or in the weeks to come, don't look for any big markdowns on campaign souvenirs just yet.
DC airport shops will keep — and refresh — this season's political merchandise at least until the influx of travelers coming to town for the Presidential inauguration in January.