EAST STROUDSBURG, Pa. — Every morning and every night, Christine Adams, 102, prays for Hillary Clinton.
"I pray to God to let her win, and give Hillary the strength to carry on the job," she said, as the afternoon light drains from the quiet country road, dotted with Trump-Pence signs, where Adams lives.
If you ask Adams if she thought she'd live to vote for a female president, right after voting for a black one, she doesn't even wait for the question to unspool to tell you she never thought she would.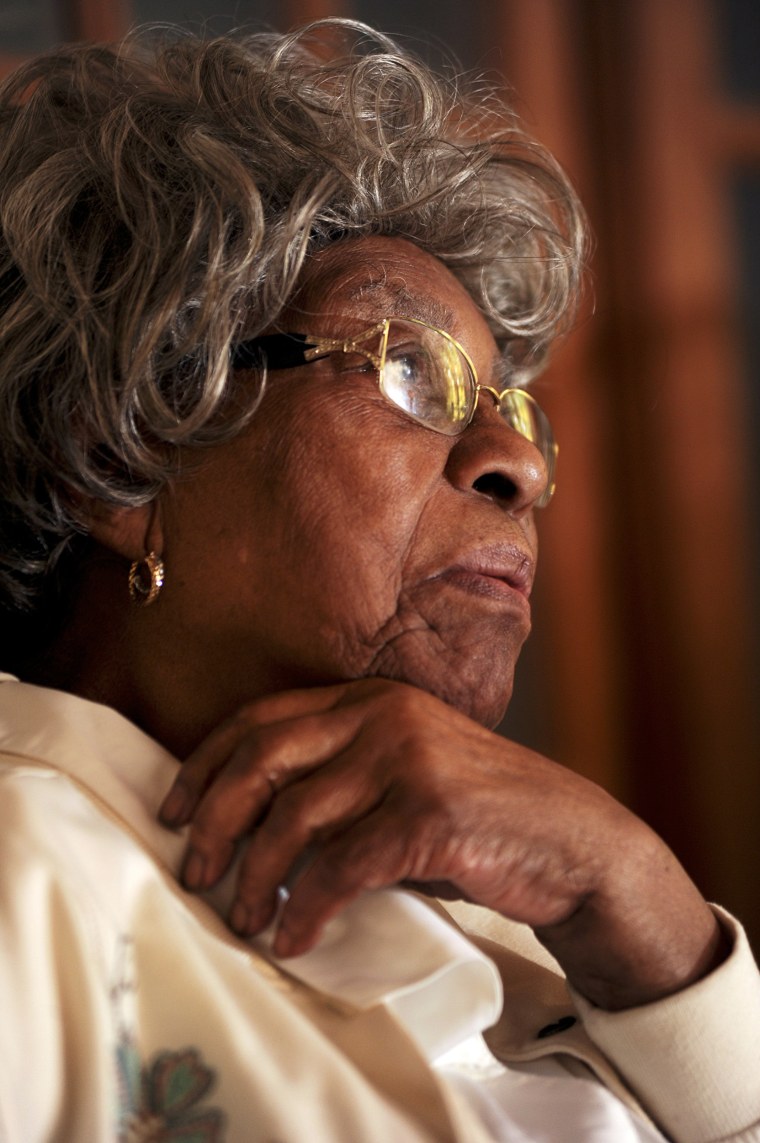 Adams was born in 1914, six years before the 19th Amendment guaranteed on paper that women could vote. But the granddaughter of an enslaved woman didn't cast her first ballot until the age of 34, after leaving the Jim Crow South and passing New York's now-illegal literacy test. Her eyes still light up at the mention of Barack Obama. But on Tuesday, Adams is thrilled and awed to vote for a woman for president.
"Men want to stay on top, in my way of saying it," she said, leaning back and chuckling in her tidy back parlor. "They don't think you're capable. You're capable of bringing them in the world, helping them go to school, keeping them clean and this, that and the other, but you're not capable of ruling over them?"
Related: What the Women Who May Decide the Election Really Think About It
She shakes her head. Adams herself was capable of working two jobs at once while raising 11 children, at times on her own.
For more than a year, reporters and pundits have plumbed the psyche of the Donald Trump voter, pausing only rarely to reflect on Hillary Clinton's supporters, even then mostly to wonder why more people weren't that excited about her. But it's not hard to find excitement among the women whose lives have spanned the arc of history. On the cusp of what could be the election of America's first woman president, in the quiet of their homes and on millions-strong Facebook groups like Pantsuit Nation or sites like I Waited 96 Years, some of the least-celebrated people in America — older women — are having a moment of open exultation.
"I'm sure if Hillary was a man she would have been president a long time ago," said Elizabeth Pula, 97, who was featured on I Waited 96 Years. "She had to fight for every minute to get where she is now. And I can't wait until they declare her winner."
Excluding women from public life is baked into the contradictions of the America's founding. The same slave-holding man, Thomas Jefferson, who drafted the Declaration of Independence, wrote curtly in 1807, "The appointment of a woman to office is an innovation for which the public is not prepared, nor am I."
In 1873, exactly a hundred years before Hillary Clinton graduated from Yale Law School, the Supreme Court ruled that it was perfectly constitutional to block women from practicing law. "The natural and proper timidity and delicacy which belongs to the female sex evidently unfits it for many of the occupations of civil life," wrote Justice Joseph Bradley. "The paramount destiny and mission of woman are to fulfill the noble and benign offices of wife and mother. This is the law of the Creator." (Ruth Bader Ginsburg, arguing a women's rights case in 1972, wryly observed of Bradley's conclusion, "The method of communication between the Creator and the jurist is never disclosed.")
Related: Analysis: Donald Trump's Double Standard for Women
The notion that naturally gentle and maternal women needed protection from the unseemliness of politics was central to arguments against women's suffrage. "The men are able to run the government and take care of the women," explained California State Sen. J. B. Sanford in 1911. "Woman is woman. She can not unsex herself or change her sphere," and that meant not "mixing up in the dirty pool of politics."
Then again, there was only room for some women atop that rhetorical pedestal. No one even pretended to keep black women like Christine Adams away from the brutalities of life. Nor could these women always count on the activists who claimed to speak for all women: Some white women's suffrage activists made queasy alliances with white supremacists and tried to exclude black women from marching in their ranks.
Ask Adams about the oft-cited date of 1920 as the time when women could vote and she just shakes her head. It's not the whole truth. In her native North Carolina, Adams couldn't pay the now-illegal poll tax to vote because she worked cooking and cleaning white people's homes, and women's work didn't count towards the tax.
"Black men could vote," Adams said, but just barely. "You made trouble, you might not live to talk about it." She is still haunted by the childhood memory of seeing one black man left to die on the railroad tracks and another nearly beaten to death by a mob of whites for the crime of stealing a bottle of soda.
Related: At Women of Color Summit, a Vow Not to Wait for Change
When the family moved to Harlem, her husband encouraged her to take New York's literacy test, passed in 1921. Adams had left school in the seventh grade, because the only high school for black students was a 36-mile walk away from her tiny town. "But I always loved to read, and read whatever I could get to read," she said.
Adams pored over the Constitution, read what books she could, and passed the test. "I felt like a first class citizen," she recalls, "even though most times you're not treated like that."
"I like Hillary Clinton. She knows our country ... She knows women in all walks of life."
This year, Adams is voting against Donald Trump, whom she first remembers from the rumors, later substantiated by the Justice Department, that his New York buildings excluded black tenants. But she is also voting in favor of Clinton.
"I like Hillary Clinton," said Adams. "She knows our country ... She knows women in all walks of life. I think what she don't know, there are both men and women that may help her."
In her two bids for president, Clinton and the people around her have struggled to find the right way to talk about the first woman president thing. Her 2008 campaign strategist, Mark Penn, wanted to downplay gender, declaring that voters did "not want someone who would be the first mama, especially in this kind of world."
This year's campaign — which bloomed in a pre-existing hothouse of feminist debate, up against a man who bragged about groping women — took a more direct tack. The response, often enough, was eye-rolling. When Clinton said in a Democratic primary debate against Sen. Bernie Sanders that he was "the only person who I think would characterize me, a woman running to be the first woman president, as exemplifying the establishment," she was met with derision. Sanders (who has spent recent months stoutly campaigning for Clinton) complained at the time, "I don't go around, no one has ever heard me say, 'Hey guys, let's stand together, vote for a man.' I would never do that, never have." Donald Trump announced in April, "The only thing she's got going is the woman's card. And the beautiful thing is, women don't like her."
People on all ranges of the political spectrum have said they would be happy to have a woman, just not this woman. Well, this week, it may well be this woman. No one else has yet gotten this close.
It's not that Adams thinks the election of Hillary Clinton would change things for all women. "Nobody that wins is gonna change for all of us," she said. "But I pray that the ones that it does change for will reach back and help the women behind us."
It's the night before Election Day, and many of the nonagenarians and centenarians who have become sudden celebrities at this potentially historic moment have already voted by mail. That's not for Adams. "I wouldn't fill it out for absentee vote because I'm not absent," she said.
She wants to do the most to make sure her vote is counted, and to her that means showing up at the polls in person, after her morning prayer for Clinton. Women of color like her helped Clinton win the nomination, and they may be the reason she becomes president.
"I thank God," Adams said, "because I lived to see it."