No one can escape the heated 2016 presidential election, not even elementary school students.
Take Austin Midili and Sean Sandro-Olsen, two 8-year-olds who have opposing political views. Austin is a staunch Donald Trump supporter. Sean is a big-time fan of Hillary Clinton. The two friends recently participated in the biggest mock election in the country, alongside approximately 390,000— but they try and avoid talking politics, a subject they say has become touchy in their classroom at Thomas Richards School in Atco, New Jersey.
"It kind of gets uncomfortable," said Sean, adding that he doesn't like Trump's idea to build a wall between the U.S. and Mexico or how the Republican interrupts Clinton in the debates.
Austin added, "We don't like to talk about it too much. We don't want to get separated as friends." They'd rather talk about soccer and baseball — anything other than politics or girls.
Indeed, students across the nation are divided over Clinton and Trump, although nowhere near the level of America's adults. Of the nearly 390,000 students — 2nd grade through 12th grade — who participated in the mock election using the computer learning tool Newsela, 57 percent voted for Clinton while 32 percent cast their ballots for Trump.
The results were released on Wednesday morning. Interestingly, Clinton took some GOP strongholds, like Texas, Georgia and South Carolina in the mock election. Trump won the swing state of Ohio.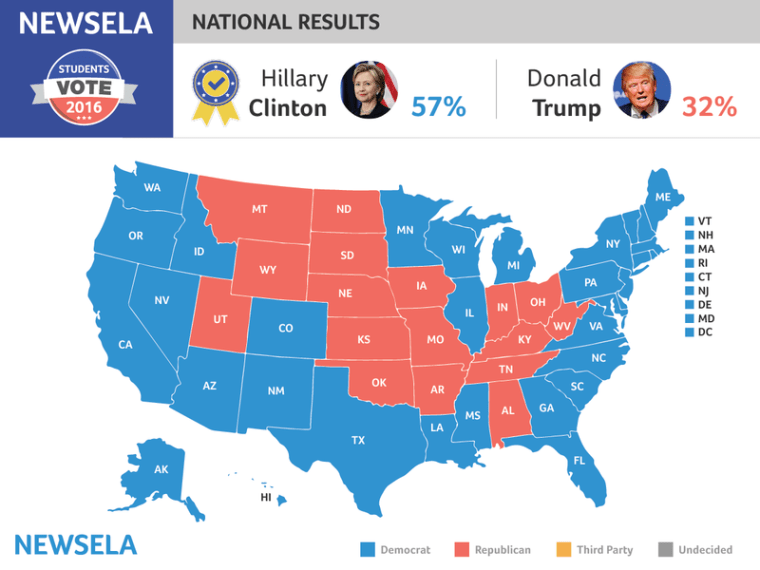 Related: Life of a Ballot
Of course, these kids can't vote for real (well, maybe a few of the 12th graders can). But one day, they will. And they can't help but pay attention to politics, even at their age.
The three most important issues to the young people who participated in the mock election mirror the existing national dialogue: Trump's plan to build a border wall, his controversial language about women and Clinton's email scandal.
The anti-Clinton kids were fierce. "Hillary Clinton should be in jail," said Jacob Mueller, a Trump-supporting 2nd grader in New Jersey. "Because she put secret stuff on her computer and then erased it," he added.
Ryan Ramos, a 16-year-old in San Antonio, Texas who attends S.T.E.M. Early College High School, reiterated that sentiment. "Because of the emails, I don't even think she should even be able to run for president. I don't feel like she's her own person. She's more of a puppet of the Democratic Party."
Related: Democrats Fear Senate Majority Quest May Be Killed by Comey's Email Bomb
Meanwhile, Clinton's juvenile supporters were quick to bring up Trump's controversial stance on immigration.
Salma Muniz, a 5th grader at Austin's University of Texas Elementary School whose parents were born in Mexico, said, "I wouldn't want to vote for him because he wants to make a wall in Mexico and my parents are in Mexico. … It makes me feel sad."
Third grader Isabella Bonfiglio, from Thomas Richards School in New Jersey, said Trump "doesn't really like women."
And Jasleen Hira, an 8th grader at KIPP Summit Academy in San Lorenzo, Calif. supporting Green Party candidate Jill Stein, said she was disturbed by how Trump spoke about women like they were "puppets."
"As a young woman who is going to live in the country with the possibility of Trump being the president, it's scary," she said.
All of this also puts teachers in a tough spot. From Trump bragging in lewd terms about his relationships with women, to Bill Clinton's sexual transgressions of yesteryear, to Trump calling Hillary Clinton a "nasty woman" and likening her to the devil, this year's election is awfully hard to talk about in the classroom, despite teachers' desire to discuss with students civics and the world around them.
The contentious nature of this election cycle has even resulted in some districts, from New Jersey to Nebraska, canceling classes on Election Day because of safety concerns.
Related: Election Day Safety Fears See Schools Cancel Classes or Move Polling Places
Newsela, used by 9 million students in 75 percent of classrooms in some capacity across the country, has helped with that in many classrooms. Students read different versions of news stories depending on their age and reading level and take corresponding lessons and quizzes.
Still, Erin Green, a 5th grade social studies teacher in Austin, Texas, has found teaching this election year particularly difficult, especially when one student brought up the now-infamous "Access Hollywood" video featuring vulgar comments Trump made about women in 2005.
"I said that I wanted to talk about it, but I didn't know how because I couldn't quote what Trump said without losing my job. But a lot of kids already knew what I was talking about. They either saw the video or heard from their parents," said Green, who teaches at The University of Texas Elementary School. She then steered the conversation to whether or not moral character or attitudes toward women should affect someone's ability to become president.
Related: Trump on Hot Mic: 'When You're a Star ... You Can Do Anything' to Women
Jackie Broderick, an 8th grade social studies teacher in San Lorenzo, Calif., said she took controversial subjects like sexual harassment head on. For example, when the "Access Hollywood" video came out, "We talked about it, how it's not OK to comment on other people's bodies and if you said that at school there would be consequences. We talked about the inconsistencies in terms of expectations."
"I'II try not to have a huge conversation of what they hear outside of the school because it can get very touchy. There's no filter. A lot of times, they don't know what they're saying. They're just repeating what they hear on TV, what their family has said, what a friend told them on the bus," said Jessica Niedoba, a 2nd grade teacher at Thomas Richards in New Jersey who has focused her discussion on the economy, education and health care, issues which she says are the easiest for younger kids to understand.
But the students, especially the younger kids, have definitely picked up on the negative politicking. Alexandra Handzus, who also teaches 2nd grade at the New Jersey school, recounted one of her students saying she knew why kids aren't allowed to run for president. "She said they'd have to say bad things about each other. That's the takeaway they have from the election — that that's a requirement, that in order to get the votes, you have to say something negative about somebody else."
Hira, the 8th grader who is supporting Stein, echoed that sentiment. "It feels like it's not even an election anymore. It's a fight between the two. It's a game for them."