ST. LOUIS — His campaign bleeding support, Donald Trump showed up to the second debate against Hillary Clinton looking more focused, more relaxed, and more vicious.
With his presidential bid in a near death spiral following the release of a 2005 tape where he boasted of sexually assaulting women, Trump offered a morale boost for his base but did so while stepping well outside the bounds of American political norms.
Trump, the Republican presidential nominee, threatened if elected to prosecute and jail Clinton. He referred to her as "the devil" and lashed out at Bill Clinton's sex scandals to deflect from his own boasts about groping women. He even slapped down his own running mate, Mike Pence, for contradicting him on Syria.
Related: Six Takeaways From the Second Presidential Debate
Trump appeared to confirm he had paid no federal income taxes for years ("Of course," he said). And he denied he tweeted at millions of followers to watch an apparently nonexistent sex tape by former Miss Universe Alicia Machado (he did.) And he defended Russia after U.S. officials accused it of hacking American political institutions.
But Trump also gave panicked Republicans some moments to cheer about, unlike the first debate where Clinton was almost entirely in control.
He put Clinton on defense over private speeches she gave to Wall Street firms, transcripts of which posted on Wikileaks late last week. He presented a steadier front and avoided chasing Clinton into terrain that might damage him, largely keeping the conversation on his own terms.
His performance may help slow the exodus of Republican officials from his campaign — RNC chairman Reince Priebus notably praised his performance — but it did little to shore up his credibility outside his base as polls show Clinton overtaking him nationally and in key states.
For her part, Clinton — seemingly reluctant to get in Trump's way as dozens of Republican officials desert his campaign — largely avoided mistakes but landed fewer punches than she did at the first debate. While often on defense, Clinton worked to connect with audience members in the town hall format. Trump, meanwhile, stood close behind his rival as she spoke in a manner Clinton spokesman Brian Fallon later called "ghoulish" and "menacing."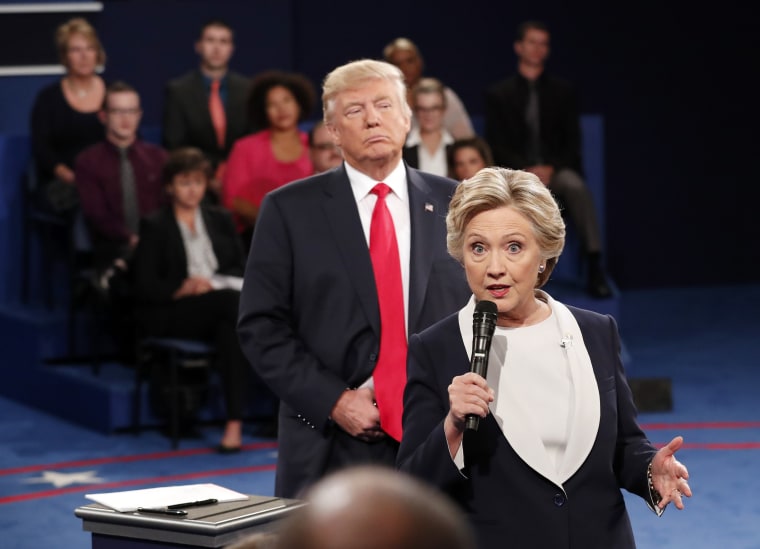 Democrats seemed to acknowledge it was not her strongest debate, but told reporters it was Trump who had needed a game-changing performance.
Trump adviser Stephen Miller insisted it was. "It was the greatest debate victory in the history of the United States," he said, without a hint of irony.
Trump disagreed with moderator Anderson Cooper's premise that the behavior he described in the 2005 video unearthed Friday constituted sexual assault. But it took three questions before Trump denied he had ever groped or kissed women without their consent.
"I don't think you understand what was said, this was locker room talk," Trump said. "I'm not proud of it, I apologize to my family, I apologize to the American people."
Clinton argued the Trump tape "represents exactly who he is," connecting it to his prior comments on women during the campaign.
An hour before the debate, Trump held an extraordinary press event with women who had accused Bill Clinton of sexual misconduct. With the debate underway, Trump wasted no time calling the scandals "disgraceful" as both the accusers and the former president sat just yards away in the audience.
Clinton declined to respond in detail, quoting Michelle Obama's mantra that "when they go low, you go high."
Trump later sent the accusers to speak with reporters in the spin room, where they batted aside questions about whether they were being used as political props.
Bill Clinton has denied all the allegations lobbed by his accusers and was never charged with any crimes, but was impeached by the Republican House in 1998 for lying about an affair with White House intern Monica Lewinsky. Juanita Broaddrick, who attended the debate and has accused the former president of rape, submitted an affidavit in 1998 denying that Bill Clinton had made nonconsensual sexual advances, which she later recanted.
The spectacle seemed designed to, at the very least, make it clear to Clinton's campaign that he would make it as humiliating as possible if she ever brought up sexual assault against Trump again.
Clinton campaign aides were noncommittal when asked if they would continue to press the case on the tape, but said Americans still have unanswered questions about it.
The exchange about Bill Clinton's accusers was quickly overshadowed moments later, however, by Trump's pledge to appoint a special prosecutor to investigate and eventually jail his opponent.
"If I win, I am going to instruct my attorney general to get a special prosecutor to look into your situation, because there has never been so many lies, so much deception," said Trump, who has seen "Lock her up" become a frequent chant at rallies.
"It's just awfully good that someone with the temperament of Donald Trump is not in charge of the law in our country," Clinton said on Sunday.
"Because you would be in jail," Trump said, prompting cheers from his fans in the audience.
Related: Trump's Pledge to 'Jail' Clinton Is Unprecedented
It was a jarring moment reminiscent of countries where rule of law has collapsed. In Clinton's 2014 memoir, she wrote that she often encountered shock at her warm relationship with former rival Barack Obama while traveling to places where "people were more accustomed to political rivals being jailed or exiled rather than appointed chief diplomat."
Surprisingly, Clinton wasn't the only target of Trump's ire.
Trump sharply rebuked his running mate, Mike Pence, as some Republicans call on Trump to step down in his favor, or wonder if Pence might quit the ticket himself.
Pence has called for a harder line against Russia and its ally, Syrian dictator Bashar al-Assad. Instead, Trump opted to essentially side with Russia and tolerate Assad's rule, a near-perfect reversal of Pence's stance.
"He and I haven't spoken and I disagree, I disagree," Trump said of Pence when pressed on his blatantly contradictory approach.
Related: Trump Breaks From Pence on Syria: 'We Disagree'
And two days after the Director of National Intelligence and the Department of Homeland Security took the extraordinary step of publicly blaming Russia for recent hacks designed to "interfere with the U.S. election process," Trump said Clinton was wrong to say the Kremlin was trying to help Trump get elected.
"She doesn't know if it's the Russians doing the hacking," Trump said. "Maybe there is no hacking."
But the hacks also gave Trump perhaps his best moment of the night, when Clinton invoked Abraham Lincoln to defend her statement, revealed in a hacked aide's email posted on Wikileaks, about needing a "public" and "private" position to make change in Washington.
"Honest Abe never lied," Trump said. "That's the good thing. That's the big difference between Abraham Lincoln and you."
Meanwhile, Trump said Clinton supported tax laws that allowed him to avoid paying federal income taxes for years, "because the people that give her all this money, they want it."
But Trump's own tax plan is already out and it would not change his ability to avoid paying taxes by declaring large business losses either. In fact, it would dramatically cut taxes for the wealthy in general, in contrast to Clinton's plan to raise taxes on the rich to fund lower and middle income benefits.
And on Machado, Trump continued to attack Clinton when asked about his early morning tweet urging his followers to look at her supposed sex tape.
"No, there wasn't 'check out a sex tape,'" Trump said. "It was just take a look at the person that she built up to be this wonderful Girl Scout who was no Girl Scout."
Here's the tweet.
Benjy Sarlin reported from Washington.