Donald Trump was accused by his rival's campaign of "menacingly stalking" Hillary Clinton on stage at Sunday night's debate, with even a prominent supporter likening the billionaire to a gorilla.
The Republican nominee took full advantage of the town hall debate format by moving around in front of the cameras rather than sitting on his chair.
However, his tactic drew widespread criticism in post-debate commentary and on social media.
"Take a seat, loser!" was the front page headline in the New York Daily News, next to a picture of Trump clutching the back of his seat.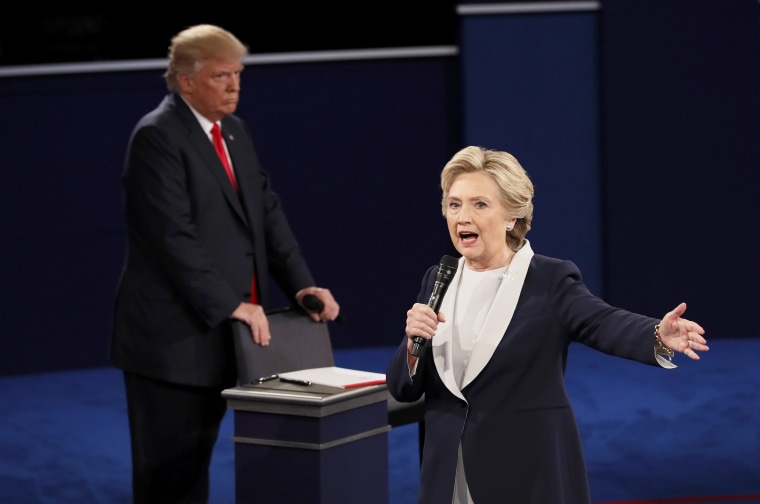 Camera angles gave Trump a looming presence as he moved around in the background behind Clinton.
"If a man did that to me on the street ... I'd call 911," political commentator and former Republican strategist Nicolle Wallace said.
On Twitter, users described Trump's body language as "intimidating and gross" and said the GOP candidate came across as "angry." Others joked that he appeared to be taking extra steps to meet a Fitbit target.
Clinton spokesman Brian Fallon told reporters in the post-debate spin room that Trump had been "menacingly stalking" Clinton on stage.
Trump surrogate Nigel Farage, the interim leader of Britain's pro-Brexit UKIP party, denied the billionaire had sought to intimidate Hillary but admitted parts of the debate had been "excruciating."
"I thought he was like a big silverback gorilla, prowling the studio," he told reporters. "He took control, he dominated Hillary Clinton … he even dominated the presenters. I don't think he did it in a particularly aggressive way … what you saw tonight is the way he is."
Farage said Trump had come out of the debate "very well" after a "horrendous 48 hours … embarrassing, cringe-makingly embarrassing 48 hours."
He said the debate was marred by an "excruciating first 15 minutes, adding: "I don't suppose there's ever been a presidential debate that plumbed the depths that this did in the first 15 minutes."