This weekend, Republican presidential nominee Donald Trump appeared to play footsie with the prospect of inviting Gennifer Flowers — a woman who once had an illicit relationship with former President Bill Clinton — to the first prime-time general election debate.
When word surfaced that his opponent Hillary Clinton would be inviting Mark Cuban, the billionaire supporter and a perpetual thorn in the side of Trump, to attend the debate, Trump tweeted: "If dopey Mark Cuban of failed Benefactor fame wants to sit in the front row, perhaps I will put Gennifer Flowers right alongside of him!"
Despite the fact that Flowers gleefully accepted the "invitation" on Twitter, the Trump campaign has since denied that she will be attending. Vice presidential nominee Mike Pence told Fox News Sunday that the tweet "was actually mocking effort by Hillary Clinton and her campaign to distract voters."
Trump campaign manager Kellyanne Conway took a similar position on Monday during an appearance on "TODAY," during which she said, "He did it because they invited Mark Cuban." RNC strategist Sean Spicer was even more blunt on MSNBC literally shouting "They started it!" regarding the entire episode.
Whether Trump was baited into a tit-for-tat retort or pulled off a clever strategic act of gamesmanship, the back-and-forth succeeded in temporarily injecting Flowers' name back into the national political conversation, resurrecting one of the more embarrassing episodes of the Clintons' public life.
Related: 10 Presidential Debates That Actually Made an Impact
Flowers briefly became a national figure during President Bill Clinton's first run for the White House in 1992. She held a major press conference that January revealing that had carried on an alleged 12-year extramarital relationship with the then-Arkansas governor and later produced taped phone conversations between the two of them prove it.
The Clintons vehemently denied Flowers' story back in 1992, including during an infamous sit-down interview with "60 Minutes." Six years later, amid the Monica Lewinsky scandal, Bill Clinton did finally concede under oath that he'd had a single sexual encounter with Flowers.
Flowers went on to write a tell-all book and purportedly received a hefty pay day for posing in a nude photo spread for Penthouse magazine. In 2013, she told The Daily Mail that the former president was "the love of her life," that they would still be involved if not for the sake of his daughter, Chelsea, and asserted that Hillary Clinton may be bisexual.
Still, in the same interview, Flowers said she would vote for Hillary Clinton in a general election despite their complicated history because she would "love to see a woman president."
Despite the scandal, Bill Clinton would finish a surprisingly strong second in the New Hampshire Democratic primary in February of 1992, when he began referring to himself as "The Comeback Kid." He eventually won both his party's nomination and the White House.
Hillary Clinton has been mocked ever since for having suggested that a "vast right wing conspiracy" was behind allegations of sexual impropriety directed at her husband. Earlier this year, the Trump campaign went even further by suggesting that the former first lady had "enabled" her husband's inappropriate behavior and then viciously attacked his accusers.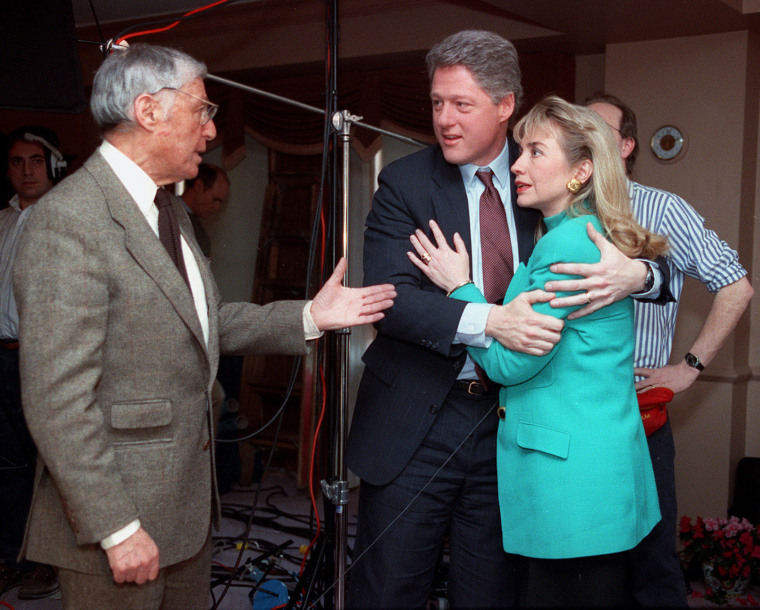 "There was nobody that was worse, nobody than Bill Clinton, with women," Trump told supporters in Spokane, Washington, in May. Later he added: "Some of these women were destroyed, not by him, but by the way that Hillary Clinton treated them after everything went down."
And while Trump has never offered specific examples of how Hillary Clinton attempted to discredit or "destroy" he husband's accusers, some have, citing insulting language she is alleged to have used behind the scenes to describe women who came forward claiming abuse at the hands of her husband.
Related: Hillary Clinton, Donald Trump Get Set for Epic Presidential Debate
Of course, Trump has his own long history of using sexist language when discussing women both in public and in private, and he also been a tabloid fixture for his own extramarital exploits in the 1990s.
For her part, Hillary Clinton has said that "there is so much in his political and public life that deserves to be examined," but she has largely avoided his personal life as a talking point. Instead, she has focused on claiming that he is unfit for office.
Trump, who argued as early as last year that the Clintons' personal lives were "fair game," had recently seemed to back away from making the former president's past an issue. During an appearance earlier this month on Fox News, he told host Bill O'Reilly that he didn't plan on bringing up the Clintons' marriage if his own infidelities were mentioned.
Related: Hillary Clinton and Donald Trump campaign chiefs trade barbs, reveal debate prep details
Throughout the 2016 campaign Trump has struggled mightily with the opposite sex, even among married and college educated women — who have historically voted Republican. And by portraying Clinton as someone who has a penchant for being cruel and vindictive towards other women, Trump could also be trying to drive a wedge between the Democratic nominee and some of her most stalwart supporters. But according to Sady Doyle, author of "Trainwreck: The Women We Love to Hate, Mock and Fear ... and Why," this is a strategy that could provide far more risks than rewards.
"The problem is that women themselves — who turn out to vote in larger numbers than men, don't forget — do not respond well to this kind of thing," she said. "If anything, seeing Clinton humiliated on a national scale during the Lewinsky scandal turned a lot of people into defenders and supporters of hers. We can empathize with that kind of pain, and don't tend to react kindly to men who use it as a bludgeon."