Hillary Clinton held her lead over Donald Trump in the final presidential debate ahead of the election, analysts said of the Wednesday night market reaction.
"This remains Clinton's election to lose. Hillary solidified her lead in the polls by staying on message, emphasizing policy prescriptions, and launching several devastating personal attacks," said Karl Schamotta, director of FX research and strategy at Cambridge Global Payments.
"Trump played his last hand, and lost," said Schamotta.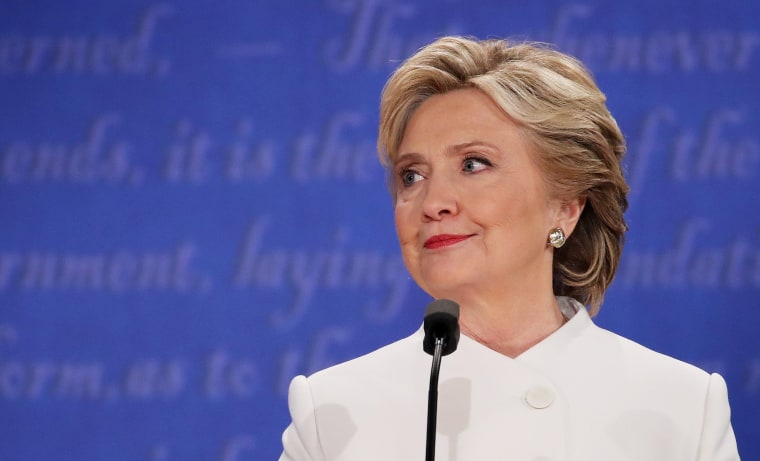 U.S. stock index futures held slight gains throughout the debate and added a few points to trade near session highs after the end of the debate, with Dow futures up about 45 points as of 11:13 p.m., ET.
The Mexican peso reversed losses to trade about a third of a percent higher against the U.S. dollar after the end of the debate, with the dollar hitting its lowest against the peso since September 8. The dollar-peso is watched as a proxy on the market perception of the election result.
"I think the market thought Trump scored a few points early in the debate. I think he did very well with the conservative agenda. He said all the things the Republican party wanted him to say... I think the sentiment is, yeah, maybe he has captured a few points but Hillary is still in the lead," said Ilya Feygin, managing director and senior strategist at WallachBeth Capital.
"Today's debate was slightly in favor of the Republicans holding on," he said.
Wall Street generally sees a Hillary Clinton win as positive for stocks as it would represent continuation of the status quo. However, markets would be less comfortable if the Democrats also gained control of Congress, as it would likely result in market unfriendly policies on taxes and regulation.
The Mexican peso hit record lows against the U.S. dollar in late September as the polls indicated a tightening race between Trump and Clinton ahead of the first presidential debate. The peso rose against the dollar during the first debate as Clinton appeared to gain momentum against Trump, and had climbed against the greenback heading into the second debate after the leaked video of Trump's lewd comments on women.