Medal-winning Olympic marathon runner Feyisa Lilesa fears he will be arrested or even killed after making a symbolic protest against Ethiopia's government at the Rio games.
The father-of-two told reporters he may seek asylum in another country after defiantly making a crossed-arms gesture — in support of the Oromo tribe, the country's largest — at the finish line on Sunday.
He later repeated the action at the ceremony to receive his silver medal.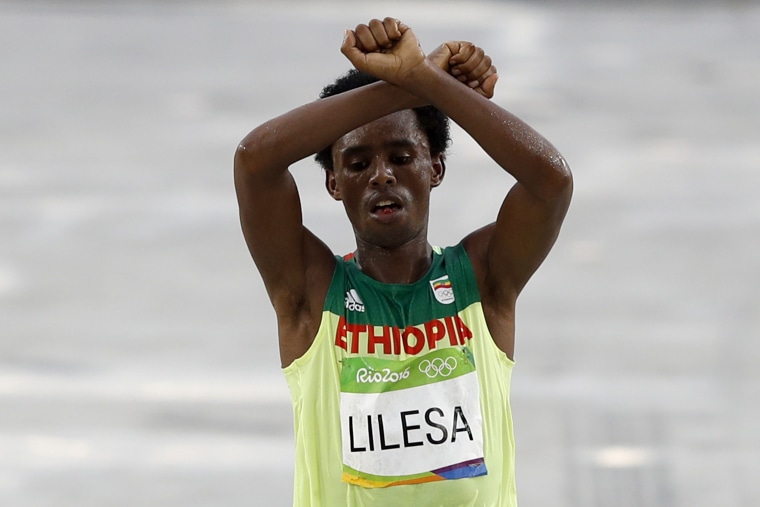 Oromos have been protesting Ethiopian government plans to reallocate farmland for development, prompting fierce demonstrations last November and months of unrest.
Rights groups say hundreds have been killed, but the government disputes the figures and says illegal protests by "anti-peace forces" have been brought under control.
"They will kill me," Lilesa told reporters in Rio when asked about the consequences of his gesture. "If not, they will [arrest and] charge me."
He said he was considering applying for asylum to remain in Brazil or to go another country.
"If I get [a] visa, I will move to America," Lilesa added.
The situation for his family in Ethiopia was "dangerous," he said in an interview recorded by running news site, Let's Run.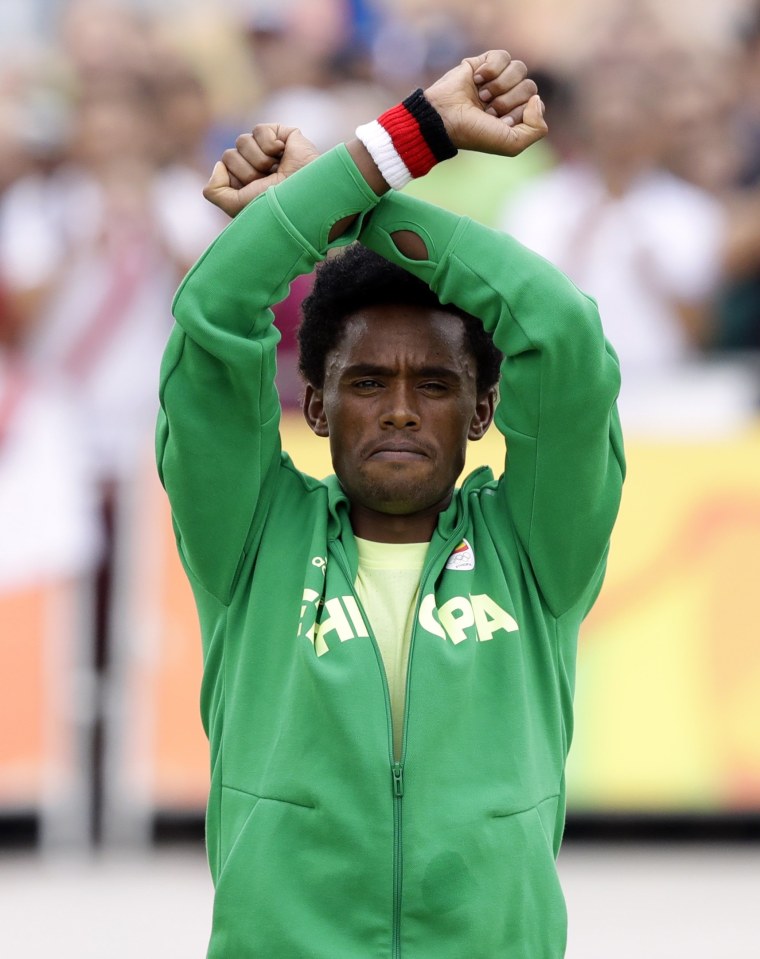 At an official news conference following his medal ceremony, Lilesa said he made the protest because "Oromo is my tribe ... Oromo people now protest [for] what is right, for peace, for a place."
The move, though, immediately sparked fears for his and his family's safety.
Within hours, a Gofundme account set up for Lilesa had raised $36,000 of the target $40,000 sought by well-wishers who described him as an "Ethiopian hero."
There was no mention of Lilesa's protest, or even of his silver medal, on the Ethiopian government's website or in English-language Ethiopian media Monday.
Ethiopia has long been one of the world's poorest nations but has industrialized rapidly in the past decade. However, reallocating land is a thorny issue for Ethiopians, many of whom are subsistence farmers.
Authorities scrapped the land development scheme in January, but protests flared again this month over the continued detention of opposition demonstrators. Amnesty International said at last 97 people were killed and hundreds more injured "when Ethiopian security forces fired live bullets at peaceful protesters."
Ethiopia is a U.S. ally and a relatively stable nation in a region where Islamist militants are waging a campaign of terror.