One of the U.S. Olympic swimmers involved in what authorities say is Ryan Lochte's fabricated tale of robbery in Rio has reached a deal to donate almost $11,000 to a sports academy for kids in order to leave Brazil, his lawyer said Friday.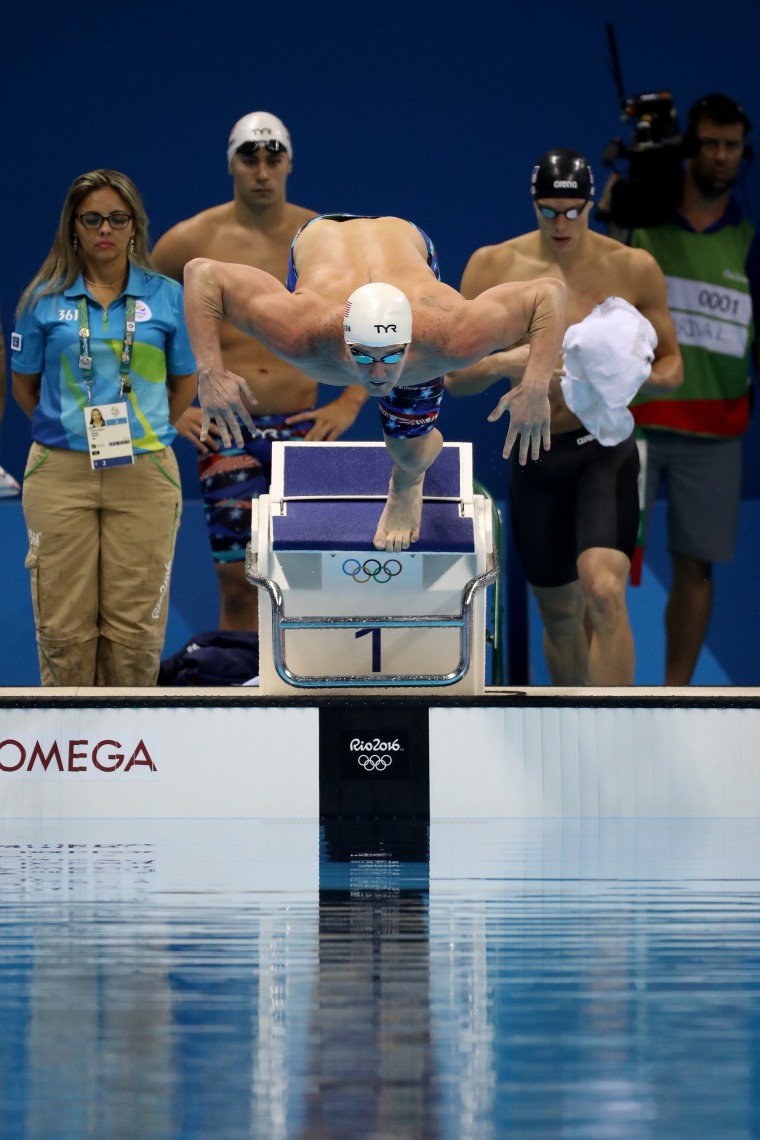 Gold medal winner Jimmy Feigen will have his passport returned as part of the agreement.
Meanwhile, Lochte broke his silence for the first time Friday since police debunked his account, issuing an apology for his behavior.
Related: Ryan Lochte Apologizes for His 'Behavior,' Says He Learned 'Lessons'
Feigen was one of four swimmers whose taxi ride back from a late-night party ended in a confrontation at a gas station, where police say the athletes vandalized a bathroom, damaging a door, a mirror and a soap dispenser.
Feigen was prevented from leaving Rio on Wednesday after Lochte's story about being robbed at gunpoint by men posing as police began to unravel under scrutiny from investigators.
"After a long deliberation, this agreement was reached … he will donate 35,000 real [approximately $10,800] to an institute, and with that the case is resolved," Feigen's lawyer Breno Melaragno told reporters.
He added: "After this donation is done, his passport will be given back to him, and he will be free to return home."
The money will go to Instituto Reacao, a judo academy for low-income kids and teens who want to learn the sport, Melaragno said. Rafaela Silva, who grew up in Rio's slums and became Brazil's first gold medalist of the Rio Olympics, trained there.
Related: How the Ryan Lochte Stickup Story Unfolded
Two other swimmers who were also implicated — Gunnar Bentz and Jack Conger — were removed from a flight Wednesday as they tried to leave, but they eventually departed Thursday night after their attorney insisted they had nothing to do with Lochte's story. They arrived in Miami at 6:30 a.m. Friday.
Passengers told NBC News flight attendants gave the two newspapers to hide their faces from others on the flight who were trying to take pictures of them, and so they could sleep. Multiple airport security personnel escorted them through baggage claims and immigration.
Lochte left the country earlier this week. He posted a three-paragraph-long apology on social media Friday morning.
"It's traumatic to be out late with your friends in a foreign country — with a language barrier — and have a stranger point a gun at you and demand money to let you leave, but regardless of the behavior of anyone else that night, I should have been much more responsible in how I handled myself and for that am sorry to my teammates, my fans, my fellow competitors, my sponsors, and the hosts of this great event," he wrote.
Members of the International Olympic Committee accepted the apology, said director of communications Mark Adams.
"We welcome it and hope that we can now carry on as we have been concentrating on the sport," he said.
Mario Andrada, the communications director for Rio 2016, said while Brazilians were "humiliated" by the initial claims of Olympians being robbed at gunpoint, they "appreciate" the apology.
"I think that the Brazilian population will accept his apologies and we want to put this matter to an end and I don't see this as a fact that will mark these Games. As a matter of fact, I don't think that history carries much weight on any negative effect," he said.
Police announced Thursday that the four swimmers had not been held at gunpoint by robbers after a night of partying, as Lochte first claimed on Sunday.
They said the men, while intoxicated, were questioned by security guards over the damaged bathroom before handing over some cash and leaving in their taxi. One guard told investigators he drew his weapon to get control of the large, drunk athletes.
But police said the guard didn't use excessive force.
"No robbery was committed against these athletes. They were not victims of the crimes they claimed," Civil Police Chief Fernando Veloso said during a news conference.
According to Veloso, the guards demanded the swimmers pay for the vandalism. He said the Americans paid $20 U.S. plus 100 Brazilian reals ($30 U.S.) to the guards, and then got in their taxi.
He said investigating officers grew suspicious of Lochte's account when security video showed the swimmers returning to the athletes' village wearing watches, which would have likely been taken in a robbery.
Eventually, a judge issued search and seizure warrants for the passports of Lochte and Feigen, but Lochte had already flown to the U.S.
On Wednesday, Feigen checked in for a flight online but didn't show up at the airport, sources told NBC News.
The saga is an embarrassment for American Olympians, who had otherwise dominated the games, and prompted an apology from U.S. Olympic officials.
"We apologize to our hosts in Rio and the people of Brazil for this distracting ordeal in the midst of what should rightly be a celebration of excellence," the U.S. Olympic Committee said, adding that the behavior was "not acceptable" nor representative of Team USA's values.
Rio's mayor, Eduardo Paes, accepted the apology and said he didn't feel the swimmers — for whom he had "pity and contempt" — typified the spirit of the rest of the American delegation. He emphasized that Rio will always welcome American tourists.
U.S. State Department spokesperson John Kirby said Friday that the U.S. Consulate supported Brazilian law enforcement throughout the situation, and reminded U.S. citizens that while overseas, they're subject to a foreign country's laws.
Bentz and Conger were questioned "only as witnesses," their lawyer Sergio Riera told The Associated Press. "They did not make any untruthful testimony. They did not lie in their statements."
The Americans could face charges of vandalism and false testimony, which can carry up to six months in jail.