A Brazilian judge on Wednesday said directed U.S. Olympic swimmers Ryan Lochte and Jimmy Feigen to remain in the country as authorities investigated their report of being robbed at gunpoint in Rio de Janeiro early Sunday.
Judge Keyla Blanc De Cnop ordered search and seizure warrants for the swimmers' passports, according to a statement released by the Rio de Janeiro court.
But, at least for Lochte, the move appears to be moot: he has already returned to the United States, according to his lawyer. It was not immediately clear if Feigen remained in Brazil.
Patrick Sandusky, a spokesman for the United States Olympic Committee, said that local police showed up at the Olympic Village Wednesday morning and the entire American swim team had already moved out, "so we were not able to make the athletes available." He declined to say where the athletes were, citing security precautions, but said the committee would "continue to cooperate with Brazilian authorities."
The judge said Lochte and Feigen gave contradictory accounts of the robbery, according to the court's statement. Lochte told police there was one robber, while Feigen said there were more, one of whom had a gun.
The men also said the robbery took place on the way home from a club, which they left at 4 a.m. But security video showed them leaving at a different time, the judge said.
The judge also cited the men's "calm demeanor" as they passed through Olympic Village checkpoints after the alleged stickup, which was captured by security cameras.
"It seems like the victims arrived with an unshaken physical and psychological state, making jokes with each other," the judge said.
Lochte's lawyer, Jeff Ostrow, told NBC News that Lochte gave police a statement as representatives from the U.S. State Department, United States Olympic Committee and the FBI observed. Lochte signed the statement to attest to its truthfulness, Ostrow said.
Police have not asked Lochte for more information, and they did not ask him to remain in Brazil, Ostrow said.
"They never said, 'Stay around,'" Ostrow said. "Otherwise, I would have advised Ryan to stay."
He accused Brazilian authorities of trying to "save face" after allowing the incident to become "a circus."
Related: Ryan Lochte's Gunpoint Robbery Doesn't Rattle These U.S. Tourists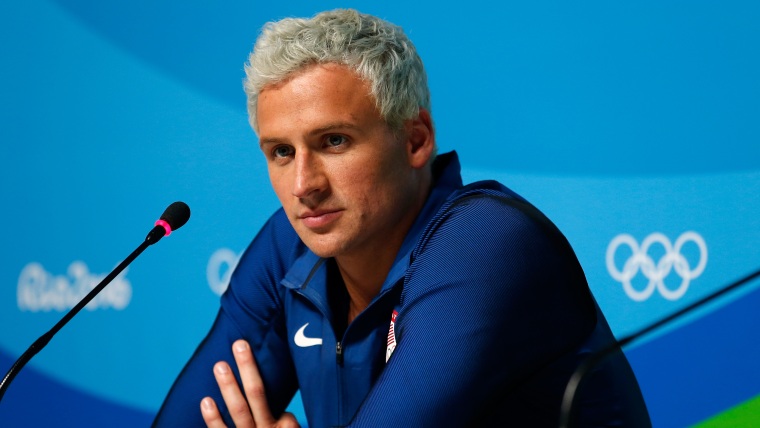 Lochte, a 12-time Olympic medalist and the only one to speak publicly about the incident, told NBC News Sunday that there had been multiple attackers. Lochte said he, Feigen and two other swimmers, Gunnar Bentz and Jack Conger, were returning from a night of partying when their taxi was pulled over by men who appeared to be police officers. They ordered the swimmers to the ground, and when Lochte refused — he said he told them they'd done nothing wrong — one of the assailants held a pistol to his head.
"He took our money, he took my wallet — he left my cell phone, he left my credentials," Lochte said.
Initially, Olympic officials denied the report, but Lochte later told USA Today that he and his teammates delayed telling officials about the attack "because we were afraid we'd get in trouble." The United States Olympic Committee said the four men have since cooperated with authorities.
But that hasn't cleared up all the confusion. The Associated Press quoted a police official — who spoke on condition of anonymity — saying that investigators haven't found the men's taxi driver or witnesses.
Ostrow said Lochte has "done everything he could have done and should have done as a victim."