It started with four U.S. Olympic swimmers, partying late after finishing competition in Rio. One of them is world famous; the others are hardly known outside their sport.
Now they are at the center of an international tempest that seems to get messier by the day.
They have said they were robbed at gunpoint while returning to the athletes' village before dawn Sunday. Authorities say they lied.
Nothing about the case is clear.
Here's how it unfolded in the public eye.
Sunday, Aug. 14
Ryan Lochte, a 12-time Olympic medalist, joined three teammates, Jimmy Feigen, Gunnar Bentz and Jack Conger — who days earlier had won gold medals in relays — at a party at Club France, a hospitality house across town from the Olympic Village. What time they left remains in dispute. But they were captured on security video returning to the village at 6:56 a.m. local time.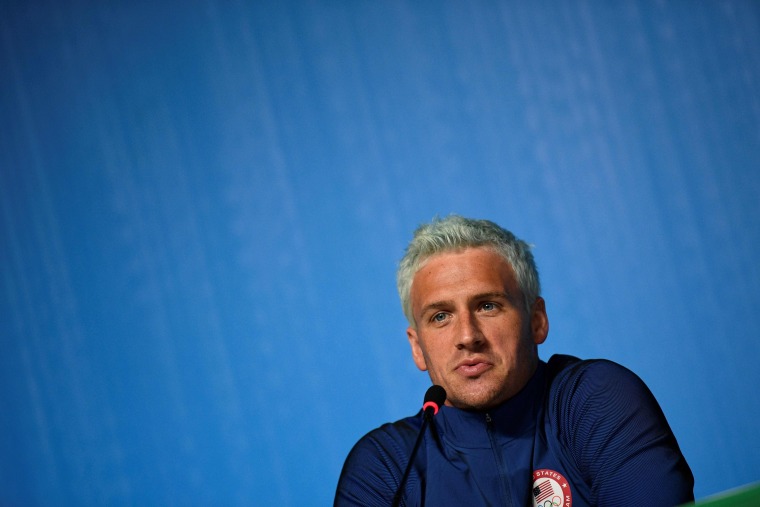 A few hours later, a reporter for Fox Sports tweeted that Lochte had been held up at gunpoint. The reporter quoted Lochte's mother as saying her son had told her of the robbery.
Other media organizations turned to the International Olympic Committee and the U.S. Olympic Committee for confirmation. Neither provided it. The USOC said it didn't know anything about it. The IOC initially told The Associated Press that the story was "absolutely not true."
By then, Fox Sports had published a story online.
In the early afternoon, Lochte spoke to TODAY's Billy Bush on a Rio beach, giving a detailed recollection of the incident:
We got pulled over in our taxi and these guys came out with a badge, a police badge. No lights, no nothing, just a police badge. They pulled us over, they pulled out their guns. They told the other swimmers to get down on the ground, they got down on the ground. I refused. I was like, "We didn't do anything wrong so I'm not getting down on the ground." And then the guy pulled out his gun, he cocked it, put it to my forehead and said "get down." I was like, I put my hands up. I was like "whatever." He took our money, he took my wallet.
The USOC then put out a statement backing up Lochte's account:
According to four members of the U.S. Olympic Swimming Team (Gunnar Bentz, Jack Conger, Jimmy Feigen and Ryan Lochte), they left France House early Sunday morning in a taxi headed for the Olympic Village. Their taxi was stopped by individuals posing as armed police officers who demanded the athletes' money and other personal belongings. All four athletes are safe and cooperating with authorities.
Police said they were looking into the report and wanted to interview the athletes involved.
On Sunday evening, Lochte posted on Instagram that his account was true and that he was doing fine.
He posted the same message on Twitter.
Bentz also tweeted, but he didn't say much.
Not long afterward, police followed up with a statement saying one of the swimmers had told them about the robbery, but he couldn't say where it happened. They said they were still looking for witnesses.
Monday, Aug. 15
A little more than 24 hours after the alleged robbery, a spokesman for the Rio Games apologized, saying the report had damaged the city's reputation but wouldn't blemish the Olympic's image.
"We apologize to the U.S. athletes for the violence they have been through," said the spokesman, Mario Andrada.
The investigation continued.
Tuesday, Aug 16
Lochte spoke to USA Today, telling the newspaper that he'd waited to tell the USOC about the robbery "because we were afraid we'd get in trouble." The comments helped explain the early confusion.
He got on a plane home. In Charlotte, N.C., he posed for a photo with a flight attendant, who shared it on Instagram.
Wednesday, Aug. 17
The story began to unravel.
Police in Rio said that they still hadn't been able to corroborate the account — and that they had more questions.
A Brazilian judge issued search and seizure warrants for the passports of Lochte and Feigen, who at that point were the only two swimmers who had given accounts of the robbery to police.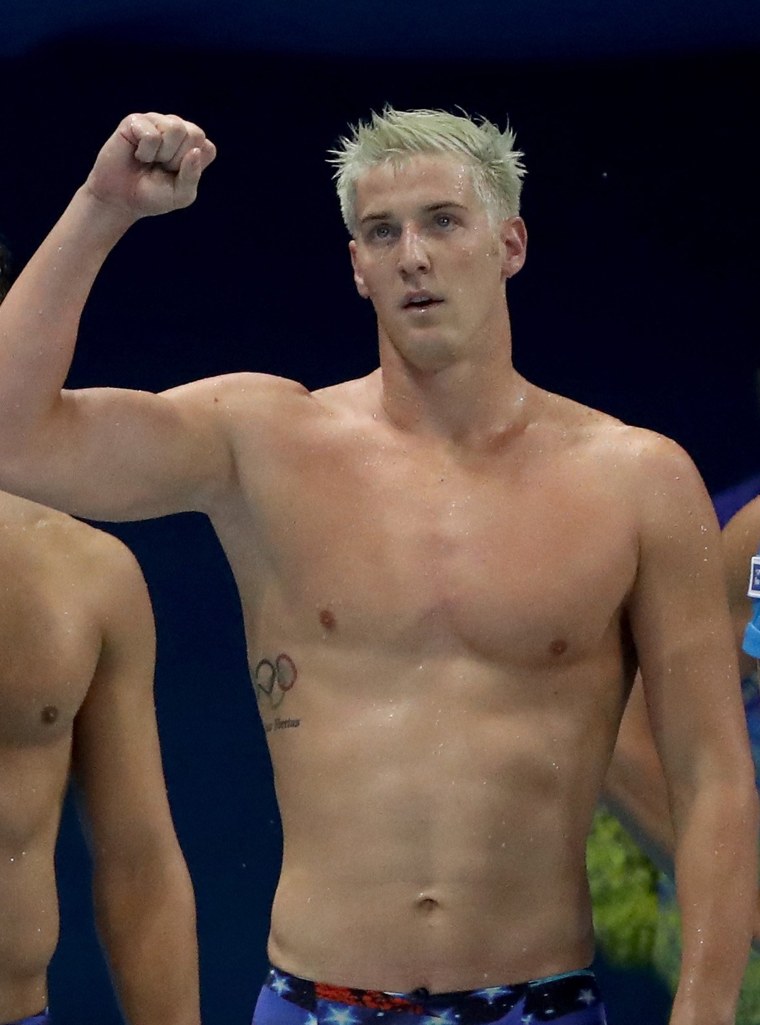 The judge, Keyla Blanc De Cnop, said Lochte and Feigen had given contradictory accounts — Lochte told police that there was one robber, while Feigen said there were more, one of whom had a gun. The judge also pointed out that the swimmers said they'd left the club at 4 a.m., but security video showed them departing at a different time. Moreover, the judge cited the men's "calm demeanor" as they passed through an Olympic Village checkpoint, captured by security cameras.
"It seems like the victims arrived with an unshaken physical and psychological state, making jokes with each other," the judge said.
A USOC spokesman, Patrick Sandusky, said police had showed up that morning looking for the two men, but he didn't say where they were.
Local police arrived at the Olympic Village this a.m. and asked to meet with Ryan Lochte and James Feigen and collect their passports in order to secure further testimony from the athletes. The swim team moved out of the village after their competition ended, so we were not able to make the athletes available.Additionally, as part of our standard security protocol, we do not make athlete travel plans public and therefore cannot confirm the athletes' current location.We will continue to cooperate with Brazilian authorities.
For Lochte, already in the United States, the order was largely moot. But Feigen had yet to leave. He told the San Antonio Express-News: "I can't talk right now. I'm being s----stormed right now. I'm still in Brazil and (an interview) is going to have to wait."
That day, Feigen checked in for a flight online but didn't show up at the airport, sources told NBC News.
Lochte's lawyer, Jeff Ostrow, was defiant, accusing the Brazilians of trying to "save face." Lochte stood by his story, Ostrow said, and was never asked to stay in Rio.
On Wednesday night, Bentz and Conger tried to get on a plane home and were pulled off by police. The encounter was peaceful, authorities and witnesses said.
A police detective told NBC News that Bentz's and Conger's passports had been "temporarily confiscated."
Sandusky explained a bit further:
Jack Conger and Gunnar Bentz were detained Wednesday night shortly before their flight was scheduled to depart from Rio. They were released by local authorities with the understanding that they would continue their discussions about the incident on Thursday. James Feigen is also communicating with local authorities and intends to make further statements regarding the incident on Thursday as well. We will continue to provide updated information as it is appropriate.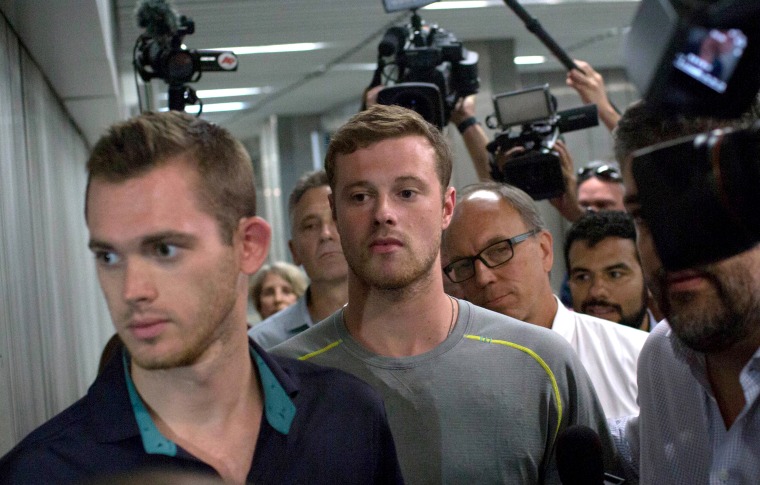 About three hours later, Bentz and Conger were released, but police held onto their passports, their lawyer said.
The day ended with Lochte speaking to TODAY's Matt Lauer, who quoted Lochte saying he was surprised by the controversy.
Lauer said Lochte told him: "I wouldn't make up a story like this, nor would the others — as a matter of fact, we all feel it makes us look bad. We're victims in this, and we're happy that we're safe."
Lochte also changed some details of his account, Lauer said, including that the robber's gun was pointed in his general direction, instead of at his head. Lochte also mentioned that the robbery happened as they left a gas station.
Thursday, Aug. 18
The story unraveled further.
Sandusky started the day with a statement saying the three remaining swimmers, Bentz, Conger and Feigen, planned to "provide further statements" to Brazilian authorities.
Then police all but called the group liars. At a news conference, police officials told reporters that there had been no robbery.
"They were not victims of the criminal actions that they claimed they were," Rio Police Chief Fernando Veloso said. He added, "They fabricated a story."
The encounter allegedly began with one of them vandalizing the gas station's bathroom, he said. Citing security video of the incident and interviews with witnesses, officials said that the swimmers tried to get into the taxi but that gas station staffers stopped them.
The swimmers refused to stay, handing over money to the staff. Security guards wouldn't let them leave, and at one point they held the swimmers there at gunpoint — and demanded $50, Veloso said.
Veloso described Lochte as "very angry" and "intoxicated" after the incident. He wouldn't say whether any charges would be filed.
Late Thursday, the USOC weighed in with a dramatically different stance from the one it started with on Sunday. It now called the swimmers' behavior "not acceptable" and said they didn't "represent the values of Team USA or the conduct of the vast majority of its members."
"On behalf of the United States Olympic Committee, we apologize to our hosts in Rio and the people of Brazil for this distracting ordeal in the midst of what should rightly be a celebration of excellence," the committee said.
Bentz's and Conger's passports were returned, and they were allowed to leave Rio Thursday night, according to the USOC.
Feigen, meanwhile, revised his statement Thursday night "with the hope of securing the release of his passport as soon as possible," according to the Olympic committee — which said nothing about Lochte's status.
Friday, Aug. 19
A deal was brokered between Feigen and Brazilian authorities so he can eventually leave Brazil, Feigen's lawyer told reporters early Friday.
"After a long deliberation, this agreement was reached … he will donate 35,000 real [approximately $10,800] to an institute, and with that the case is resolved," Breno Melaragno said.
The money will go to Instituto Reacao, a judo academy for low-income kids and teens who want to learn the sport, he added. Rafaela Silva, who grew up in Rio's slums and became Brazil's first gold medalist of the 2016 Olympics, trained there.
"After this donation is done, his passport will be given back to him, and he will be free to return home," Melaragno said. It wasn't clear when Feigen's donation would be made.
Meanwhile, Bentz and Conger's flight from Rio arrived in Miami at 6:30 a.m. Friday.
Passengers told NBC News flight attendants gave the two newspapers so they could sleep and hide their faces from others on the plane who were trying to take pictures of them. Multiple airport security personnel escorted them through baggage claims and immigration.
Hours later, Lochte broke his silence for the first time since police denied his version of the story, and posted a three-paragraph apology on social media.
"It's traumatic to be out late with your friends in a foreign country — with a language barrier — and have a stranger point a gun at you and demand money to let you leave, but regardless of the behavior of anyone else that night, I should have been much more responsible in how I handled myself and for that am sorry to my teammates, my fans, my fellow competitors, my sponsors, and the hosts of this great event," he wrote.
On Friday afternoon, Rio tourism police shared portions of the swimmers' statements to authorities. The athletes all described a night of partying followed by a stop to use the bathroom in the early hours of Sunday. Conger and Bentz both said in their statements that Lochte's comments to the press differed from their own accounts of what happened.