Part 1 in a Series
Donald Trump was elected to president on a platform of politics not as usual, so it is fitting he inherits a world in flux. Post-World War II rules are dying, old alliances shifting and traditional roles shed. While Trump is a giant question mark on the world stage, NBC News' Chief Global Correspondent Bill Neely looks at major international challenges the president-elect faces upon inauguration on Jan. 20.
LONDON — The flamboyant leader of the Philippines flew to Beijing in October and declared his nation's decades-old alliance with the United States dead.
President Rodrigo Duterte said it was time to "say goodbye" to America and claimed that "only China could help" his country.
By any standard, his pivot was dramatic and signaled the most important realignment in the region in decades. It was also a symbol of a major challenge facing president-elect Donald Trump — the rise of China.
After hundreds of years of looking inward, China is flexing its muscles regionally by building aircraft carriers, asserting its dominance over most of the disputed South China Sea and sending troops abroad.
While the U.S. remains the world's dominant military and economic power, China now is the world's second-biggest economy and has the largest military.
And China will not be ignored.
The relationship with China "is the most important … for the next president to get right and will have the greatest consequences if they get it wrong," said Xenia Wickett of the British think tank Chatham House.
President Xi Jinping, China's most powerful leader in decades, is sending Washington a strong message, which is that China has changed and old assumptions about global power and American dominance don't hold anymore.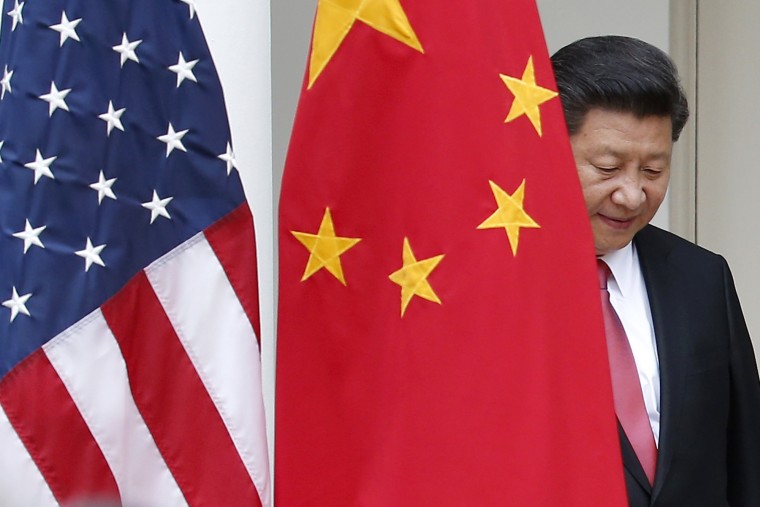 As a result of an assertive Beijing, Trump will have to decide whether to continue irritating Beijing by sailing aircraft carriers in waters China claims. Beijing's willingness or unwillingness to restrain North Korea's nuclear ambitions may provoke some sort of reaction from Washington.
Trump has not wasted time in rattling Beijing's cage — that may hint at things to come.
On the campaign trail Trump talked tough on China, accused it of "raping" the U.S. economy and threatened to slap huge tariffs on Chinese imports. If his future policy can be judged by his decision on personnel, China will be concerned that he has appointed Peter Navarro as head of the new trade body, the National Trade Council. Navarro is an outspoken critic of China in his books "The Coming China Wars" and "Death by China."
In his first days as president-elect, Trump spoke to the leader of a nation China regards as nothing more than a renegade province — Taiwan.
Trump's telephone conversation with Taiwan's President Tsai Ing-wen on Dec. 3 was followed by the comment that he didn't feel "bound by a one-China policy," which has ruled Washington-Beijing relations since President Richard Nixon's administration.
China called the one-China policy the "political foundation" for relations between the two countries, and said tossing it out the window would render U.S.-China cooperation "out of the question."
Then on Dec. 16, Chinese seized an underwater American drone in international waters claimed by Beijing. Trump lashed out at China before the device was returned a few days later.
"China steals United States Navy research drone in international waters — rips it out of water and takes it to China in unprecedented act," he said via Twitter.
Trump appears determined to end what he sees as America's kowtowing to China.
Meanwhile, one policy decision that's already been announced — Obama's famous pivot to Asia — has fizzled. The U.S. is still enmeshed in Mideast conflicts and engaged in a new power play with Russia's Vladimir Putin.
Another factor to watch will be the relationship between the two leaders — Trump and Xi. The two men could hardly be more different.
Xi spent 25 years climbing slowly through the governing ranks. Trump came from outside the political system and has never held office. Xi rarely lets his guard down while Trump is unguarded. Their first meeting could be fascinating —Trump suggested before he was elected that he'd get Xi a McDonald's hamburger.
Another big point of conflict will be China's seeming determination to rule the South China Sea — a body of water claimed by several countries.
As secretary of state, Hillary Clinton said she feared China's "chokehold on the sea lanes" and saw freedom of navigation through the South China Sea as a litmus test in the rivalry between the two powers.
She has gone but the concerns remain.
In mid-December, a U.S. think tank announced that recent satellite images appeared to show that China had installed anti-aircraft and anti-missile weapons on its manmade islands — upping the stakes in the volatile region.
Whatever course he charts, it is clear Trump needs a new strategy because, like Russia, China has invested in full spectrum military power. Its military is being updated fast and its investment in cyberwarfare is thought to be huge.
In October, experts and officials told NBC News that Chinese hacking thefts of American corporate secrets plummeted in the 13 months since China signed an agreement with the Obama administration to curb economic espionage.
This piece of good news for the U.S. is reversible.
One early casualty of Trump's presidency looks to be the Trans-Pacific Partnership, a trade agreement with Japan and 10 other countries promoted as a strategic response to China's growing influence.
Related: China Expresses 'Serious Concern' Over Trump Threat
Trump put the pact it at the center of his campaign and on Nov. 21 promised to withdraw from the agreement.
The speed of China's growth and its leverage and influence in the region makes it both a formidable partner and potential adversary. And China is becoming a necessary power, whether in solving climate change, terrorism, nuclear proliferation or the Middle East. So there are opportunities here for America's new president too, not just threats.
What is certain is that China won't be contained — and is getting stronger. So while many Asian countries have long looked to America for security and to China for economic opportunity this balance may be shifting.
China's neighbor and ally North Korea will present the most immediate challenge to relations, driving early policy and contact with China. China's claims to the disputed islands of the South China Sea, and its policy of creating facts on the ground — literally building islands — will also require American patience and restraint.
The new administration could turn to old friends as it confronts an emboldened China. Trump may have to work harder, not just with allies like Japan and South Korea, but with smaller countries that might be swayed by billions in loans from China — namely the Philippines.
But the danger of China playing divide and rule in the region, peeling the Philippines away from the U.S., and sending signals to Malaysia, Thailand, Vietnam and Singapore, is real.
Related: Why Trump's Call with President of Philippines Matters
America is questioning its global role and responsibilities, and so, from a different direction, is China.
Both want an understanding and stability — neither seeks conflict. In fact China's military adventures outside its borders have been few. But the U.S. and China fought a war in Korea and today's world is volatile.
Beneath it all, the next president needs to get the tone right because this matters to the Chinese, as does a sense of history.
By Beijing standards, America is a young power and China an ancient and wise nation — the Middle Kingdom, the center of the world. Whatever decisions are contemplated, American arrogance will go down badly in Beijing.
But American kowtowing to the newly bulging muscles of Beijing will most likely go down badly in Washington.
Also in This Series