Part 3 in a Series
Donald Trump was elected on a platform of politics not as usual, so it is fitting he inherits a world in flux. Post-World War II rules are dying, old alliances shifting and traditional roles shed. While Trump is a giant question mark on the world stage, NBC News' Chief Global Correspondent Bill Neely looks at major international challenges the president-elect faces upon inauguration on Jan. 20.
LONDON — Nobody is more likely to test the new administration than Russia's Vladimir Putin.
Putin has already overlapped with three other American presidents and his government's actions colored the U.S. campaign long before Trump's November win.
U.S. intelligence officials believe with "a high level of confidence" that Putin became personally involved in the covert Russian campaign to interfere with the White House election, two senior officials told NBC News.
The CIA has assessed that Putin's government wanted to elect Trump, although the FBI and other agencies don't fully endorse that view. Few officials dispute that the Russian operation was intended to harm the candidacy of Trump's rival Hillary Clinton by leaking embarrassing emails about Democrats.
While no equivalent Republican leaks occurred during the campaign — and Trump and Putin have both spoken of each other warmly — the wind from the East has never been more chilly.
On Oct. 15, Russia's longstanding U.N. Ambassador Vitaly Churkin said Washington-Kremlin tensions the "worst since 1973."
Former Soviet President Mikhail Gorbachev — the architect of glasnost or "openness" reform policies that hastened the end the Communist U.S.S.R. — has warned that U.S.-Russia ties were at "a dangerous point."
Related: Putin Congratulates Trump by Telegram After Win
Russia tore up a pact to get rid of plutonium that could be used in nuclear warheads, and moved nuclear weapons into Eastern Europe — which unnerved Western governments, including the U.S.
It is also venturing into regions it had neglected for decades, for example helping bomb Syria's Aleppo and holding military exercises with longtime U.S. ally Egypt.
Profound Distrust
It seems like Putin's Russia seems determined to challenge American leadership across the globe. Beneath the bold Russian moves, there is profound distrust between the two countries.
Secretary of State John Kerry's personally warm relationship with Russian Foreign Minister Sergei Lavrov has ensured areas of cooperation, even agreement — but this could end.
Putin won't be deterred from challenging the U.S. and with his economic woes growing at home he may be tempted to double down on risky military moves — nowhere more so than in the Middle East, where Syria is Putin's showcase for the Russian military.
The most profound challenge to the White House's new occupant would be if Moscow made a move in one of the Baltic states, which are members of NATO but are also home to substantial ethnic Russian minorities. This is seen as an extremely unlikely occurrence by experts but it cannot be completely ruled out.
Related: Three Years After U.S. Pulled Tanks From Europe, They're Back
Any incursion would challenge Trump, as NATO's biggest funder, to make a full-scale response based on the alliance's fundamental principle — that an attack against one of its members is considered an attack on all 28.
Another possible tripwire is the Russian enclave of Kaliningrad, which lies between Lithuania and Poland and is home to the Russian Baltic fleet. Russia has now moved nuclear capable Iskander-M missile systems there.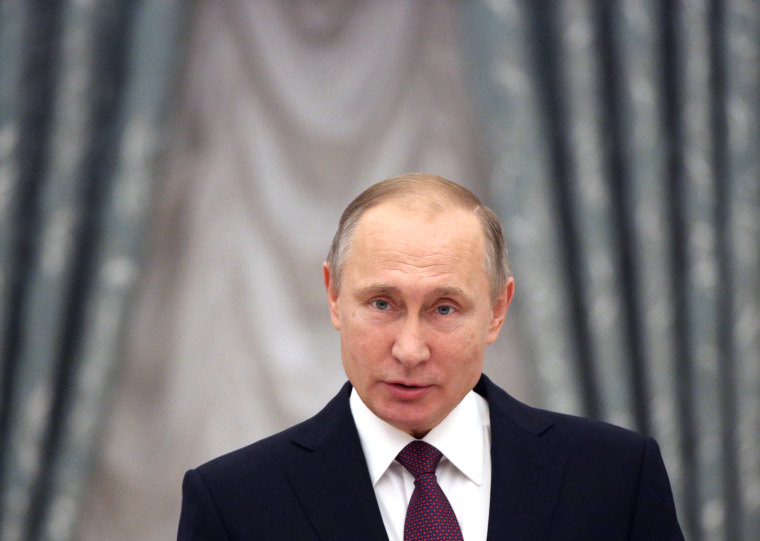 Their indefinite placement puts U.S. missile defense systems in Poland within range. Almost certainly, any Russian move to test America's new leader here would be small scale — the military tactic they call "maskirovka," or deception, seen most clearly in 2014 when mysterious soldiers appeared in Ukraine's Crimea. These soldiers, which Putin later admitted had been sent there by the Kremlin, hastened the eventual Russian annexation of the peninsula.
The World's Longest Border
Putin's regime has insisted it is antagonizing the United States in self-defense against what it perceives to be Washington's aggressive policies.
Russia, the country with the longest land border in the world, has historically been concerned about its neighbors' military activities.
Related: Trump Hints at New Relationship With NATO Allies
Russian leaders have for years watched with alarm as NATO expands eastward toward the country's borders. Especially alarming are plans for the U.S. missile defense elements in Eastern Europe.
Trump's own plans may prove as damaging to NATO as Russia's. As a candidate, he sent waves of alarm through Europe when he said he might not come to the aid of NATO allies if they were attacked.
So these are dangerous days.
Related: Why Obama Didn't Do More About Russian Hack
"Russia is still the only country that can destroy the United States as a functioning society in 30 minutes ... both sides maintain their nuclear forces on hair-trigger alert," Russia experts Thomas Graham and Matthew Rojansky wrote in Foreign Policy magazine in October.
There are few good options for the U.S. and all carry risks.
Tillerson's 'Vast experience'
Trump's nomination of oil giant ExxonMobil CEO Rex Tillerson as secretary of state on Dec. 13 may signal the president-elect's strategy for dealing with Russia. While Tillerson has no government or diplomatic experience, he does have exceptionally close ties with Moscow and Putin.
While these links have drawn fire from both Democrats and Republicans, it is likely that Trump actually sees the connections as positive.
"The thing I like best about Rex Tillerson is that he has vast experience at dealing successfully with all types of foreign governments," Trump said via Twitter when the nomination was announced.
Whatever Tillerson's relationship with Russian officials, Putin is now positioning himself to make maximum demands on Trump.
Obama failed to follow through on his famous "red line" threat against the use of chemical weapons in Syria in 2013. With this, Russia and many other countries smelled weakness in Washington.
Related: Donald Trump's Call for 'Arms Race' Boggles Nuclear Experts
Trump has already proven bullish with his rhetoric, suggesting on Twitter last week that the U.S. should expand its nuclear capabilities and telling MSNBC: "Let it be an arms race. We will outmatch them at every pass and outlast them all."
Putin, for his part, boasted during his annual press conference about the strength of his nuclear arsenal.
Trump's challenge is to show Moscow that America isn't withdrawing from the world, or unwilling to share the burdens of global leadership with a responsible Russia.
So after America and Europe both failed to deter Putin, perhaps the best Trump will be able to do is repeat the Cold War and ensure a balance of power through the threat of mutually assured nuclear destruction — an uncomfortable policy that nonetheless provides stability.
Also in This Series