It's an exciting time to be alive as NASA, along with billionaires and their rockets, continue to push the envelope when it comes to space travel and exploration.
But it all comes at a pivotal time, as President-elect Donald Trump takes office in January. As president, Trump will nominate a NASA administrator and will be tasked with setting a budget for the space program, which will then have to be approved by Congress.
The current proposed budget for NASA in 2017 is $19 billion — down $300 million from the previous year but still an improvement from the past decade, which saw the end of the space shuttle program.
Related: Cheers to the Tech We Have to Look Forward to in 2017
Trump Sets the Course For NASA
President-elect Donald Trump will step into his new role during a pivotal time for future space endeavors, as well, with NASA setting its sights on a Mars mission in the 2030s and preparing to end its dependence on Russia for rides to the International Space Station.
Whomever Trump nominates could set the tone for the future of the space program, including how NASA partners with the commercial space industry, according to Jim Cantrell, CEO of Vector Space Systems and a founding member of SpaceX.
With Silicon Valley billionaire Peter Thiel acting as a close Trump adviser, Cantrell said "some of the more commercial thinking" he brings "is very healthy, and if Trump continues to do that, it will be very positive for NASA."
Presidents are usually relatively hands-off with NASA; however, Cantrell sees an opportunity for Trump, who has previously called space "terrific."
"Occasionally you see presidents come in and provide a clear change in direction of leadership," he said, referring to John F. Kennedy's decision to go to the moon and George W. Bush's appointment of a NASA administrator who helped paved the way for partnerships with the private space industry.
"The potential is there for Trump to do the same thing," Cantrell said.
Ending Reliance on the Russians
Since NASA grounded its shuttle program in 2011, the space agency has been buying seats aboard a Russian Soyuz capsule in order to send American astronauts to and from the International Space Station.
It likely won't happen in 2017, but expect to hear updates from NASA partners SpaceX and Boeing as both make strides in their testing of commercial crew vessels: When they are ready to shuttle humans, SpaceX's Crew Dragon and Boeing's Starliner would cost about $58 million per seat, according to NASA. By comparison, a seat aboard the Russian Soyuz has the heftier price tag of $81 million.
A Return to Flight for SpaceX
SpaceX is planning to return to flight in January — just four months after an anomaly destroyed a Falcon 9 rocket and the satellite it had been set to carry into space.
Elon Musk's company is targeting a January launch, exact date to be determined, for Iridium's mobile communications fleet.
SpaceX's timeline is ambitious, but the company has pulled it off in the past. After its Dragon capsule exploded en route to the International Space Station, the company was sidelined for six months.
The Unpredictable Jeff Bezos
Amazon CEO Jeff Bezos is a member of the billionaire rocket club. As CEO of Blue Origin, he's largely kept quiet about the company's plans, instead telling the world after they've pulled off something impressive.
"They have been unpredictable from the start because there isn't much known about what their core path is," said Cantrell. "I am fascinated to see what it is the guy has in mind. His style is very different from Elon's. Elon says what he wants to do and goes and gathers the money to do it. Bezos suddenly shows up with a fully functional vehicle that blows your mind."
Blue Origin has been following a cycle of "launch, land, and repeat," with its reusable New Shepard rocket and vehicle, which goes into sub-orbital space.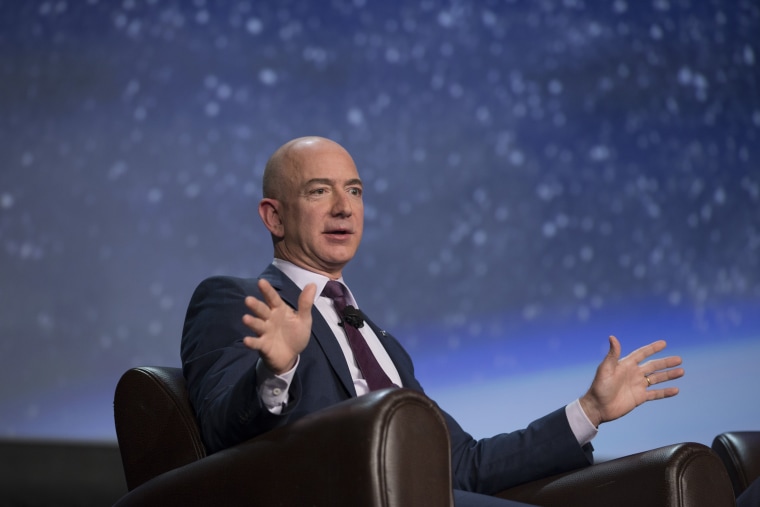 Building a Space-Based Internet
"I see it as a very bright year for the space internet," Cantrell said.
Building a space-based internet is not a new idea, but it's one that has taken off once again largely due to new technology and lower launch costs.
While a number of companies, including SpaceX, have expressed a desire to build a space-based internet, it's shaping up to be a big year for OneWeb.
The company, whose investors include The Virgin Group, Coca-Cola, Airbus, and Qualcomm, announced earlier this month it had received a $1.2 billion injection of capital, which will support production in a high volume satellite facility, according to the company.
"My bet is on OneWeb to get it going first," Cantrell said.
Virgin Galactic
Virgin Galactic suffered a major setback with its SpaceShipTwo when it broke apart over the Mojave Desert in 2014, killing the co-pilot and seriously injuring the pilot, who was able to parachute to safety.
Earlier this month, Virgin Galactic marked its first major milestone since the crash when its new spaceship, the VSS Unity, successfully completed its first glide test.
When it comes to space tourism, Virgin Galactic has been one of the most visible companies setting imaginations wild with the idea of actually letting human tourists visit space.
"They aren't going to move as aggressively forward as the smaller companies launching unmanned stuff," Cantrell said. They'll work on "getting the risk of losing human life down" and showing their more than 700 customers who have been patiently waiting that they have a "strong future."
Related: Like a Virgin, in Space for the Very First Time
Cassini's Saturn Swan Song
Having spent nearly 20 years on the move in space, NASA's Cassini space probe will end its mission in September when it dives head-on into Saturn.
Before it slams into the ringed planet, Cassini will come as close as 1,012 miles above Saturn's clouds before it makes a fatal plunge into the atmosphere.
The space probe launched in 1997 and arrived at Saturn in 2004.