Kanye West began 2016 floating a run for the White House in 2020. He ended the year in another dramatic flourish — strutting into Trump Tower as perhaps the most unlikely ally of the president-elect.
And through all the antics, the year for Yeezy was at times as beautiful, dark and twisted a fantasy as ever.
That's because the "Famous" rapper managed to remain remarkably relevant, if not for his music or his fashion line, than for a string of public and erratic outbursts that propelled him into the national conversation in unprecedented ways.
Next year, West turns 40, but don't expect anything to change. The controversial rapper remains poised to keep people guessing and just as engaged as they were in 2016.
A Year Defined by Politics
West, who never said which political party, if any, he'd be affiliated with should he ever run for president, projected the utmost confidence that he is up to the task despite never having held public office.
A HuffPost/YouGov poll from last year suggested that only 6 percent of Americans would even consider voting for West.
Related: Analysis: Kanye and Trump Benefiting From Confident, 'Crazy' Brand
Although West donated to Democrat Hillary Clinton's campaign and appeared to take shots at Trump, he retroactively endorsed the president-elect during an erratic concert in Sacramento, California, in November. He also criticized frequent collaborator Jay Z, Beyoncé and President Barack Obama — then stormed off the stage after declaring, "I'm on my Trump sh*t tonight."
West went on to have an unexpected face-to-face meeting with Trump at Trump Tower earlier this month to discuss "bullying, supporting teachers, modernizing curriculums and violence in Chicago." He left with a handshake and a signed copy of Trump's TIME Person of the Year cover.
Trump has insisted that he and West are "great friends."
"Kanye West hugging President-elect Trump is not how most of us expected 2016 to end," said Zack O'Malley Greenburg, a Forbes entertainment writer and author of the Jay Z biography "Empire State of Mind."
"Yeah, I think it'll lose him some fans, but will it kill his career? I don't think so. Kanye has made a brand out of making people uncomfortable, for better or worse."
Meanwhile, West walked away from their conversation with an apparently different perspective on his political future, simply tweeting: "#2024."
A Year Defined by Scandals
The Chicago rapper's embrace of Trump, who has been dogged by criticism for racially charged and anti-Muslim rhetoric during the 2016 campaign, amused and alienated many of his fans and peers in the music business.
But it was just one of several controversial episodes from 2016.
"I think this was supposed to be the year that Kanye got his affairs in order. But what kind of ended up happening was something very different," Greenburg said. In the end, 2016 ended up being a year of missed opportunities for him."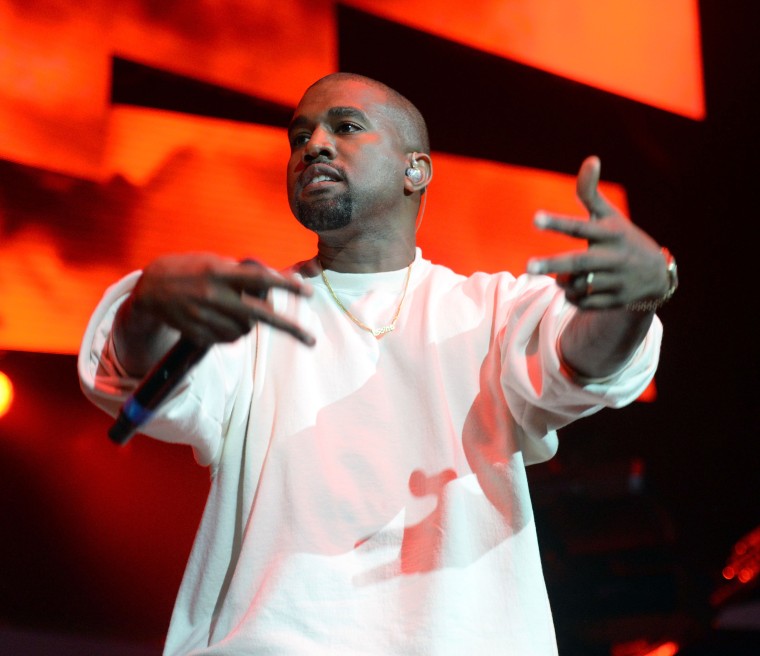 In February alone, Kanye said that embattled comedian Bill Cosby was innocent of the numerous allegations of sexual assault lodged against him (Cosby has also denied the charges), and he asked Facebook's Mark Zuckerberg to help him pay off a purported $53 million debt.
In a video leaked from a "Saturday Night Live" rehearsal, the rapper boasted that he was "50 percent" more influential than any other artist living or dead, including Pablo Picasso, drug kingpin Pablo Escobar and filmmaker Stanley Kubrick.
Speaking of Picasso, West named his latest critically acclaimed album, "The Life of Pablo," after the iconic painter. But that LP's botched rollout — it was initially supposed to be released exclusively on Jay Z's music streaming platform Tidal, but was undermined by leaks and eventually found its way onto iTunes — somewhat overshadowed its content.
On that album, West resurrected his years-long feud with singer Taylor Swift, rapping that he made her famous and that, despite being a married father of two, he "might still have sex" with the singer.
West and his reality star wife, Kim Kardashian, would later provide audio of a phone conversation with Swift as proof that she signed off on the lyrics, an assertion the Grammy-winning pop star has called into question.
A Year Defined by Health Concerns
Public feuds aside, there have been legitimate worries from fans about West's well-being.
His November concert rant in Sacramento preceded an extended hospital stay for exhaustion, according to his representatives. The rest of West's ongoing "Life of Pablo" tour (21 arena dates) was canceled indefinitely, but that doesn't mean he will be slowing down.
"Trying to predict what Kanye will do next is kind of a fool's errand," Greenburg added. "I think the only thing you can predict is that he is going to be unpredictable."
In other words, the road to #2024 could be the start of a whole new West — and not just a White House run.