2016 was the best of times and the worst of times for memes on the internet.
Remember those videos of people frozen in place during the Mannequin Challenge all over your Facebook feed? Your friends randomly shouting "Daaaamn, Daniel" at your shoes? That image of Arthur's clenched fist all over your Twitter feed? Those are all memes. And they exploded this year.
So why did it seem like 2016 was the Year of the Meme?
"It became more mainstream," Karen North, a clinical professor of communication and director of University of Southern California Annenberg's Digital Social Media program, said.
"This year, it became known, appealing and engaging to a broader group, and therefore, there were not only more people creating, but more people sharing memes," North said.
North gives two main reasons behind the huge reach of memes.
The first is mechanical, North said: "We probably reached a certain level of saturation of hand-held devices and sharing platforms. ... All of a sudden, there's no waiting time before you can share and see something."
The second reason is psychological. People like things to be predictable. Memes ... play into that," North said.
People want to be part of a group, and they want to try to be the person to one-up a well-known trope.
"To the extent there is uncertainty, a meme is a situation where you have something that's understood and predictable — there's no uncertainty — and then people play with it and give you a little fun twist."
North said this was the year that people really were "actively seeking out" memes.
Let's take a look at some of the most popular:
Confused Mr. Krabs
If you are a fan of "Spongebob Squarepants," you know Mr. Krabs as the penny-pinching boss of the main character. This year, Mr. Krabs evolved into a meme in a fever dream-like state, meant to symbolize any situation where you are utterly confused or panicked. It's the perfect — and hilarious — meme for a confusing world.
Prankster Joe Biden
President Barack Obama and Vice President Joe Biden have a widely known bromance. Biden has even referred to Obama as his "brother" and "best friend forever."
In this meme, which was widely shared after the election, Obama actually plays the big brother to Biden, imagining scenarios where the president has to reel in his aviator shades-loving VP like an unruly child.
Me at the beginning of 2016 vs. me at the end of 2016
In true 2016 fashion, 2016 itself has become a meme. The last 365 days, which has been equated to a dumpster fire, has left many feeling a little haggard and a bit worse for the wear. Thus, this meme was born.
Arthur's fist
You're probably familiar with Arthur, the bespectacled cartoon aardvark who teaches kids how to "have a wonderful kind of day, where we can learn to work and play and get along with each other." In this meme, however, Arthur is not so happy-go-lucky. And his fist-clenching angst clearly resonated.
This is the internet, so some of the Arthur memes took a rather graphic turn, leading the network behind the show to step in to say it was not pleased with the NSFW images.
Harambe
It's nearly impossible to talk about 2016 without talking about Harambe.
The 17-year-old, 400-pound endangered Western lowland silverback gorilla was shot after a 4-year-old fell into Harambe's enclosure at the Cincinnati Zoo in May.
Then things got weird.
Memorials, petitions, T-shirts, watches, songs, a super PAC, NFL jerseys and much more followed the gorilla's death. Rumors flew that Harambe garnered 15,000 votes in the 2016 election. And the Cincinnati zoo was forced to shut down its social media channels due to the inundation of Harambe zeal hurtled toward them.
Teens are obsessed with the concept of Harambe. North, the USC professor, said her children's classmates truly love the gorilla.
"If you mention God, somebody in the class ... will bow down to Harambe," she says. "In 7th grade, you cannot mention God without someone mentioning Harambe."
The "perfect meme" has taken on a life of its own, and it shows no sign of stopping any time soon.
The Mannequin Challenge
This year, you've probably seen at least 50 of these videos, where participants stay frozen in place while the camera pans over them with Rae Sremmurd's "Black Beatles" song in the background.
The challenge that swept the web all started with a tweet from teens at a Jacksonville, Fla., high school and snowballed to other schools from there.
Four-year-olds tried their best to do it (adorably).
First Lady Michelle Obama and the Cleveland Cavaliers got in on the action.
And even Hillary Clinton's campaign created a video with Bon Jovi for it on the trail.
When everyone and their mother (and father and sisters and brothers and cousins) started making videos, the trend petered off.
Pepe
Pepe began in 2005 as a harmless character in artist Matt Furie's comic strip Boys' Club. In 2016, the green frog morphed into a controversial symbol of the alt-right and some Donald Trump supporters, prompting the Anti-Defamation League to declare it a hate symbol.
"It's completely insane that Pepe has been labeled a symbol of hate, and that racists and anti-Semites are using a once-peaceful frog-dude from my comic book as an icon of hate," Furie said.
Evil Kermit
In 2016, the internet took one of childhood's most beloved characters and transformed him into that inner demon on your left shoulder.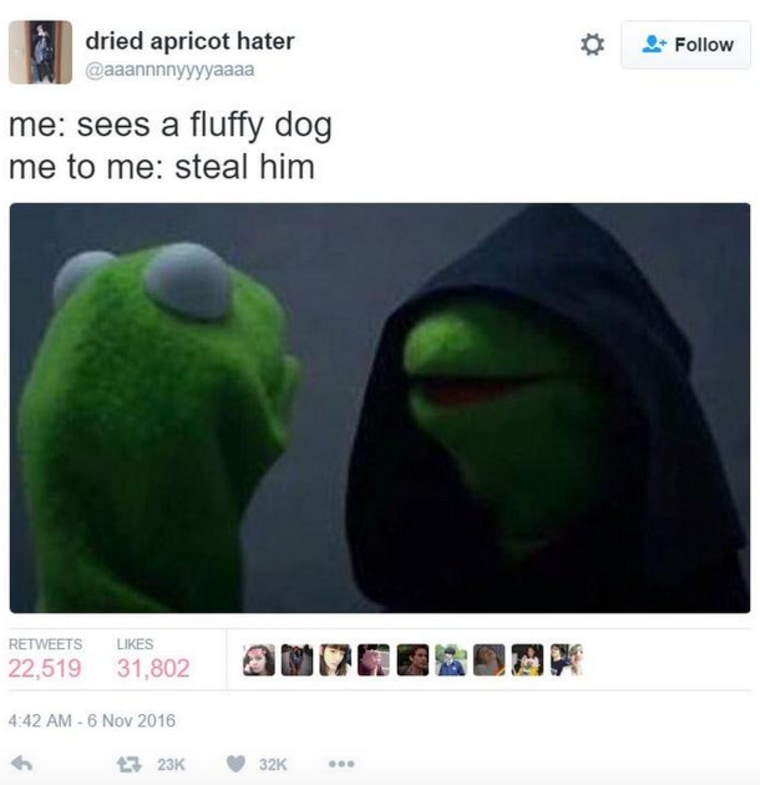 Ken Bone
During the second presidential debate between Clinton and Trump on Oct. 9, an undecided voter in a red sweater asked a question about energy policy. The rest is history.
A flurry of media activity, sold-out IZOD sweaters and even "sexy undecided voter" Halloween costumes followed.
Then Ken Bone did a Reddit AMA. And people found some questionable things he posted in the past. And that signaled the end of Ken Bone's 15 minutes of fame.
What the internet giveth, the internet taketh away.
*Record scratch* *Freeze frame*
If you're ever wondering how you ended up in a situation...
Phelps Face
Michael Phelps is now the most decorated Olympic athlete of all time. So why did he seem to have so much pent-up anger toward South African challenger Chad le Clos before one of his 2016 Rio Olympics races?
Phelps later explained his death stare to the TODAY show: "I just had music going on in my head. I had thoughts going on in my head, spitting water all over the place, so I was in my own zone. I was not intentionally mean-mugging him or giving him a dirty look."
Damn, Daniel
The "Damn, Daniel" meme is simple: Daniel's friend Josh made a compilation of video clips he shot of Daniel at school, repeatedly saying "Daaaamn, Daniel. Back at it again with the white Vans" in a funny voice. Then he posted it. People loved it and shared it. That's all it took.
Since it's something so pure and funny, brands naturally started taking advantage of the saying for marketing purposes, although Vans itself was a bit slower on the uptick.
North says that "Damn, Daniel" may be the meme that really pushed the concept into the mainstream spotlight.
"The authenticity of 'Damn, Daniel' and the incredible viral spread of 'Damn, Daniel' really taught America that quirky little memes can be fun and entertaining," she said. "And to the point that it became national news."
Tea Lizard
Tea Lizard is actually one of the more strangely complex memes of the year. The hubbub all started when "Good Morning America" sent out this tweet, ironically, about memes.
And the internet promptly lost it, yelling at GMA that their "Tea Lizard" was actually Kermit the Frog and to get their amphibian and reptile names straight.
Some said GMA's tweet stripped tea-sipping Kermit's connection to black culture, while others insisted we were all trolled by the show's social media editor, who follows the Twitter user who started the whole hashtag in the first place.
We'll just let Kermit himself have the last say in this one.
Crying Jordan ... and crying LeBron
The photo of Michael Jordan with tears streaming down his face has been around in some form since 2009, but continued to pick up steam this year.
The legendary basketball player even started tearing up at this year's Medal of Freedom ceremony.
The meme was given a new layer when LeBron James started crying after the Cavs won the NBA title, and the internet ran with it.
Chris Christie's face
2016 was, by all accounts, not a stellar year for New Jersey Gov. Chris Christie.
So when he appeared behind Trump during a speech at Mar-A-Lago, people couldn't help but notice his expression. Was he confused? Thoughtful? Shocked? Pondering the meaning of life? No one truly knows for sure. Some said he looked like a "hostage," spurring the hashtag #FreeChristie.
The governor later refuted the claims that he was being held against his will, saying he was "happy" at the time.
"This is fine"
If you spent any time on Twitter this year, there's a good chance that whenever something out-of-the-ordinary happened in the news, you'd see someone post this illustration of a dog sitting at a table ready to sip coffee amid burning flames as a metaphor for the event.
The image went mainstream when the GOP decided to tweet it and got a reply from a publication that hired the original illustrator to respond.
According to The New York Times, the image is "the meme this year deserves."
Stay weird, 2016. 2017 is sure to be back at it again with the crazy memes.