WASHINGTON — In the end, a combination of two different storylines doomed Republican Roy Moore in Alabama's Senate race, according to the exit poll of the contest.
The first revolved around the multiple allegations of sexual misconduct against Moore, with one woman charging him with initiating a sexual encounter with her when she was 14 years old and he was 32.
Fifty-two percent of voters in Alabama said those allegations were either "definitely" or "probably" true, and they broke for Democrat Doug Jones, 89 percent to 8 percent.
That was compared with 43 percent of voters who said the allegations were "definitely" or "probably" false. Those voters went for Moore by a 94 percent-to-4 percent margin.
In addition, Moore was unpopular with Alabama voters (56 percent of them said they had an unfavorable view of the Republican), versus 50 percent who had a favorable view of Jones.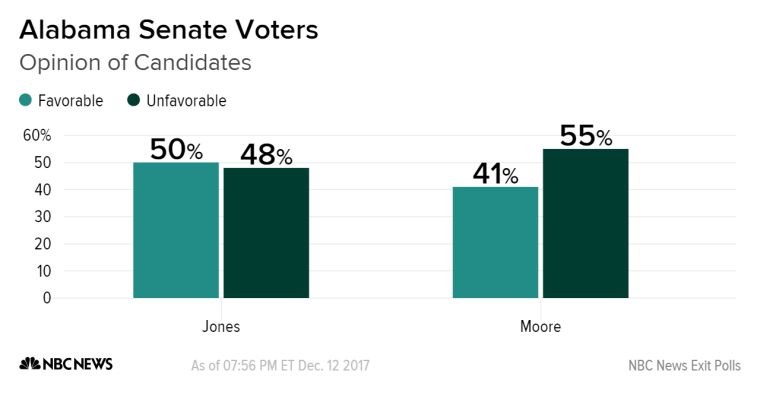 But the allegations against Moore weren't the entire reason why he lost.
The other story that doomed Moore: Democrats in ruby-red Alabama surged to voting places. That was particularly true among African-American voters.
According to the exit poll, Alabama voters were split on President Donald Trump's job performance, with 48 percent approving and 48 percent disapproving.
Yet the intensity regarding Trump benefited the Democrats — 41 percent of voters said they strongly disapproved of Trump's job, versus 32 percent who strongly approved.
For perspective, Trump beat Hillary Clinton last year in Alabama by 28 points, 62 percent to 34 percent.
What's more, in Tuesday night's contest, Republicans held just a six-point advantage in party identification, with 43 percent saying they were Republicans and 37 percent Democrats.
By contrast, in the 2012 presidential election when turnout was much higher, Republican had a nine-point advantage in party identification.
African Americans made up 29 percent of all Alabama voters, and they broke for Jones by a 96 percent-to-4 percent margin — essentially matching Barack Obama's performance with African Americans in the state in 2012.
Ultimately, the counties that put Jones over the top on Election Night were the urban areas of Birmingham, Ala., and Mobile, Ala.
Bottom line: Democrats turned out to vote. Especially those who were opposed to President Trump.