WASHINGTON — President Donald Trump conjured a vision for a "new American moment" Tuesday night in a wide-ranging State of the Union speech that featured a subdued tone but highlighted several of his more polarizing policy plans.
"This is our new American moment," Trump declared to lawmakers gathered at the Capitol for his first State of the Union address. "There has never been a better time to start living the American Dream. So to every citizen watching at home tonight — no matter where you have been, or where you've come from — this is your time. If you work hard, if you believe in yourself, if you believe in America, then you can dream anything, you can be anything, and together, we can achieve absolutely anything."
In the approximately 80-minute address, the third-longest State of the Union, the president pointed to tax cuts passed at the close of last year, along with planned pushes for infrastructure and immigration reform and continued deregulation efforts by the administration.
Trump asked members of both parties "to come together to give us the safe, fast, reliable and modern infrastructure our economy needs," while coalescing around an immigration plan that protects Americans "of every background, color and creed."
The speech had been billed in advance as a bipartisan overture. "Unity is really what I'm striving for, to bring the country together," Trump told reporters during a traditional off-the-record lunch Tuesday afternoon with network correspondents at the White House ahead of his address.
But within minutes of calling on lawmakers to "set aside our differences" and "summon the unity we need to deliver for the people," Trump served up red meat for his conservative base, applauding the elimination of the "disastrous Obamacare" individual mandate and touting the influx of conservative justices to the federal courts. That brought Republicans to their feet — and left Democrats in their chairs.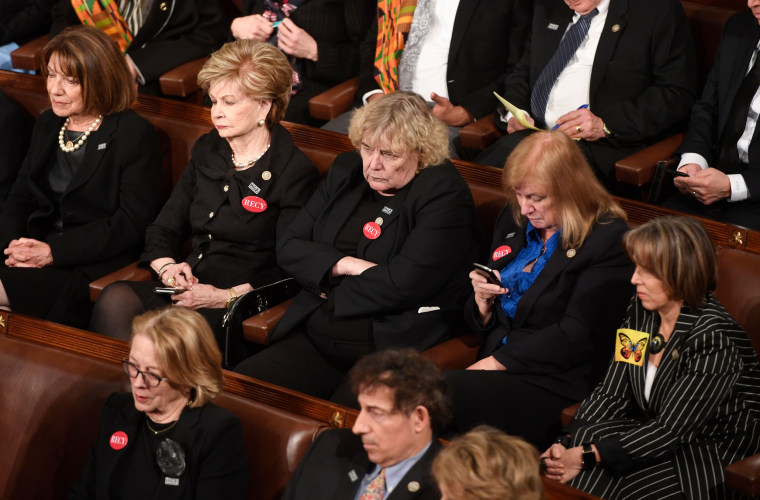 In a speech that was relatively light on policy proposals, focusing instead on a laundry list of existing accomplishments and long-term goals, the president did largely steer clear of at least one partisan divide: there was virtually no mention of some economic priorities that tend to take center stage in GOP State of the Union addresses, such as deficit reduction and spending cuts.
But he did dedicate a significant stretch of his remarks to one of Washington's largest and longest-standing legislative fights: immigration reform. The president touted his administration's recently released proposal that makes significant concessions on citizenship for "Dreamers," people brought to the United States illegally as children, while also seeking $25 billion for Trump's long-promised border wall.
Related: Rep. Kennedy responds to Trump: 'Bullies' never win
Trump also linked his "America First" slogan with his hard-line immigration stance. While Democrats like Rep. Joe Crowley of New York exclaimed, "Oh, come on!" in reaction to Trump's proposals, and others audibly groaned at his pledge to end "chain migration," the president declared to Republican applause that "Americans are dreamers, too."
"The United States is a compassionate nation," Trump said. "We are proud that we do more than any other country anywhere in the world to help the needy, the struggling and the underprivileged all over the world. But as president of the United States, my highest loyalty, my greatest compassion, my constant concern is for America's children, America's struggling workers and America's forgotten communities."
In his remarks, Trump pushed for a "merit-based" immigration program. During his campaign, Trump frequently pointed to stories of families who lost loved ones to violence committed by undocumented immigrants as justification for his hard-line positions — an emotional appeal that he reprised Tuesday evening by honoring two families who had lost children to gang violence.
The president also spoke about gains made in the U.S. battle against ISIS, while conceding there remains "much more work to be done" to win that fight.
"We will continue our fight until ISIS is defeated," Trump said.
Related: Read Trump's State of the Union address
As part of that effort, Trump announced that he had just signed a new executive order to keep open the military detention center at Guantánamo Bay, Cuba — making good on a campaign promise to "load it up with some bad dudes" while continuing his well-established focus on reversing the policies of his predecessor, Barack Obama.
Trump also offered tough words for North Korea, recognizing a defector from that nation — Ji Seong-ho — during an emotional moment in the speech that also included a nod to Otto Warmbier, an American college student who died last year after being detained by the regime.
"No regime has oppressed its own citizens more totally or brutally than" North Korea, Trump said, warning that their "reckless pursuit of nuclear missiles could very soon threaten our homeland."
"We are waging a campaign of maximum pressure to prevent that from happening," he said.
The president arrived at the Capitol with his chief of staff, John Kelly, while first lady Melania Trump arrived separately, with invited guests. Left to watch the evening's proceedings away from the Capitol was the "designated survivor": Agriculture Secretary Sonny Perdue.