Sal Turturici has never spent the anniversary of September 11 at the site where the Twin Towers once stood. Even though he worked for four months after the attack operating machinery that transported body parts from Ground Zero to a makeshift morgue, the former EMT wasn't in lower Manhattan on the day the planes hit, and has always left the annual remembrance ceremony to the families of those who perished there.
But this year is different. For the 51-year-old father of three, it will be the first anniversary of September 11 since being diagnosed with terminal liver cancer — and the first he feels he has an obligation to commemorate at the World Trade Center memorial.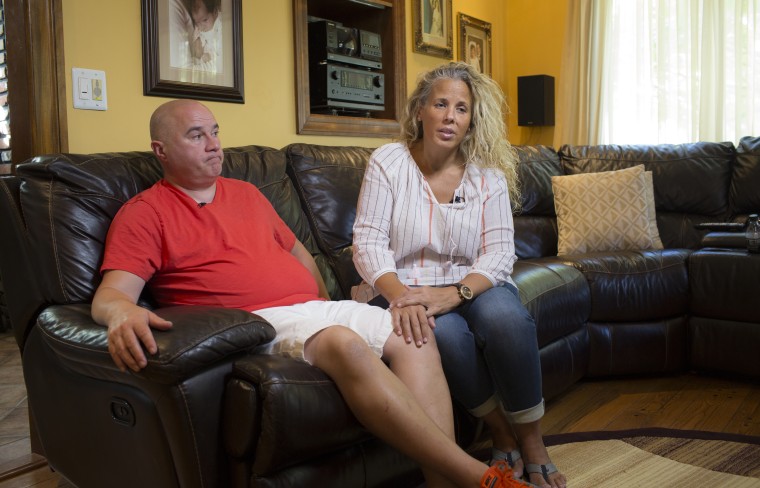 "I died that day," said Turturici, reflecting from his Staten Island home on the September 11 attacks. "I'm trying to hold on as much as I can. But sooner or later, I'm going to succumb to this."
Fifteen years have passed since the worst international terrorist attack in history claimed the lives of nearly 3,000 people, more than 400 of whom were first responders. Since then, tens of thousands have developed illnesses stemming from exposure to toxins at Ground Zero.
Many, like Turturici, will never recover. As of June 30, the Centers for Disease Control and Prevention's World Trade Center Health Program had enrolled more than 5,400 people diagnosed with cancers linked to 9/11, according to statistics released by the CDC.
Related: Did the Patriot Act Change US Attitudes on Surveillance?
Also like Turturici, many are too sick to work. They rely on things like Social Security disability benefits, workers' compensation, pension payments, and the September 11 Victims Compensation Fund to pay their bills.
Yet despite numerous government programs designed to help September 11 survivors, responders and cleanup workers — including, most notably, a federal health care program established under the 2010 Zadroga Act and reauthorized last December — some are still struggling to get by.
"Everybody thinks when we got the bill passed in 2010, it's been all unicorns and rainbows," said John Feal, founder of the FealGood Foundation that advocates for September 11 responders and their families. "The reality is there are still people who are falling through the cracks."
Turturici's case is one example.
Under the 2005 World Trade Center Disability Law, public employees and retirees who became disabled as a result of September 11-related operations are entitled to a 75-percent disability pension. But in order to qualify, EMTs and rescue paramedics had to have submitted a sworn statement to the New York City Employee Retirement System (NYCERS) indicating the dates and locations of their participation at Ground Zero.
The deadline to submit that form was Sept. 11, 2015. Turturici got sick on Oct. 4 of that year.
"The only reason he wasn't eligible for a three-fourths disability pension was not because he wasn't sick enough … but because he didn't fill out the paperwork in time. It's the most ridiculous thing."
"He missed it by three weeks," said Turturici's wife, Wendy. "The only reason he wasn't eligible for a three-fourths disability pension was not because he wasn't sick enough … but because he didn't fill out the paperwork in time. It's the most ridiculous thing."
The deadline to submit a similar form for workers' compensation from the state of New York, meanwhile, was Sept. 11, 2014.
Legislation that would reopen the filing period for people like Turturici to make a claim for workers' compensation and a disability pension is currently awaiting the signature of Democratic Gov. Andrew Cuomo. Advocates and lawmakers who worked to pass the measure are confident he'll sign it into law. But when contacted by NBC News for guidance, the governor's office said only that the legislation was "under review."
For the Turturicis, every day that the measure goes unsigned hurts.
Related: Generation 9/11: Growing Up Under U.S. Invasion's Shadow
They are currently living on a $2,000-a-month Social Security disability check, as well as Wendy's FDNY salary, which she said has been cut in half from no longer being able to work overtime. They also have applied to the 9/11 Victims' Compensation Fund (VCF), which provides a payout for both economic (wages) and non-economic (pain, suffering) losses stemming from September 11-related illnesses or injuries, but Turturici is still waiting to receive the compensation.
"Our bills outweigh what we make and that's why it's so important that people get their pension and get workers' compensation," said Wendy, whose refers to the pending legislation that would help her family as a participation bill. "We just want to live the life we had on Oct. 3, [the day before Sal got sick]. I had the best life in the world, the best husband. I was the luckiest girl in the world. But on Oct. 4, it fell apart."
It's unclear how many people like Turturici are struggling to get the help they need. But, as advocates and lawmakers who have long fought for September 11 survivors and responders are quick to point out, the past year has undoubtedly seen major improvements.
In late 2015, Congress extended the VCF for another five years under the James Zadroga 9/11 Health and Compensation Reauthorization Act. The $8.1 billion measure made permanent the World Trade Center Health Program, which provides monitoring and treatment for dozens of covered illnesses — including acute traumatic injuries, aerodigestive disorders, mental health conditions, and cancers. As of June, nearly 75,000 people had enrolled in the WTC Health Program, according to the CDC.
In New York, meanwhile, Cuomo announced in May that the 2016-17 state budget would include $9 million to cover the cost of lost wages and health care expenses for sick World Trade Center volunteers, who initially had no way of accessing workers' compensation benefits that paid workers did.
Related: Iconic 9/11 Flag, Missing for Years, Will Return to Ground Zero
Yet despite these victories, people still feel left behind — particularly when it comes to securing a disability pension.
Gary Smiley, a retired rescue medic with the FDNY who took cover under a truck when the towers collapsed, has been denied a disability pension multiple times by NYCERS even though he suffers from numerous aerodigestive disorders and mental health conditions. The medical board, which examines each disability applicant and issues a recommendation to NYCERS, has repeatedly found Smiley psychologically and medically fit to perform his job duties — a determination he has spent thousands on legal fees trying to contest.
"It is bad enough not feeling good every day and having to live with the stress of multiple illnesses and worrying about what else they will diagnose you with," Smiley said in an email to NBC News. "The last thing I thought I would have to worry about is getting my entitled disability pension and being able to just live somewhat financially secure."
Michael Abramowitz, a retired EMT with the FDNY who developed asthma, COPD and rhinosinusitis after spending over 100 hours at Ground Zero in the days following September 11, was also denied a disability pension.
"The last thing the medical board from the Fire Department said to me was, 'Good luck with NYCERS,'" Abramowitz said. "I was like, 'Oy vey.'"
Related: 'The Forgotten 9/11': Returning to the Pentagon 15 Years Later
According to data obtained by the president of The Uniformed EMTs, Paramedics and Fire Inspectors union, and shared with NBC News, NYCERS has approved just 29 percent of applications for disability retirement from members with World Trade Center-related conditions between 2005 and April, 2016. It has denied 41 percent in the same period of time. The remaining applications either haven't been processed yet, or are awaiting medical evidence.
A representative from NYCERS could not be reached for comment.
Although the denials are obviously affecting September 11 responders, legal experts said the problem is much broader. Firefighters and police officers pay into separate pension systems; but almost every other municipal employee goes through NYCERS.
"Far too many people are being denied when they're truly sick or injured," said Sean Riordan, an attorney specializing in New York State and New York City disability law. "The biggest problem is most of these municipal employees have already been found disabled by their employers … Most of these people are going to end up being out with no income other than workers' compensation."
In Turturici's case, he's not asking NYCERS to reconsider his application for disability — he's asking to be able to apply in the first place.
The bill currently on Cuomo's desk is a small effort to mend one of the holes in the safety net constructed for the thousands who have suffered — and will continue to suffer — in the years since 9/11. But for the first time, on the 15th anniversary, Turturici is asking to participate.
Editor's note: On September 11, 2016, Gov. Cuomo signed legislation extending the period for paid workers and volunteers to seek lost wages and disability retirement benefits as a result of their involvement in Ground Zero rescue, recovery and clean-up operations. Turturici and his wife were by his side.