The three-handwritten suicide notes left behind by convicted murderer and former New England Patriots tight end Aaron Hernandez were released to his family on Monday, in time for his burial in his hometown, officials said Monday.
One of those letters was addressed to Hernandez' fiancée and the mother of his daughter, Shayanna Jenkins-Hernandez, and a second was addressed to his child, Paul Jarvey, a spokesperson for the Worcester County District Attorney's Office, confirmed to NBC News Monday afternoon.
"The information I have is unclear," Jarvey responded when asked who the third letter was addressed to. The letters were emailed to Jenkins-Hernandez' attorney, he said.
Massachusetts Superior Court Judge Thomas McGuire had ordered earlier on Monday that District Attorney Joseph Early produce copies of "any suicide or other notes" that appear to have been written by Hernandez in connection with his death, according to a clerk and court documents. Hernandez killed himself in his prison cell last week, authorities said.
The notes were ordered to be released to the family in time for Hernandez burial on Monday afternoon at 1 p.m. in Bristol, Connecticut. Jarvey said they emailed the letters over shortly after receiving the judge's order.
Hernandez, 27, had been serving a life sentence for murder in the June 2013 killing of friend and semi-pro football player Odin Lloyd when he was found dead in his Massachusetts prison cell last Wednesday.
Jenkins-Hernandez, had filed a motion Monday morning in Bristol County Superior Court seeking the release of the letters after the district attorney previously refused to release them to the family, according to her lawyer.
The district attorney was allowed to redact portions of those notes that could impair any ongoing investigation, according to the judge's order.
Jarvey said the district attorney's office did not redact anything contained within the letters.
Attorney George Leontire wrote in his motion that Hernandez's funeral was Monday afternoon and that the "family desperately needed closure that the suicide notes would provide."
"The family has the right, during this grieving process, to know their loved one's final thoughts," he added.
Hernandez defense attorney Richard Sullivan read a brief statement on behalf of his family after his funeral:
"The family of Aaron Hernandez wishes to thank the public for its thoughtful expressions of condolence, The family wishes to say goodbye to Aaron?in private. They love him and they miss him," he said.
Related: Family of Aaron Hernandez's Victim Asks Patriots to Pay in Wrongful Death Suit
The state medical examiner's office last Thursday ruled his death a suicide after he was found hanged by a bed sheet in his single cell at the at the Souza-Baranowski Correctional Center. His attorney, Jose Baez, said was he was not on suicide watch.
The Worcester County district attorney's office and state police have said that Hernandez was locked in his cell at 8 p.m. last Tuesday night and no one entered until a correction officer saw him hanging and forced open the cell door, which was jammed with cardboard.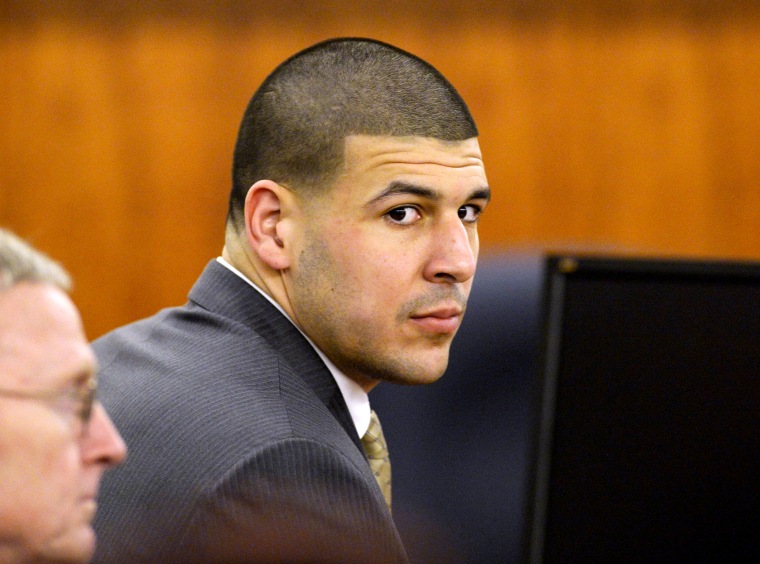 Authorities have said three hand-written notes and a Bible were found, but the district attorney's office did not say what was contained in those notes.
Jenkins-Hernandez had filed a motion to preserve any evidence in his death and wanted a preliminary injunction to stop the state from destroying potential evidence concerning his death — including videos, documents and writings.
The plaintiff "intends to investigate all of the circumstances regarding Aaron Hernandez's death," the motion says.
Earlier this month, Hernandez was found not guilty of murder in a 2012 drive-by shooting that killed two. A judge sentenced him to four to five years for a weapons charge.
His family is donating his brain to science for study about possible brain trauma.
Last week, Lloyd's family asked the New England Patriots to voluntarily pay damages, potentially millions of dollars, as part of a wrongful death suit.