Aaron Hernandez's last letter to his fiancée before his unexpected suicide in April expressed devotion to the woman who stood by his side — while also hinting at something happening.
"You have always been my soul-mate and I want you to live life and know I'm always with you," he said in the handwritten missive made public Friday in a court filing. "I told you what was coming indirectly! I love you so much and know you are an angel ... We split into two to come change the world!"
The ex-NFL star went on to tell Shayanna Jenkins-Hernandez to "tell my story fully but never think anything besides how much I love you. This was the supremes, the almightys plan, not mine! I love you! Let [redacted] know how much I love her! Look after [redacted] and [redacted] for me — those are my boys. (YOU'RE RICH)."
He ended the note with: "I KNEW I LOVED YOU = SAVAGE GARDEN."
Hernandez doesn't specifically mention suicide, although the letter was one of three that have been described by officials as suicide notes. Attorneys for Hernandez's family did not immediately respond to the letter's contents.
A report released Friday also revealed Hernandez was affiliated with the Bloods street gang while at the Souza-Baranowski Correctional Center, and that he had been disciplined for wearing "STG" paraphernalia. The acronym stands for Security Threat Group, a euphemism for gangs.
The day before Hernandez hanged himself in his prison cell on April 19, inmates who knew him said he seemed to be "in a great place" — and that he even held out hope he would play professional football again.
Some of Hernandez's final interactions were detailed in an investigative report released Thursday by the Massachusetts Department of Correction. Inmates told police they had no reason to believe the former New England Patriots tight end was preparing to take his own life just five days after he was acquitted of a double homicide.
"Since Friday's verdict he had been talking about the NFL and going back to play even if it wasn't with the Pats," according to an inmate who told investigators he was close friends with Hernandez.
The same inmate added that Hernandez had become more spiritual and was "always quoting the Bible."
"There was absolutely no indication that he would do anything like that," the inmate said, referring to suicide.
Another inmate also told investigators that Hernandez was speaking "more and more frequently with a religious tone," according to the report.
"This inmate stated that Hernandez came to his door before lock in and stated, 'remember when you die your soul gets reincarnated,'" the report said. "Another source stated that Hernandez had recently mentioned a rumor. This rumor was that if an inmate has an open appeal on his case and dies in prison, he is acquitted of his charge and will be deemed not guilty."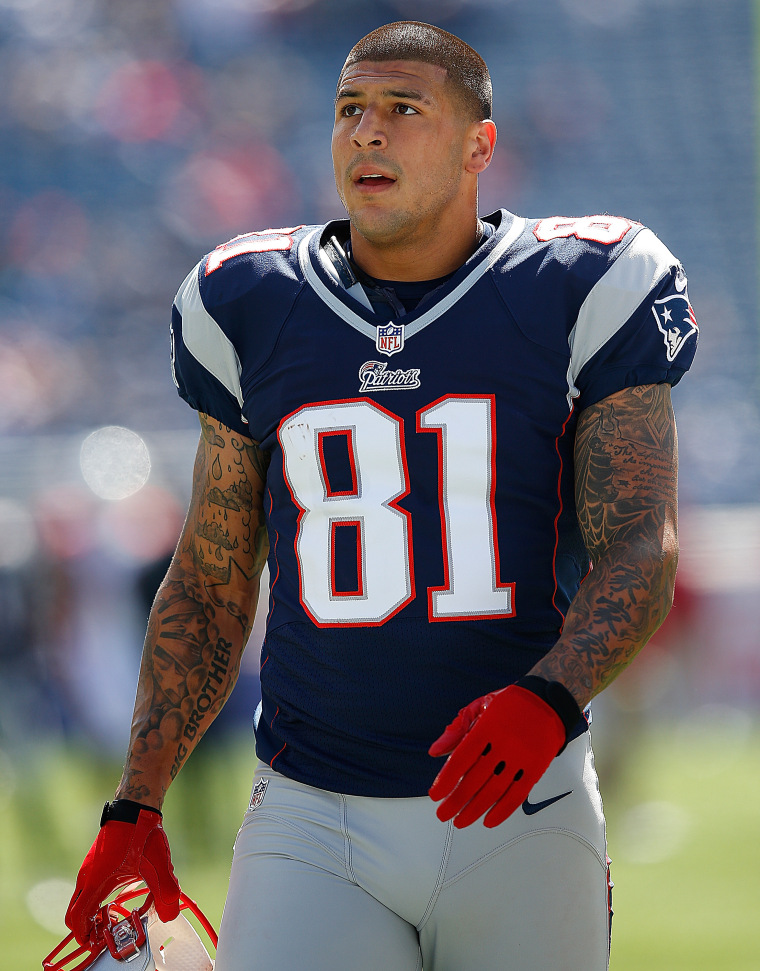 Although Hernandez, 27, did not seem despondent on the surface, he was already serving a life sentence for the 2013 murder of his friend, semipro football player Odin Lloyd. The Patriots dropped Hernandez following his arrest in the case — bringing an end to the career of one of the NFL's most promising players.
Besides his fiancée, Hernandez also left a note for his young daughter, officials have said. The recipient of a third note was unclear, although an attorney for another inmate told reporters last week that he believes it was intended for his client, who had beena "close friend" of Hernandez while in prison.
According to the investigative report, a correction officer last saw Hernandez during a cell check at 1 a.m. Hernandez managed to cover his window, and just after 3 a.m., he was found naked and hanged by a bed sheet tied to his cell window. Officers struggled to pry the door open.
"Staff was having a difficult time holding Inmate Hernandez up due to shampoo and water that was poured throughout the cell floor," one officer wrote.
Related: Aaron Hernandez Attorney Shoots Down Rumors Around Suicide Notes
Officers also found writing on the cell wall in blood with religious imagery and references. A Bible was left open to John 3:16, with the 16th verse marked in blood. Hernandez also had "John 3:16" written on his forehead. The verse begins: "For God so loved the world, that he gave his only begotten Son, that whosoever believeth in him should not perish, but have everlasting life."
The blood had come from a cut on the top of Hernandez's right middle finger, the report said. He was also found with large circular blood marks on both of his feet.
Meanwhile, there remains a possibility that Hernandez's guilty verdict could be overturned because his case was in the middle of an appeal review by the state Supreme Judicial Court.
With his death, the case is essentially left unresolved — so the state could move to void his conviction entirely as part of a legal loophole known as "abatement ab initio," or "from the beginning."
Prosecutors are fighting a move by Hernandez's lawyers to dismiss his murder conviction.