Aaron Hernandez, the former New England Patriots tight end who was serving a life sentence for murder, was found dead early Wednesday of an apparent suicide inside his prison cell, a Massachusetts correction official said.
Correction officers discovered Hernandez hanging by a bed sheet attached to his single cell window at about 3:05 a.m., said state Department of Correction spokesman Christopher M. Fallon.
Hernandez, 27, had attempted to "block his door from the inside by jamming the door with various items," Fallon said in a statement.
Officers attempted life-saving techniques and transported him from the Souza-Baranowski Correctional Center in Shirley to a local hospital, but he was declared dead about an hour later.
Hernandez was not on suicide watch and there was no reason to believe he was planning to take his own life, Fallon told The Associated Press, adding that they would have moved him to a mental health unit if that were the case.
Hernandez's lawyer, Jose Baez, said there had been no correspondence with his family to indicate he was considering ending his life. Hernandez was still appealing his murder conviction in state court.
"Aaron was looking forward to an opportunity for a second chance to prove his innocence," Baez said in a statement. "Those who love and care about him are heartbroken and determined to find the truth surrounding his untimely death."
SIGN UP: Be the first to know about breaking news from NBC News.
Hernandez's unexpected death followed his acquittal last Friday of a 2012 fatal drive-by shooting in Boston. Prosecutors alleged he opened fire at a red light after one of them spilled a drink on him at a club and he became enraged. He was charged in 2014 for the double slaying.
After six days of deliberations in which defense attorneys argued that a former friend of Hernandez's was the triggerman, a jury acquitted the ex-football star of the murder-related charges. But Hernandez was convicted of a single charge of unlawful carrying of a .38-caliber revolver, for which the judge sentenced him to another four to five years in prison.
Hernandez appeared to be on the verge of tears when the jury's verdict was read.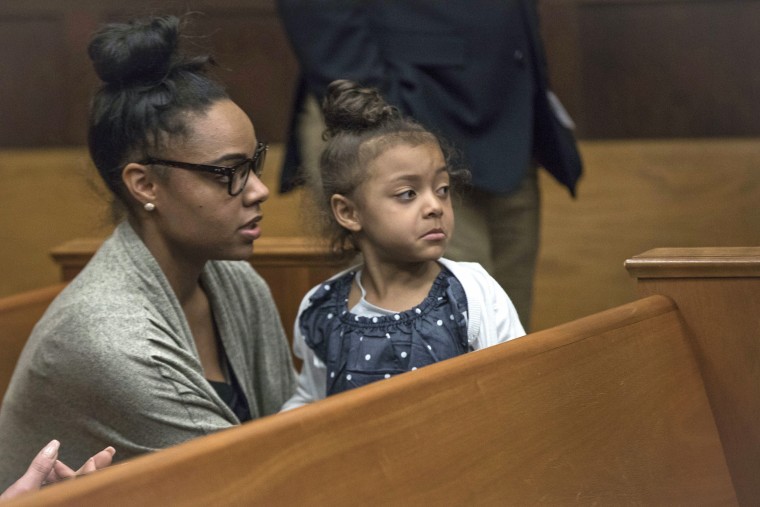 The trial offered him a rare bright moment when he saw his 4-year-old daughter sitting in the courtroom with her mother and his fiancée, Shayanna Jenkins-Hernandez, who had taken his name. Cameras caught Hernandez blowing kisses and waving to his girl.
His promising career had already taken a tragic turn when he was arrested on first-degree murder charges in the June 2013 shooting death of Odin Lloyd, a friend and semipro football player who had been dating the sister of Jenkins-Hernandez.
Police said Hernandez orchestrated Lloyd's execution with the help of accomplices because he was upset Lloyd had spoken to people whom he didn't like at a Boston bar. His body was found dumped in an industrial park about a half-mile from Hernandez's home in North Attleborough, Massachusetts.
No clear motive was explained to the jury and the case was built largely on circumstantial evidence. Surveillance footage from Hernandez's home showed him holding what appeared to be a gun and a joint discovered near Lloyd's body had both his and Hernandez's DNA.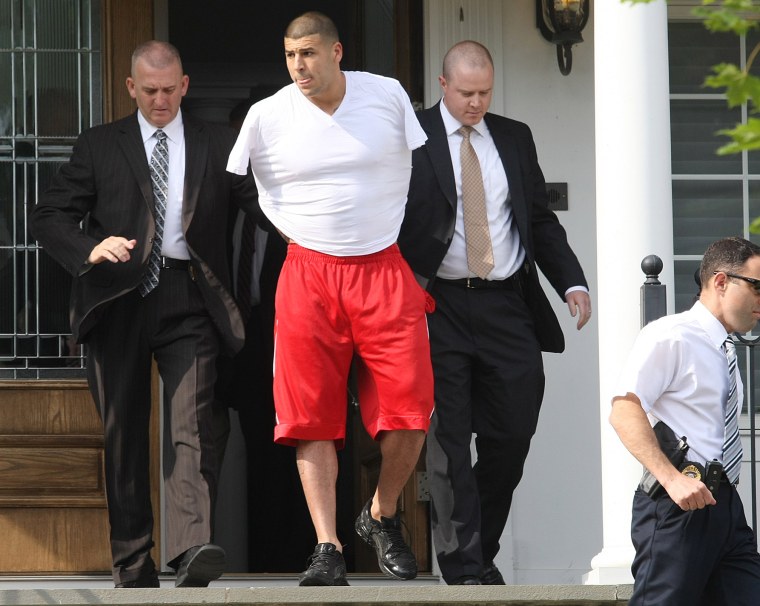 The Patriots cut Hernandez following his arrest. After being found guilty in 2015, he appealed the verdict. His conviction was being reviewed by the state Supreme Judicial Court.
Hernandez — a University of Florida standout from Bristol, Connecticut — played three years in the NFL from 2010 to 2012. The 6-foot-1 powerhouse excelled on the gridiron in his first season, and was regarded by Patriots coach Bill Belichick as a hard worker, even inking a five-year, $40 million contract with the team just weeks after the nightclub incident.
During the 2011 season, he helped the Patriots reach the Super Bowl as one of the best tight ends in the league, and even scored a touchdown — although the team would lose to the New York Giants.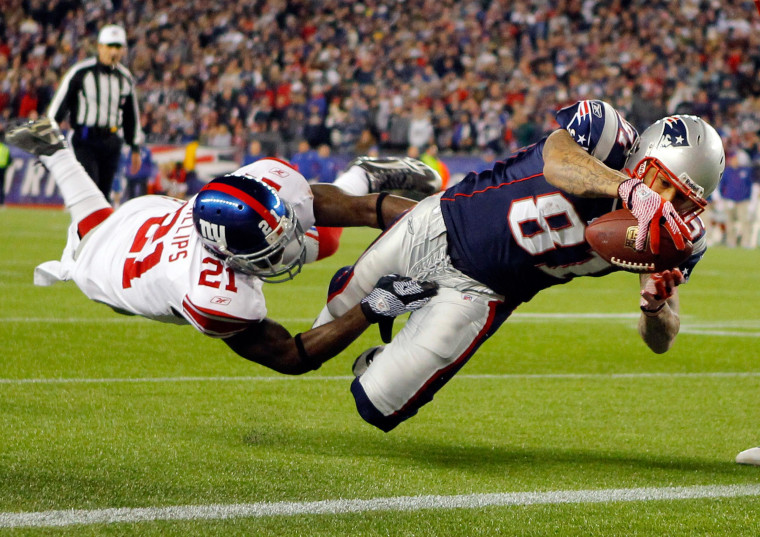 He would go on to play another season before Lloyd was murdered, earning five touchdowns and helping the Patriots make the AFC championship game.
The team said Wednesday it was aware of Hernandez's death, which came on the same day the Super Bowl-winning Patriots will be honored at the White House, but declined further comment.
Massachusetts State Police were continuing to investigate the scene. An autopsy of Hernandez would be conducted in Boston to determine the official cause and manner of his death, the Worcester County district attorney said.
Baez called for authorities to conduct a "transparent and thorough investigation."