Towering over his lawyers, fallen New England Patriots star and accused double-murderer Aaron Hernandez greeted potential jurors Tuesday after they filed into a Boston courtroom.
"Good morning," Hernandez said quickly and sat back down.
Then jury selection got underway in Suffolk Superior Court for the former NFL star who once hauled-in passes from quarterback Tom Brady — and who is now charged with gunning-down two men outside a Boston nightclub.
The tattooed former tight-end has already been doing hard time in a maximum security prison since 2015, when he was convicted of killing a third man, Odin Lloyd, and sentenced to life without parole.
But when he showed up in court to face trial for fatally shooting Daniel de Abreu and Safiro Furtado as they sat in a BMW on July 16, 2012, he was wearing a snazzy gray suit. He has pleaded not guilty.
The defense attorneys trying to save Hernandez's skin face a potentially huge hurdle. First Assistant District Attorney Patrick Haggan contended in an earlier court hearing that Hernandez sports a tattoo of the alleged murder weapon.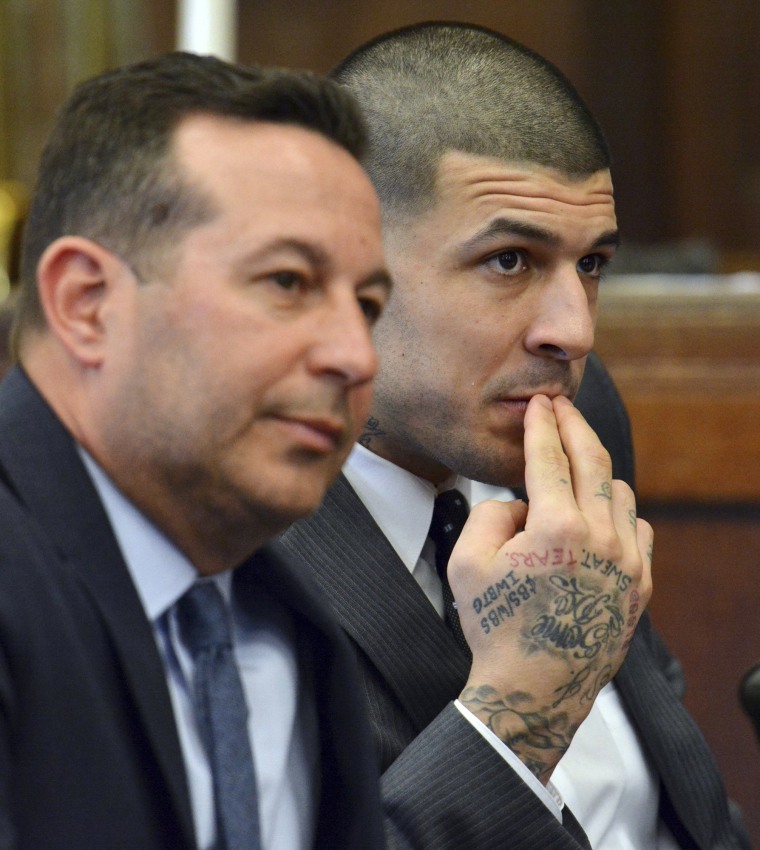 Haggan said Hernandez got the alleged tell-tale tat at a Hermosa, California shop in 2013. It's of a six-shot revolver with five bullets in the cylinder and one empty chamber. Along with it are the words "God Forgives" written backwards so they are legible only when viewed in a mirror.
Hernandez, the ADA said, committed the double first-degree murders by shooting the victims five times with a .38-caliber revolver that is now in evidence.
The jailed footballer's lawyers have reportedly dismissed the ADA's assertion as "rank speculation" and argued in a pre-trial hearing that forcing Hernandez to show the tattoo to the jury could violate his right to a fair trial.
Hernandez, 27, also has another gun tattoo on his body, this one of a semi-automatic pistol with an empty shell casing. He is accused of using such a weapon to shoot a third man, his friend Alexander Bradley, while in Miami in 2013 to keep him from testifying about the two killings.
Bradley lost an eye but survived the shooting.
"Hernandez allegedly shot him in the face on the morning of Feb. 13, 2013, and left him to die on the side of road in Riviera Beach, Florida, after the witness made a remark about the homicides," the Suffolk County District Attorney's office said in a statement after Hernandez was indicted in 2015 for witness intimidation.