FALL RIVER, Mass. — New England Patriots team owner Robert Kraft testified Tuesday that his former star tight end Aaron Hernandez told him he was innocent when asked if he was involved in a June 2013 killing.
Kraft spent a little more than a half-hour on the stand after being called by the prosecution in Hernandez's murder trial over the June 17, 2013, slaying of Odin Lloyd. Lloyd was dating the sister of Hernandez's fiancee.
Kraft was asked about the events of June 19, two days after the killing. By then, Kraft said, there was a strong media presence at Gillette Stadium, including helicopters, which were covering the investigation.
Kraft said he found Hernandez in a weight room working out and pulled him into an adjacent office for a private talk.
"I understood there was an incident that had transpired, and I wanted to know whether he was involved, and if he was, any player that comes into our system, I consider part of our extended family, and I wanted to get him help," he said.
"What did he say?" prosecutor William McCauley asked.
"He said he was not involved. That he was innocent and that he hoped that the time of the murder incident came out because he said he was in a club," Kraft said.
Prosecutors have said Hernandez was at a bar earlier in the evening, then drove to Boston with two friends, picked up Lloyd and killed him in an industrial park.
Kraft said his conversation with Hernandez lasted five to 10 minutes.
Later, he saw him one last time at the stadium.
"He hugged and kissed me and thanked me for my concern," Kraft said.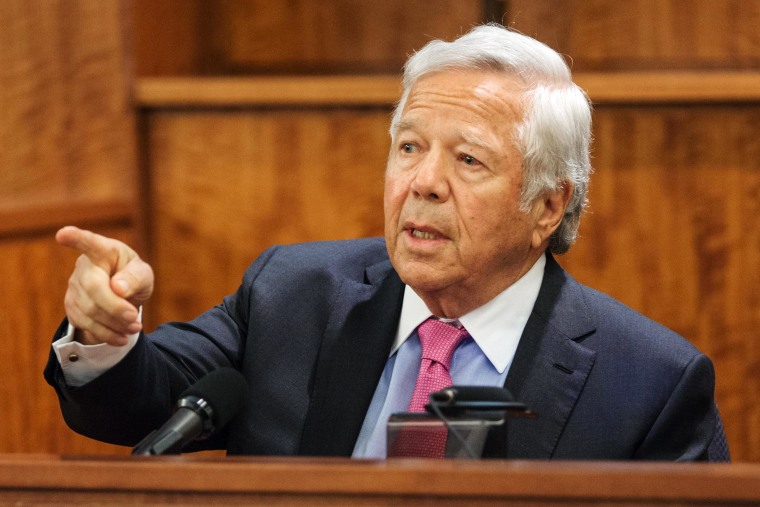 IN-DEPTH
SOCIAL
— The Associated Press